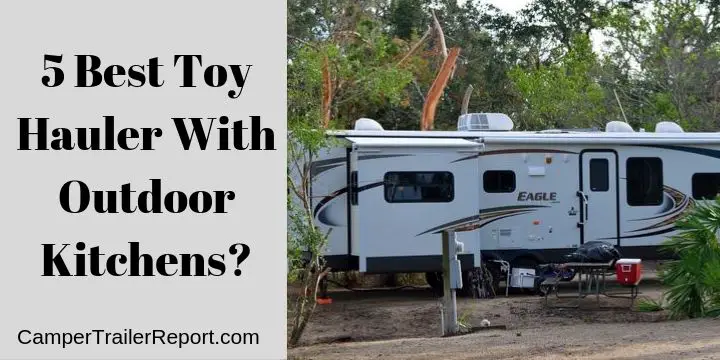 5 best toy haulers with outdoor kitchens?
If you love grilling outdoors or hanging out in a shade nearby, then maybe it's time to buy a toy hauler with an outdoor kitchen. Our top five lists of toy haulers have a unique and stunning outdoor kitchen that will make you enjoy cooking outside more enjoyable.
If you love hanging out with some friends while grilling meat, then it's time to check these outdoor kitchens.
1. Coachmen RV Apex Ultra-Lite
The Ape's Ultra Lite toy hauler has the best outdoor kitchen. At the outdoor kitchen, you'll find a sink, refrigerator, Coleman grill, and additional sturdy spaces for outdoor cleaning. The standard 300HBS and 215RBK have an outdoor kitchen with this furnishing.
With an outdoor kitchen, you can enjoy watching TV as you prepare supper for your family. Also, your spouse can relax in the campfire while you grill some meat.
The outdoor kitchen is best especially as a getaway when you are tired of the boring room kitchen. It's also the best place to freshen up with some cool wind breezes from the sea.
Video Overview: Late 2019 or Early 2020 Apex 213RDS AZDEL Ultralite 3850lb Couple's Coachmen RV with Slide & 2 axles
2. Prime Time LaCrosse
The Prime Time LaCrosse has overhead cabinet storage, a mini-fridge, a grill, and a sink with plenty of water. The is designed with unique faux stone which gives it a stunning look.
Now that you have an external kitchen, your next task lies in finding the best place to prepare your meals. Enjoy your meals while playing a card game at the dinette or over drinks in the campfire.
Video Overview: 2019 Prime Time LaCrosse 3399SE $32,900.00 @ NiceCampers.com
> You may also like:45 RV Accessory Must-Haves for Your Travel Trailer<<
3. Open Range Roamer
The Open Range Roamer toy hauler has an exterior kitchen that comes complete with a microwave, storage, optional grill, cooktop, minifridge, and a sunk with running water.
The Roamer's most stunning feature is the side patio option that will mesmerize your camper friends.
More so, you can cook outside while watching a TV mounted on the optional TV mount.
The Open Range Roamer's outdoor kitchen is unique and offers you a customizable and enjoyable cooking experience.
Video Overview: 2018 Open Range Roamer 328 BHS J361
4. Keystone Outback Toy Hauler Travel Trailer
The Keystone's toy hauler is simple and sturdy. It not only offers you a furnished kitchen but also allows you to customize it with your items. From plenty of overhead storage to a mini-fridge and optional grill, the outdoor kitchen is best for kitchen lovers.
More so, you'll hardly lack water as it comes with a sink full of running water for your all-day cleaning. If you want to grill some meat, then the optional grill will come in handy for the purpose.
Video Overview: 2019 Keystone Outback 324CG | Toy Hauler Trailer – RV Review: Camping World
> You may also like: 25 Best National Parks in the USA  <<
5. Grand Design Solitude 366DEN
The Grand Design Solitude offers an exterior kitchen with running water, sinks, and drainage. There is also a free-standing grill and a mini-fridge for all kitchen use. You can enjoy cooking or grilling your favorite meat outside while watching the LCD TV.
More so, you can dine with your spouse as you listen to the music speakers on the outside. Coachmen are one of the first companies to incorporate outdoor kitchens and entertainment in their toy haulers and it will only be time before other companies follow suit.
Ensure you pick the best tom hauler with an exterior kitchen for you to enjoy dining with entertainment. They allow you to indulge in the exterior serenity while eating your favorite foods.
Video Overview: 2015 Grand Design Solitude 366DEN Stock
You may also like:Worst 5th Wheel Brands to Avoid <<
Related Questions:
Is There A Toy Hauler With Outdoor Kitchen?
There are a few toy haulers out there with great outdoor kitchens. One of the best is the Coachmen RV Apex Ultra-Lite. It has a pretty spacious outdoor kitchen with all the things you need, including a refrigerator. The Open Range Roamer is another to consider. It and the Prime Time LaCrosse both have good outdoor kitchens, as well.
Which Travel Trailers Have The Best Outdoor Kitchen?
Many travel trailers come with great outdoor kitchens, and one of the best out there is the Dutchmen Aspen Trail. A few others include the Crossroads Volante, the Jayco White Hawk, and the Jayco Jayflight SLX. If you are looking for a great outdoor kitchen, then you can check out all of these and more to find the features you want.
Video Overview: Making The Outdoor Kitchen More Functional!
Can You Add An Outdoor Kitchen To An RV?
The answer to this question is simple; yes, you can. You can buy the outdoor kitchen you want and add it to your RV. You just need to learn how to do that right and carefully get it done so that everything will go well.
> You may also like:How To Insulate an RV Underbelly? In 5 Easy Steps.<<
What RV Has An Outdoor Kitchen?
There are many RVs with outdoor kitchens, including the toy haulers mentioned above. The Coachmen Leprechaun has an outdoor kitchen, as does the Coachmen Mirada. Many of these kitchens come with sinks with running water, cabinet space, grills, and more.
Do RV Class Have Outdoor Kitchens?
Almost all types and classes of RVs come with outdoor kitchens. Many class A RVs have this feature, and if you are looking for an RV with an outdoor kitchen, then you can have your pick. You can get the RV in the size you want and get a great outdoor kitchen no matter what.
Video Overview: Should you get an outdoor kitchen in your RV?
Do Class C RVs Have Outdoor Kitchens?
Some class C RVs have started to include outdoor kitchens as one of their special features. The Coachmen Leprechaun is an example of a class C RV with an outdoor kitchen. Several other brands also have class C RVs with this feature.
> You may also like:Gas vs Diesel For Towing a Fifth Wheel?<<