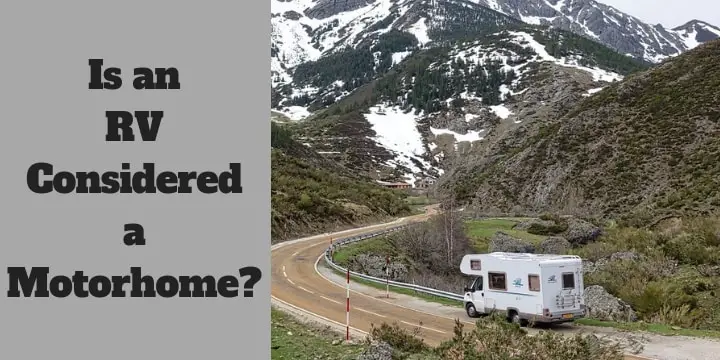 Is an RV Considered a Motorhome?
The world of motorhomes and that of RV'S can be confusing sometimes where we have people making use of the names interwoven. This article is about to clear off some confusion about it.
Let's see what an "RV" means and what does "Motorhome" means too. RV is a term that means a recreational vehicle. It can either be a motorhome or a trailer.
Motorhome simply means you could camp inside it and there is a vehicle part to it too.
A lot of people would say RV then they mean Motorhome but generally its just a camper. So, you can come to the conclusion that an RV is considered as a motorhome.
The recreational vehicles are common and popular. It's like a tent that is glorified. A motorhome is an RV which would make a good addition to your vehicle collections
> You may also like:45 RV Accessory Must-Haves for Your Travel Trailer<<
Whats a Recreational Vehicle or an RV?
The RV is just its abbreviation. It's a vehicle that is being used for the purpose of recreational. This can either be a motorhome, trailer, toy hauler or something similar to them.
You might have come across some types of RV's- some are motorhomes and some can be:
Motorhome Class A
Motorhome Class B
Motorhome Class C
Travel Trailer
Hybrid Trailer
Fifth Wheel Trailer
Teardrop Trailer
Toy Hauler Trailer/ Motorhome
We have a lot more, and they all have different types of floor plans, updates yearly and models which are why they are more sought after, in the market, all of them are considered an RV.
Whats a Motorhome RV?
A motorhome is just a motor vehicle that is being equipped like a trailer for people to live in. it has facilities like the kitchen, storage space, beds, and the capability of driving it is also attached to it in order for you not to use a tow vehicle in moving it.
What's Class A Motorhome?
This motorhome is equipped fully as you want. They are relatively large and be 45 feet in length. It's very popular because of its space
They are not gas friendly exactly because of their heaviness. However, they would hold many people and would have the necessities needed.
They are identified majorly their shape which is box looking
Class B Motorhome
This motorhome is very small, which is better for only one/ two people. They are cheap to buy, their gas mileage is better, and they can be parked anywhere because of their size
If what you want is a family vehicle, then it's not a choice you should go for. Though its mileage might be good there isn't much amenities and storage space in it
Class C Motorhome
This one is a mix that is in-between the Class A and the Class B. its size is medium and it has amenities and a storage space that is ample. Its made lightweight often in order for them to have gas mileage that is good, and few people can be housed in it.
You will know if your motorhome is Class C if a bunk is over it. They make use of the bunk space compared to other classes of the motorhome.
Toy Hauler Motorhome
This type of motorhome comes with all housing capabilities which includes garage where you can have your motorbikes, dirt bikes, four wheelers and so on are kept. You can have the garage turned to where you can sleep if you aren't making use of it or you can have it opened for a party or a gathering
They come handy if you want to make use of your RV for a vacation.
Trailer RVs
Trailers are RVs just like the motorhomes and they can also be lived in like that of the motorhome, the difference is the trailers would be towed by something or a truck which has a horsepower enough for it to get it moved
Travel Trailer: this has to be towed by an SUV, pickup truck or a minivan. It features a kitchen, bedroom, living area, and a shower
Teardrop Trailer: this is very small and a motorcycle can have it tows. Its only meant for a person. They feature small amenities.
Hybrid Trailer: this one would allow feeling like you on camp because of its tent pop-outs. This has to be set up and it takes a bit of time. The issue about it is you would be hearing outside noises. Amenities such as a sink, fridge, and microwave and so on are featured in it.
You may also like:First Time Travel Trailer Owner Tips,Beginner's Guide. <
Related Questions:
Is there a difference between a motorhome and an RV?
When people refer to RVs, they typically refer to motorized units that can be used as a temporary home away from your regular home.
These RVs include the popular Recreational Vehicles (RVs), often used for camping and vacations. Though they share the same acronym, an RV differs slightly in purpose from a motorhome.
People use RVs when they want to travel in their temporary homes or need additional living space but do not have the means to purchase a second house. On the other hand, people use motorhomes to live where they go instead of merely visiting for an extended time.
Video overview: Campervan vs Motorhome vs Caravan: Which is Best?
Can you claim an RV as a home?
Yes. However, f you want to claim an RV as a home, you should register the vehicle with the Department of Motor Vehicles (DMV) in your state.
You can do this by submitting the proper forms and meeting program requirements set by each state. In some states, people who wish to claim an RV as a primary residence must meet certain specific requirements, such as not using the RV for another purpose or living outside of it regularly.
RVs may be claimed as primary residences in other states without requiring residents to live in them if they follow all building codes and zoning regulations for temporary homes. People may also rent out a property that has been converted into an RV for a profit when they no longer reside there.
What do you call an RV that you drive?
Many people use motorhome and RV interchangeably, but they do not refer to the same thing. A person who drives an RV on road trips would correctly call it a motorhome. However, people who live or go on extended trips inside their RVs are more likely to use the term "RV." People also use the term "motorhome" to refer to recreational vehicles that run on gas instead of electricity.
What states allow you to live in an RV?
Many people live in RVs and travel around the country. It is a popular option for retirees and those who want to make a temporary escape from their home state. However, not every state is amenable (for various reasons) to such nomadic living. Here are a few popular options that allow it:
Washington State,
Nevada,
South Dakota,
Texas, and,
Florida.
> You may also like:  15 Most Underrated National Parks in America <<
What classifies as a motorhome?
A motorhome is a kind of RV that includes space for driving and living. These vehicles include beds, showers, kitchens, and other essentials that allow people to live comfortably inside them while on the move. Motorhomes also often come with an area specifically designed for driving so you can take it wherever you want instead of only using it for temporary housing.
Is a Winnebago a motorhome?
Yes, but not all. Winnebago, an automotive company in the USA, has some high-end motorhomes in their list of products. These motorhomes are usually much larger than your average RV, but they also provide amenities like televisions, stoves, baths, and other conveniences. They differed in price from top-of-the-line recreational vehicles because of their added features and increased size. An example is their fifth-wheeler motorhome.
> You may also like:Worst 5th Wheel Brands to Avoid <<