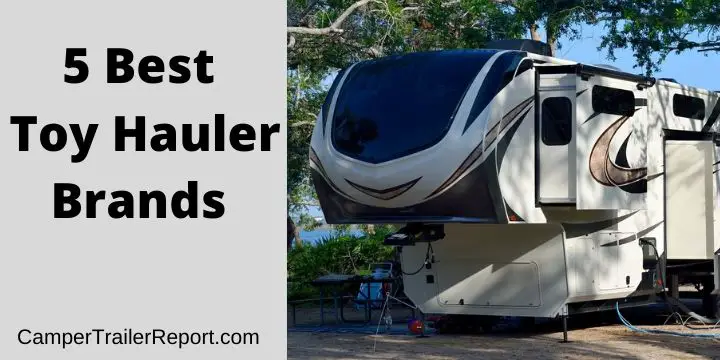 Five best Toy Hauler Brands in 2022
Do you love touring? There are the best toy hauler brands that you should consider having for your touring. You deserve something worth your money and which is also useful. There are different factors which should determine what you are to buy.
For instance, it should be of a size that can fit all that you want to have on board. Whatever the factors you choose to consider, here are some of the best brands that you should go for before 2019 ends:
1. Forest River XLR Thunderbolt Toy Hauler Fifth Wheel
You will love this brand. It is solidly built with a decent design. The seep capacity is as well recommended. It has eight different floor plans which are well tiled.
The smallest size of this hauler that you can get is 40 feet while the largest measures 44 feet. You can be sure that this will be enough for you.
Its garage floor is insulated, so the temperature within it is well controlled. You also have 13,500BTU air conditioning. You have no reason for worrying about how you are to survive.
Video Overview: Toy Hauler Fifth Wheel 2020 XLR Thunderbolt 381AMP Forestriver RVS Couchs RV Nation an RV Wholesaler
2. Palomino Puma Unleashed Toy Hauler
This is another toy hauler brand that you should be thinking about. One of the outstanding features of this option is that it is light in weight.
You don't need a very heavy vehicle to tow it. It is also shorter in length. If you are to have a few people on board, it becomes the best option.
It has a single electric track queen bed, tri-fold sofa, seven-floor plans, and a dual exterior speaker among other features. With the fifth wheels, I don't think someone would wish to miss this.
Video Overview: 2022 Palomino Puma Unleashed 382THS Toy Hauler
> You may also like:45 RV Accessory Must-Haves for Your Travel Trailer<<
3. Lance TH 2612 camper
This seems to be the hauler you have been looking for. Whether you need a hauler for camping or living, this option will give you the best opportunity.
With this, you have a 12′ for cargo. You are not to be limited to the size of the cargo you are to go along with.
Its features include a 40-gallon fuel tank, 100-gallon water tank, interior décor, Led lighting among other features.
If you are to have more than three people on board, then you can go for this brand for unlimited space.
Video Overview: Lance 2612 Toy Hauler with 1000 RZR
> You may also like:Worst 5th Wheel Brands to Avoid <<
4. Forest River fury 2912X
Here is another option you could go for. Its capacity is 2,500lbs of weight. It is 34 feet long and 11 feet high. The construction of this hauler should give you the confidence of your security and also the beauty of using that hauler.
It is light in weight, so you can have it towed using even the light vehicles.
The bedroom spacing if favorable for queen size bed and the sitting room is as well finished for aesthetic value. You will love it.
Video Overview: Review of New Prime Time Fury 2912X
5. Keystone Cougar Toy Hauler
Last but not least is the Keystone Cougar Toy Hauler. It is one of the best fifth wheel toy haulers. With this, you will find almost everything that you need to see in the hauler.
Its features are incredible. It has two different floor plans. LED interior and exterior, give you maximum security.
The door is made in a friction hinge design. The cabinets are ample to allow you to keep all that you ought to keep. The interior decor makes the whole thing to be beautiful.
You will practically love all that you are going to have. It is more of an average house room.
Video Overview: New 2020 Keystone Cougar 353SRX Toy Hauler with Bath and a Half at Summit RV in Ashland, KY
Video Overview: 2017 Keystone Cougar 326RSX Toy Hauler Lakeshore RV
> You may also like: 25 Best National Parks in the USA  <<