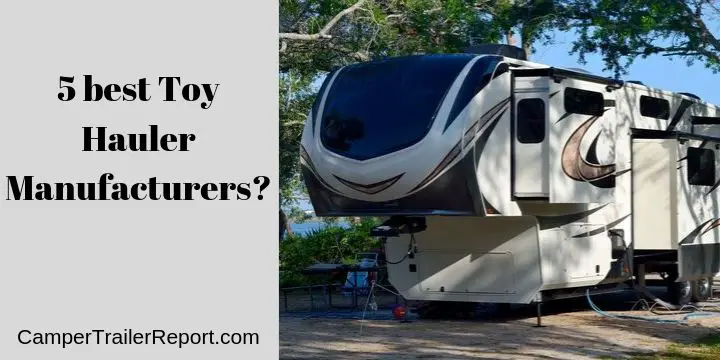 5 best Toy Hauler Manufacturers?
If you love toy hauler motors out there, then maybe it's time to check the most reputable manufacturers. The fifth-wheeler motors are out there and you'll easily find perfect models that suit your needs.
In my opinion, I would recommend the fifth-haulers, reason, these models allow you to bring along your motorcycle, golf cart or dirt bike with you. It's hard to choose a toy hauler and fail to bring your toy along with you.
Well, if you would like to find the best toy hauler manufacturer out there, here is our list
1. Montana High Country
The Montana High Country is the top company in our review. The company offers reliable and spacious toy haulers for outdoor use. For example, the Montana High Country's 381TH toy hauler is a top product which offers campers living space, a dinette, a kitchen area, a spacious garage, and residential size refrigerator.
Montana High Country also builds its products using top quality materials. From high-quality seats to beddings, the Montana High Country is the most reputable and reliable toy haulers manufacturers.
The Montana High country toy haulers are also easier to pull and set up. With great unit tons in the room and necessities, the Montana High country toy haulers are a perfect temporary home. The latest toy haulers by Montana include 2019 Montana 5th wheel toy hauler which has luxurious features for its users.
Video Overview: RV Travel – Keystone – Montana High Country factory tour. S1 EP015
> You may also like:45 RV Accessory Must-Haves for Your Travel Trailer<<
2. Raptor
The Raptor Company is second when it comes to manufacturing quality toy haulers. Founded in 2003, the Raptor Company is currently taking innovation and advancements in its toy haulers build and design.
With flexible floor plans, modern, multi-zone living and sophisticated designs, Raptor's toy haulers are fast becoming popular among hobbyists, families and outdoor enthusiasts. Their toy haulers strike the balance of flexibility and optimum residential comfort to its users.
Raptor's floor plan is what makes it top in the industry. The availability of multiple toy haulers such as 351 toy hauler, 354 toy hauler, and 415 toy haulers offers clients a vast assortment of options to pick. Their floor plan is also designed with maximum user comfort in mind. You'll also find large and extravagant designs especially if you have a larger family.
Video Overview: My Favorite Toy Hauler Floorplan! 44 Keystone Raptor 423
3. Lance Camper
If you love toy haulers that will reminisce your memories and build a community, then it's wise to invest in Lance Camper's haulers. The manufacturer prides itself in a long existence in the industry while producing top-notch toy haulers.
The California-based company also manufactures and sells truck campers and travel trailers. The company was founded in 1965 and is now one of the leading suppliers of lightweight RVs in the market. The company, of late, has been shifting to design of bigger toy haulers to give space for more utilities.
Lance Company recently won the 13th award of the RVDA DSI (Dealer Satisfaction Index). The company has also been in the market for long providing its consumers with quality travel services and products.
Video Overview: Lance Camper Factory Tour: Lance Travel Trailers, Lance Truck Campers
> You may also like:Worst 5th Wheel Brands to Avoid <<
4. Prime Time RV
Founded in 2009, Prime Time RV has been manufacturing quality Tom hauler products for a long time. It is north America's favorite company and offers different types of RV products. These include Avenger, Avenger ATI, Navi, PTX, Tracer, Tracer Breeze and Crusader Lite. Recently, the Avenger model won the 2018 top RV debut in the industry. '
Prime Time RV company also allows you to choose your floor plan. You only need to select your RV type and choose from the set of features the ones you desire. After coming with your preferences, the company will then suggest the most suitable floorplan for you.
Video Overview: Prime Time/Forest River Comes Through! (Or Did They?) Not so Fast Hombre!
5. Evergreen RV
The Evergreen RV Company has been in the limelight for long due to their quality products. The company is family-owned and operates in the New Braunfels an area which is just 23 acres away from Austin and St Antonio.
It prides itself with new and used Toy haulers sales with additional services. The customers can also purchase pars, paint, services, and body plus parts from the company. If you need a second-hand RV, then Evergreen RV is the best place to buy.
Getting a quality RV means getting it from the right supplier. Ensure you buy an RV from one of these reputable suppliers for assured durability and warranty.
> You may also like: 25 Best National Parks in the USA  <<