Worst 5th Wheel Brands to Avoid.
A 5th-wheel RV (recreational vehicle) is a van equipped with conveniences like beds, cooking utensils, and more for a temporary stay, especially during a holiday trip. RVs don't come cheap, which is why it's such a great idea that you take enough time to critically research 5th-wheel RV brands before making the final purchasing decision.

Even though newer RV models come equipped with the latest amenities and conveniences, it's not unusual to come across brands that don't meet your specifications or worse; RVs with all kinds of unexpected and embarrassing issues.
Below is a list of 5th wheel RV brands to avoid like a plaque:
1. Fleetwood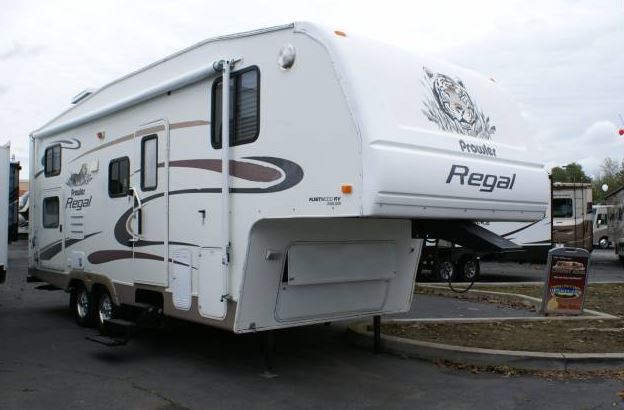 Fleetwood 5th Wheel
This well-known brand, around now for more than six decades, has obviously lost touch with its ability to continue to deliver high-quality products to its end users. Apparently, their focus is now on producing more RVs than paying special attention to total quality management.
Many recent owners of this brand are discovering that the quality of the interior is nowhere near the quality standard of other RV brands. For instance, the seats of newer models peel and collapse faster than it should, losing their value and appeal in a matter of a few years.
Another issue is the battery. They sometimes refuse to recharge. After a memorable timeout camping and you're ready to return home, you might discover much to your shock that the battery is flat, leaving you stranded in the middle of nowhere.
2. Winnebago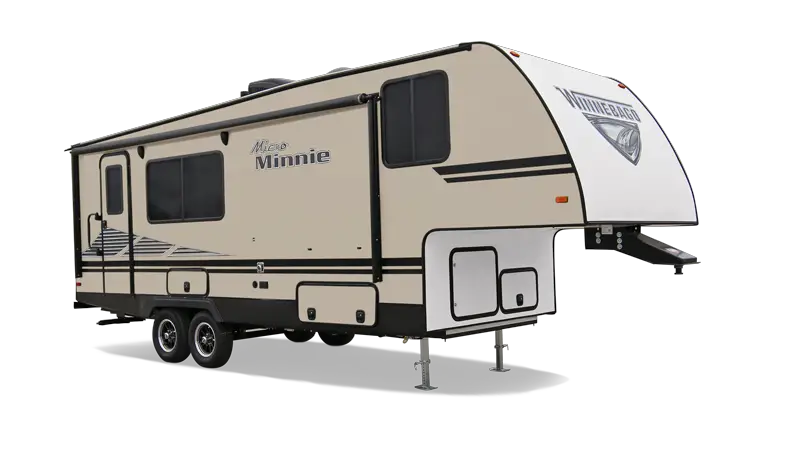 Winnebago 5th wheel
This brand is no newcomer in the RV industry. And even though they have a fleet of enviable models that can compete well with other top-notch brands, some still lack the high-quality standards expected of a brand like Winnebago.
The reason for the drop in quality is probably due to not being able to effectively balance quantity and quality.
As demand increased, it became more and more difficult to keep up with the quality standards that made their products sought after in the first place.
Embarrassing leaks, failing lighting system, and caving-in wall panels are top on the list of issues that this brand has, and why you should avoid it.
3. Coachmen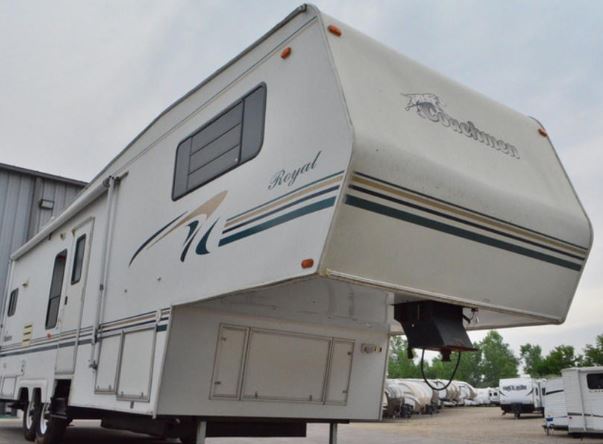 Coachmen 5th wheel
Long before many buyers were born, and with several models to choose from, Coachmen's main issue, judging from the buyer's complaints is its poor workmanship.
Drawers and slides are not able to hold as much weight as they should. Showers and sinks leak, making a mess of the floor in the process.
4. Gulfstream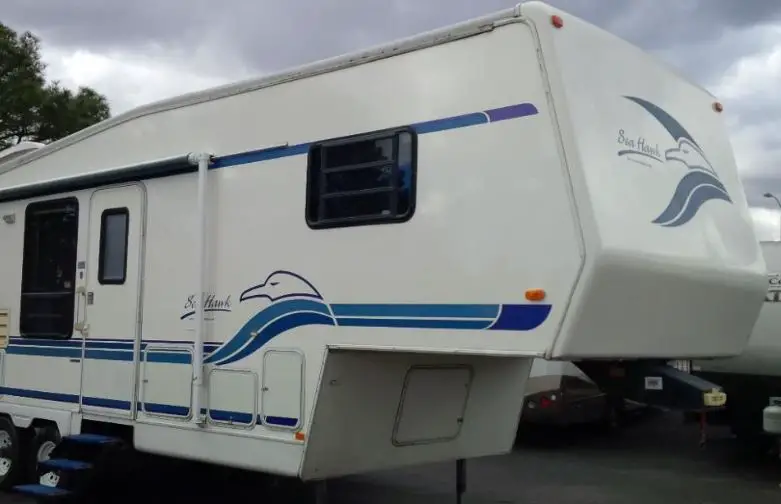 Gulfstream 5th wheel
Gulfstreams aren't made with special consideration for high-quality workmanship. Hence, inner and outer screws are known to loosen without warning, after only traveling a short distance.
It's not unusual to have heaters, refrigerators, and even standby generators malfunction when you least expect, messing up what could have been a fun trip and getaway!
Amazingly, when you take a Gulfstream for repairs, some technicians refuse to work on it, leaving you confused and frustrated.
5. Thor Hurricane
This brand is not mainstream like the others. However, the manufacturers are so nonchalant that the new Thor Hurricane RVs are sometimes coupled with fairly used parts!
Not surprisingly, roofs leak, parts rot, and there have been some recalls on the basis of exhausts positioned too close to areas where they could easily catch fire; failing battery control centers which in effect the powerhouse of the entire vehicle; uncalibrated parking brake capable of making the RV's braking system to fail in motion!
Well, there you have it! This piece was put together in hopes that you don't fall prey to any of the flaws of these otherwise popular 5th-wheel RV brands.
What to look for when buying a used RV Trailer or Fifth Wheel?
Are you planning on going on a family road trip? Or are you looking to buy a used RV trailer or a fifth wheel?
There are a couple of factors to seriously consider if you do not want to buy the wrong used RV trailer or fifth wheel. In recent times, RVs have become more in demand than ever before, and used RVs are becoming more sought after, below are the factors to consider when planning to buy a used RV or fifth wheel:
Video Overview: 5 Most Common Faults on Used RVs!!
Ownership
You need to be sure of the ownership of any used RV or fifth wheel you are planning to buy, in order to avoid purchasing a stolen RV or fifth wheel.
Also, if you buy an RV from the owner, you will be more disposed to get full information on the RV and all its issues if there are any, you would not want to buy a faulty RV or fifth wheel.
Maintenance Records
Maintenance records tend to give you an idea of the shape of the RV. The maintenance records tell how often the RV has been maintained and the repairs that have been made to the RV, which helps you decide whether to buy the RV or not.
Tire Conditions: Before buying a used RV or fifth you must know the condition of the tires, information such as the tire mileage, and the time the tires were last replaced.
This will help you understand the shape of the tires and help avoid accidents in the future. It also helps you keep tabs on future expenses, for instance, the tires of a class-A rig are quite expensive, and that is beneficial information.
Water damages
The shape of the plumbing of an RV is a very important factor to consider when buying an RV or fifth wheel.
You will be wise to inspect the roofing and check the walls for soft spots that are caused by water leakages, such leakages can be a significant hazard to your RV or fifth hee you check the condition of the engine before buying a used RV or fifth wheel.
Most people sell their RVs mainly because of the engine or general car issues, so be on the lookout for issues with areas such as clearance and brake lights, jacks, water pumps, faucets, and all other parts of the RV or fifth wheel in order to avoid buying the wrong RV.
Shower and toilet conditions
The shower is going to be one of the most used parts of the RV or fifth wheel, especially if you are planning to go on a family trip. Make sure you check the shower and toilet and make sure everything is in order before buying a used RV.
Related Post: 45 RV Accessory Must-Haves for Your Travel Trailer
Related Questions:
What length 5th wheel is the best?
The best length of a fifth wheel depends on the specific needs and preferences of the individual or family using it. However, as a general rule, shorter fifth wheels (under 30 feet) are more maneuverable and easier to tow, which makes them ideal for shorter trips or for those who plan to stay in RV parks or campgrounds. They are also easier to store when not in use.
Longer fifth wheels (over 35 feet) tend to have more living space and amenities, which can make them more comfortable for long-term living or for larger families. They typically have more bedrooms, bathrooms, and storage space. However, they are harder to tow and might not fit in some campgrounds or RV parks.
Ultimately, the best length of the fifth wheel is the one that fits your needs, budget, and lifestyle. It's important to research the different models and floor plans available and to consider factors such as the number of people who will be using the RV, the type of camping or traveling you plan to do, and where you plan to park and store the RV.
What is the lifespan of a fifth wheel?
The lifespan of a fifth wheel can vary depending on various factors such as the quality of the construction, the materials used, and the level of maintenance. On average, a fifth wheel can last between 15-25 years with proper care and maintenance. It's important to regularly inspect and maintain your fifth wheel, including checking for leaks, ensuring proper tire inflation, and keeping the interior clean to extend its lifespan.
What is the most reliable fifth wheel?
It is difficult to determine the most reliable fifth wheel as it can vary based on individual use and experiences. However, some brands that are known for producing high-quality fifth wheels include:
Keystone RV
Forest River
Grand Design RV
Jayco
Newmar
Thor Motor Coach
It is important to research and read reviews from multiple sources before making a decision on which fifth wheel to purchase. Additionally, it is recommended to take the time to visit dealerships to inspect the units and get a feel for the construction and overall quality of the fifth wheel before making a purchase.