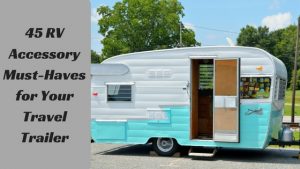 45 RV Accessory Must Haves for Your Travel Trailer
Yes, to get the best out of the thrill of outdoor activities, key things must be in place. You don't want to find yourself stuck or missing essential services that'd cut short your exploration. Here are 45 Must-Have Travel Trailer Accessories that'll make leave your travel memorable for years.

A Quiet Generator – Champion 75537i my favorite RV generator.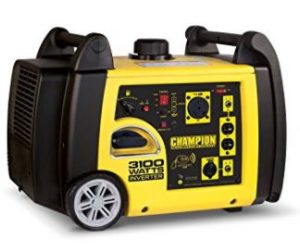 While out there, you still need power for your everyday devices. Unfortunately, powered parks may not be so much reliable, which brings us to a quiet portable generator. Moreover, you'd probably have to deal with the cold pangs of Mother Nature, and therefore, it'd come in handy to power devices to warm up your space at night while enjoying the silence too!
Gas Can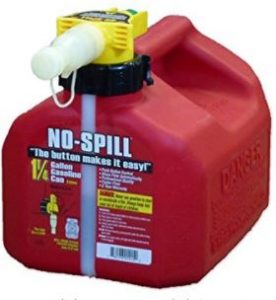 Depending on the length of your stay outdoors, you'd need some gas backup, just in case your generator runs out of gas. Avoid the torment of dead cells in your entertainment gadgets just when you need them most.
Toilet Bowl Brush
Avoid the irritation of a stinking trailer, just because your toiled bowl couldn't flush all the "matter" successfully. With a toilet bowl brush, you'll be sure to leave your private space cleaner, and save yourself the humiliation.
Dump Hose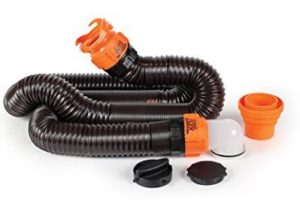 At some point, we all have to deal with dumping the tank. Yes, it's never the best part of travel. But, with the right dump hose, you can comfortably get rid of the gross matter in no time. Just be sure to get one that gives you a clean work without spoiling your fun. Trust us; you don't want that happening at any moment!
First Aid Kit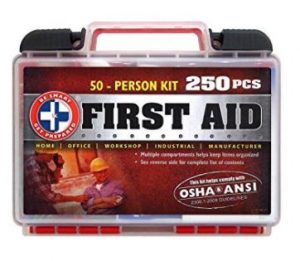 Always keep it in mind that while having all the fun, the unexpected can occur, and in such an event, your first aid kit will not fail you. Avoid the risks of open wounds from minor cuts by putting your safety first by ensuring a first aid kit is a priority of accessories in your trailer.
Water Tank Filler Valve
Having enough fresh water in your tank saves you the worries of abandoning your escapade prematurely. A water tank filler valve saves you not only this disappointment but also time wasted filling the trailer tank.
Step Mat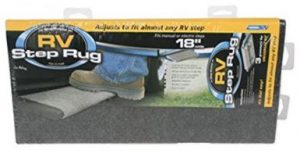 Keep dust and sand off your trailer with a nice step mat. It'll save you the stress of dusting the entire trailer in the long run!
Fold up Chairs and Tables
Yes, you don't have to forego the home type of comfort just because you are outdoors. Include foldup chairs and tables in your trailer and enjoy your meals with maximum coziness.
Kitchen Accessories
Remember the idea is to make it fun and comfortable. Include a serving tray and other essential items to spice up your mealtime. It doesn't have to stay cumbersome just because you left the comfort of your home.
HughesNet
If you are just about to embark on remote travel, you might consider HughesNet portable internet devices. With this, you remain relaxed enjoying nature while at the same time staying connected to the rest of the world. In fact, wow your friends and family by sharing moments of your crazy expeditions with them.
If you are ready to get of town and start on a journey into nature, you might require some accessories during your trip.
Outdoors Hammocks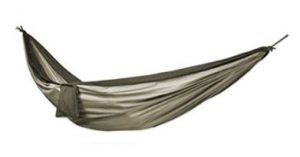 A Hammock is a hanging/ swinging couch or bed that is usually made of canvas or netting with cords attached to both its ends. They are great outdoor & camping accessories which come in different sizes, shapes and materials. As light as they are, these accessories offer incredible support as well as comfort, making them one of the best ways of sleeping or relaxing while outside. If you are outside camping, you need a hammock because it's quick and easy to set up, it's lighter than a tent, leaves no traces and it will make it easy for you to find camping spots.
Solar Oven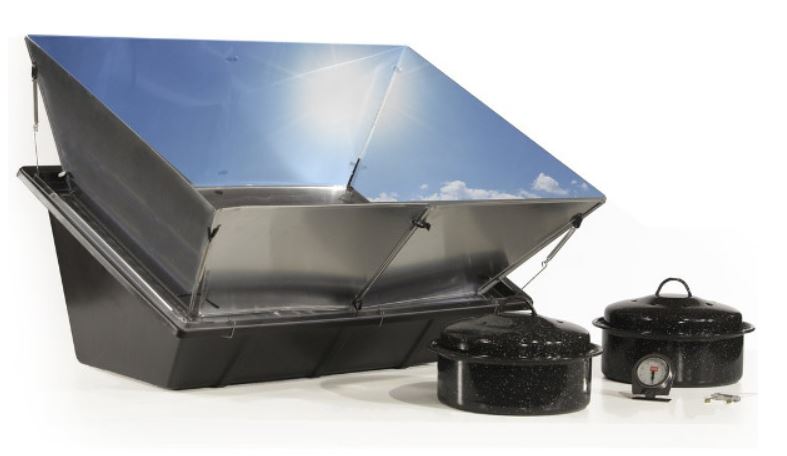 Even if you are outside camping, you still need food. The solar oven makes the process of food preparation easy and efficient by use of the sun's rays. Also because campfires usually require a certain degree of safety, these ovens offer one of the safest, fastest and eco-friendly ways of cooking while you are outdoors.
Boondocking & Dry Camping Accessories
Dry Camping, Boondocking or wild camping is simply camping in your RV without hookups. There is no water, electricity and sewer connection. Some of the essential Boondocking or Dry Camping accessories include:
Ultra-Violet Sleeves
They are important if you are driving out during the summer season when the sun's rays are strong.
Batteries
 All RVs have either one or two house-batteries which power the water pump, lights or other 12V appliances. There are different brands and types of RV batteries and each one stores different amounts of power and they require different types of maintenance.
Portable solar panels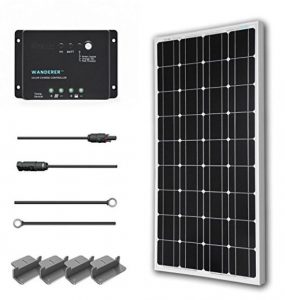 Regardless of how many batteries you have, they'll need to be charged eventually. Portable Solar Panels come in handy when your car's battery is low.
• Low energy 12V fans– The low volt fan is essential for cooling because using the RV's A/C while you are boondocking is impossible.
• Propane Heater – just like you may need a fan to cool the RV, you might also need to heat it. Night temperatures can sometimes get very low especially if you are dry camping in high elevation areas hence a propane heater would be a good source of heat. Solar Battery Solar battery stores DC energy for later use.
It offers a clean source of renewable and portable energy. The batteries allow you to camp in un-powered remote locations without having to worry how you will run your car's lights, fans, etc.
Lithium Batteries
If you are going to be camping for weeks and the weather is unreliable, then you need solar batteries which stand apart from other types of batteries because they have a long life i.e. they have high charge density. Lithium batteries also provide essential emergency support.
Composting Toilet Composting toilet offers the best solution to campers. They provide eco-friendly, and economical way of processing toilet wastes in places where there are no sewage or plumbing facilities. They are simple to install, self-contained toilet units which do not need water or to be hooked up to anything.
Lithium Jump Starter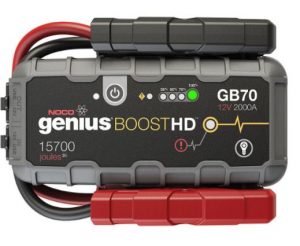 Lithium Jump Starter is an essential outdoor and camping accessory that you can use to jump-start the battery of your car. If you are in the camping field or in a remote outdoor area, this jump-starter which is small and compact can come in handy when a need arises.
WifiRanger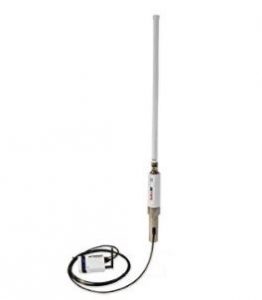 WifiRanger solves problems of weak wifi networks in large areas or closed areas with a lot of sections. While traveling it is difficult to find internet hotspots or wifi. Sometimes even if we do find one, chances are it is low in signal strength. This is where WifiRanger helps by boosting the weak signal as an amplified signal up to nearly half a mile radius.
Here is a video by RV geeks on how to install the WifiRanger:
Mobile Hotspot Signal Booster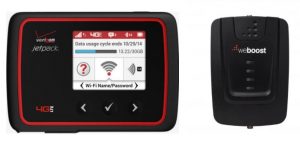 Getting internet anywhere gotten easier since the inception of mobile hotspot. When the signal strength is good, mobile hotspot works pretty much like wifi. However, in the low cellular receptive areas, mobile hotspot becomes useless. Thankfully you can still get the internet using mobile hotspot booster.
It boosts mobile internet up to 32 times and rebroadcasts the signal. Therefore, it serves as highly useful while traveling in a low cellular reception area.
Tetherable Phone
You might have used a computer or a laptop to share its internet with a mobile phone. What if you cannot find an internet connection on your laptop? That's where a tetherable phone comes in handy. Using a tetherable phone, you can use the mobile internet from your mobile phone and use it on a computer via USB cable. The computer uses a tetherable phone as a modem which lets it use the internet.
Roof Gutter
If you have an RV, you would know what a headache it can be to travel without a Roof gutter on it in rainy conditions. Without a Roof gutter, the water would slide down the outer walls of the RV and create waterlogged conditions around the vehicle. Roof gutter or rain gutter guides the rainwater from the roof away from the walls so that they're not damaged and the vehicle does not get sucked into the logged water.
Drip Extenders
During the rainy season, the dirt on the roof mixes with rainwater and flows down through the gutter. Unless there's anything to channel that water away from the vehicle, the water will gather around and clog the vehicle. To channel this water away from the vehicle, Drip extenders are installed which collect the water from the gutter and carry it away from the RV.
Portable Folding Propane Grill

Traveling in an RV does not mean you won't have guests or you can't invite people over. A portable propane grill is an ideal travel companion. You can have BBQ or Burgers or pretty much any grilling recipe anywhere. Just hook it up to your propane tank and that's it. Another benefit of the grill is that it can be folded like a briefcase when done and does not take up much space either.
Dyson Air Multiplier Table Fan
One of the important travel accessories to carry on an RV is a table fan. However, conventional fans produce a lot of noise, produce a non-constant air flow and require more space which is of prime importance in an RV. A good alternative is Dyson Air multiplier which does not take much space, has no moving parts so lesser risk with silent & efficient operation.
Leveling Blocks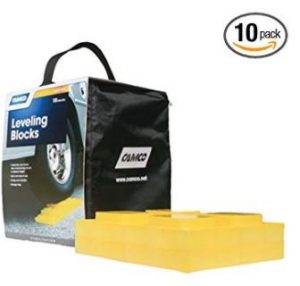 Traveling to a long distance on the road will naturally need some layover in between. To park your RV at a spot, leveling blocks are essential. They keep the vehicle in place and keep it stable. Traveling in a rainy season? No worries, since the blocks hold the vehicle in place and do not let it sink in.
Conclusion:
Make your life on the road rich and comfy by getting these 10 must have travel trailer accessories.
Related Post: First Time Travel Trailer Owner Tips, Beginner's Guide.