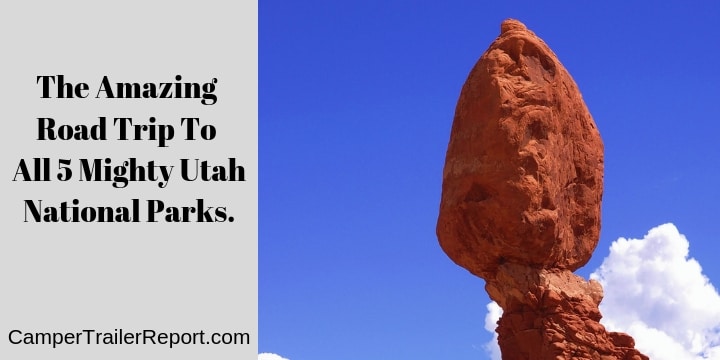 The Amazing Road Trip To All 5 Mighty Utah National Parks.
Stretching across the central and southern Utah is the stunning mighty five National Parks. These monumental parks are parked with tons and tons of thrilling iconic landscapes, hiking trails, canyons among other natural features.
It's hard to beat the natural beauty of rugged terrains of Utah which seem almost flawless. If you love sitting behind the wheel and enjoy while driving, you are not left out either. There are a lot of roads which you can explore.
You cannot get enough of this place. With few visits to the mighty five, we've managed to come up with the ultimate road trip to all 5 Utah National Parks guide to help you navigate through Utah territory and enjoy what they have to provide to the maximum. Hopes you'll enjoy.
Canyonland national park.
It is rugged, remote and quite larger. It is over 330,000 acres and is filled with arches, canyons, mesas, dirt roads and hiking roads a perfect setting for an outdoor enthusiast. The immense area is divided into three districts(Maze, Needles, and Moab).
The district of Moab is the coolest to visit as it has a lot of activities you can choose from. Two rivers, the Green and the mighty Colorado rivers are responsible for the carving of the canyons. Getting a place to camp or sleep is not a big deal as hotels and restaurants are just 45 minutes drive.
Video Overview: Canyonlands National Park, Utah, USA in 4K Ultra HD

> You may also like:45 RV Accessory Must-Haves for Your Travel Trailer<<
Capitol Reef National Park.
Parked with sandstone cliffs, arches, canyons and white domes Capitol Reef is just an amazing park to explore. This park harbors the Waterpocket fold and rippling of the earth's crust which stretches for 100 miles (160.93 km).
What's make this Park easy to explore is the fact that one side is completely exposed and you can enjoy the scenic beauty while on the car.
You can take a road trip, 16 miles (25.75 km) around the park, hike at the Hickman Bridge and enjoy the breathtaking view of the sunset at the sunset viewpoint.
Video Overview: Capitol Reef National Park 3-minute Tour
Bryce Canyon National Park.
Talk of fantasy and include Bryce Canyon National Park and I will totally agree with you. It is a land of bizarre rock formation, sandstone pillars, and hoodoos. The spikey hoodoos arising from arid basins are the main ingredients carving Bryce into a unique landscape.
When coming up with a wish list, including the Queen Garden, Navajo loop and Yovimpa and rainbow viewpoints. This park is also famous for its hiking trails. There is a lodge within the canyon so finding a place to stay is not a big
Video Overview:  Bryce Canyon National Park, Utah, USA in 4K Ultra HD
Zion National Park.
One of the favorite places to visit. It is basically a hiking ground which attracts thousands of tourists every year.
There are also small hiking trails for family size groups, multi-day adventures, and canyon lake climbing.
Be sure to have canyoneering experience before trying this one. Three days at the park should be enough.
You can hike the Angels Landings, explore the Kolob Canyons or take an evening walk around the Emerald poos.
Springdale is a small town located on the entrance of the Zion park.
Here you will find Zion lodge the only one of its kind. Be prepared for public transport as this park is only accessible via shuttles.
Video Overview:Zion National Park, Utah, USA
Arches National Park.
This is a wonderland of small hiking trails, strange rock formations and as you have guessed, arches! This park sits on 2,000 acres of land.
It is home for massive mesas, sandstones, and hoodoos. The ultimate places to visit are the Devils hiking trails, Dark Angel and Double O Arches.
Adding the primitive walk trail is a great idea too. You can find world-class apartments at Moab, a city 10 minutes drive from the park.
Video Overview: Arches National Park, Utah, USA
FINAL VERDICT.
The best time to visit these parks is during the spring or the fall months. Weather conditions are just on point and you have the opportunity to enjoy the natural setting as you will avoid the large crowds that flood these parks during the summer.
If you are planning to visit three or more parks, consider buying the National Park Pass card valid for one year. This will give you free access to over 2,000 recreational monuments in the USA.
> You may also like: Worst 5th Wheel Brands to Avoid <<
Related Questions:
What are the Big 5 national parks in Utah?
Bryce Canyon National Park
The orange and gold-hued hoodoos give Bryce canyon fame. All the way spires as a result of erosion meet your eyes.
The 4.6 queens garden trail paves your way to a massive number of hoodoos and the natural amphitheater.
Leaving this, you will meet Thor's hammer eroded rock rests on the hoodoo. The stunning beauty of the park and the geographical structure can easily make you lose the way.
Once, a pioneer named the place" a hell of a place to lose a cow."
Zion National Park
Having not less than 4.5 million visitors each year, Zion is the busiest national park in Utah. Come prepared for a 1500 foot rock formation hike up and trail in a narrow spine to have a better view of the spectacular.
Monument Valley
Time to snap some pics? Head to this valley with massive hills and flat tops similar to mittens and elephants. The straight stretches of the road give you a classic road jumping photo.
Arches National Park
The arches, a great hub for an adventure which presents mountain biking, kayaking as well as rafting for pleasures. Explore not less than 2000 sandstone arches surrounding the park. The delicate arches give you a great picturesque ever.
Capitol Reef National Park and Onward
The unnoticed park in Utah, nonetheless it is the smallest park. Have some good hikes at butch Cassidy and wild bunch and finalize with a homemade peach pie
Places to stay
Glamping resort under canvas Zion
Star-studded air streams
Conestoga wagons
American Tipis at ruby's inn
The two-tree houses
How many days do you need for Utah national parks?
2 days at Zion
2 days at the Capitol ReeF
2 days at Arches
3 days at Vanlife
at least 2 days at monument valley
> You may also like: How to winterize RV without antifreeze?<<