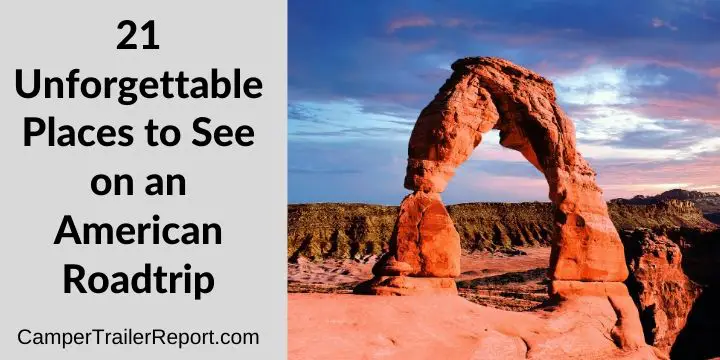 21 Unforgettable Places to see on an American Roadtrip
The land of America has plenty of great sites and places for people to visit. The destinations listed here are among the best places for people to experience when they travel around this nation. Let's take a look at 21 unforgettable places to see on an American road trip.
1. The Grand Canyon
The Grand Canyon (in Arizona) is arguably America's greatest natural wonder. This location is a huge canyon that is 18 miles wide and 277 miles long. Travel to the north or south entrance points to get the best experience.
Video Overview: Grand Canyon In-Depth – 01 – More Than A View
2. Mount Rushmore
The state of South Dakota has the Mount Rushmore national monument. This iconic statue of 4 major presidents was literally carved into the side of a mountain.
> You may also like:45 RV Accessory Must-Haves for Your Travel Trailer<<
3. Pacific Coast Highway
The Pacific Coast Highway stretches along the westernmost part of the United States. It passes primarily through California on route 1 but it moves all the way up to the coast into the states of Oregon and Washington.
4. New York City
New York City is always a great place to travel even if you are taking a road trip. This is one of the biggest and most iconic cities in the world. NYC is loaded with lots of activities and things to do for everyone.
5. Washington D.C.
The nation's capital city is worth a road trip because Washington D.C. is a huge vault of American history and culture. This is the birthplace of our nation and it is also a place where the American identity is its strongest.
6. The Great Salt Lake
Utah is home to the Great Salt Lake, and it is a very scenic place for people to see. This lake area has a breathtaking view that will keep road travelers inspired for many miles.
Video Overview: What Makes Great Salt Lake So Great?
7. Crater Lake Park
Crater Lake Park is a hidden gem in America. Not too many people have heard about this place. However, it was an active volcano in the past. Crater Lake Park is very iconic and scenic.
Video Overview: CRATER LAKE NATIONAL PARK Tour & Hike in OREGON | Oregon Travel | RV Travel | National Parks
8. Niagara Falls
Niagara Falls in New York state is considered a great place to visit for a road trip. This location has a huge waterfall that borders the U.S. and Canada. This is a favorite place for people to travel all year round.
Video Overview: NIAGARA FALLS – ONTARIO, CANADA 4K
> You may also like:Worst 5th Wheel Brands to Avoid <<
9. Portland Head Lighthouse
The state of Main has the Portland Head Lighthouse. This is an interesting location that features a lighthouse structure that was built to guide ships safely to shore in early America. Former President George Washington ordered it to be built many years ago.
Video Overview: Portland Head Light Lighthouse | Cape Elizabeth Maine
10. Rock City Gardens
Rock City Gardens in Tennessee is a large mountain area that will allow you to see 7 states from its peak. This mountain is known as Lookout Mountain and it is located in Chattanooga.
11. The Children's Museum in Indianapolis
Indianapolis Indiana is home to the Children's Museum which is the largest museum in the nation for young people. This museum has plenty of things to do for kids and it also has lots of artwork.
12. The Geographic Center of the United States
U.S. Center Chapel is the center point of the United States. This makes for an interesting road trip because it lies at the center of the United States.
13. Highway 50: The Loneliest Road in America
Nevada is the place where highway 50 is located. This road is considered the loneliest road in America. The reason why this road is so lonely is that it is not frequently used. Many people don't have to use this road to reach different portions of Nevada or the west. It has plenty of great sites to see from America's past
14. Kennedy Space Center
Take a road trip to the south and visit the Kennedy Space Center in Florida. This is a popular tourist destination that makes a great culmination for any road trip.
Video Overview: Kennedy Space Center FULL TOUR & REVIEW
15. Overseas Highway
U.S. Highway 1 in the Florida area connects the Florida Keys and the mainland. This overseas highway makes a great road trip because it literally is paved over the Gulf of Mexico.
16. The Alamo
Take a road trip through the state of Texas to visit the Alamo in San Antonio. This place is truly an iconic place in America. You should also visit the River Walk while you're in San Antonio.
> You may also like: Least-Visited National Parks: Why They're Worth a Look<<
17. Yellowstone National Park
Wyoming is home to Yellowstone National Park which is a wilderness area that lies on top of an old volcanic spot. It also has a natural geyser called Old Faithful.
Video Overview: Yellowstone National Park Vacation Travel Guide | Expedia
18. Yosemite National Park
Yosemite National Park in California is another great place for a road trip. There is a lot of scenery and things to see while traveling to and through this famous stretch of America.
19. Glacier National Park
Glacier National Park is located in the northern part of the country. This park is located on the northern point of Montana. It offers a great view of the mountains and is considered one of the best places in the nation for taking a road trip.
Video Overview: Top Things You Need To Do In Glacier National Park
20. Golden Gate Bridge
The Golden Gate Bridge is another iconic place for a road trip. People can travel through San Francisco across the bridge to see the amazing scenery around the region. This destination makes a great road trip because it has a lot to offer.
21. Lake Tahoe
Lake Tahoe is another iconic place for people to travel. People travel here every year to ski and to interact with the surrounding area.
Video Overview: Lake Tahoe Vacation Travel Guide | Expedia
> You may also like: 25 Best National Parks in the USA  <<