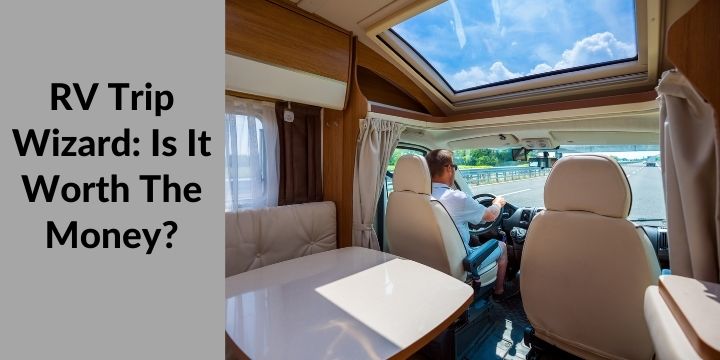 RV Trip Wizard: Is It Worth The Money?
If you're looking to plan a road trip, whether it's across the country or just across town, there are a lot of resources out there. For longer trips especially, planning this type of trip can be a huge undertaking. It involves figuring out where you want to go and what stops you want to make along the way. Here is a look at one of those resources, RV Trip Wizard.
1. How do you plan a trip on RV Trip Wizard?
In order to use the service, you need:
A list of where you want to travel and your ideal camping spots
Your vehicle dimensions (height and weight)
A fuel range (you can probably make this estimate based on your vehicle's MPG)
The type of terrain you plan to drive on (mountainous, flat, etc.)
Once you have your information entered into the website, you will be able to create a road trip map. If you click on different colored pins on that road trip map, it gives you specific information about that stop including the address, contact information, weight limit, and more.
Video Overview: Planning your First Trip in RV Trip Wizard
2. Customize Your RV Height and Weight
You can get customized results if your vehicle falls outside of the 6'6″ 6'8″ 6'10" 6'11" 7′ standard height or length. That's because you can customize the size of your RV for this program. You can also enter the weight of your vehicle, and it will let you know how many miles per gallon (MPG) your vehicle gets.
3. Driving Distance and Times
As for driving time, RV Trip Wizard can help with that too by giving you estimated times of arrival at each specific stop. Along with the driving distance of each leg, they can also give you the distance of each leg including time to get out and enjoy yourself.
> You may also like:45 RV Accessory Must-Haves for Your Travel Trailer<<
4. Fuel Limit
One thing that RV Trip Wizard is good for is allowing you to figure out how much fuel your trip will need based on the route that you've created. This can help you during road trips if you're worried about whether or not there will be a gas station on the way.
5. Campgrounds
One of the unique features of this trip planning service is that it also includes campgrounds. It lists different campgrounds around your route, allowing you to find out more information about them.
Video Overview:  RV Trip Wizard – (BEST RV ROUTE PLANNER) – Full Time RV
6. Campground Filters
Another cool feature of this program is that you can filter your search for specific campgrounds, using a variety of different filters. These can include things like whether or not you want to visit a campground with a swimming pool, the types of activities available there, and even the price that you're willing to pay.
7. Does Google Maps have RV routes?
Yes! In fact, it's included as one of the routing modes in Google Maps. You can find it by opening the Directions tab and clicking on the type of vehicle you have along with your route.
> You may also like: Least-Visited National Parks: Why They're Worth a Look<<
8. Does AAA do RV trip planning?
Yes! At least, according to their website, they offer it for free. All you need is a membership with them. Not only can they provide routes, but their trip planning service also includes a "Locate a Rest Area" option that allows you to find where there are stops along your route.
9. Is there an app for RV trip Wizard?
There is not currently an app for this program, but it's easy enough to access from your mobile browser if you have one installed on your smartphone or tablet. Overall, RV Trip Wizard is a great tool for anyone who wants to plan a road trip. It allows you to think ahead and map out where you want to go and what your ideal stops along the way will be. You can even check out campgrounds, in case you want to stay somewhere overnight. Just make sure you have all of the necessary information before using this trip planning service.
Conclusion:
RV Trip Wizard is a great trip planning service for anyone with an RV. It allows you to plan out your entire route, including campgrounds and rest stops. You can even customize the dimensions of your vehicle! This program also gives you driving times, distances, and MPG information so that you know what kind of fuel range you will have during your trip.
However, this program does require membership with them, which can be pricey for some people. In addition to that, there is no app associated with this particular service.
> You may also like:Worst 5th Wheel Brands to Avoid <<