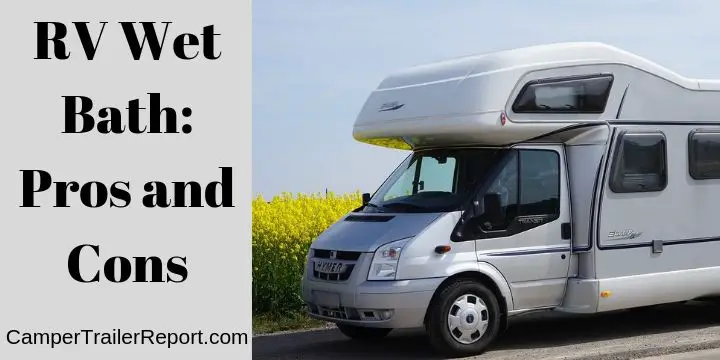 RV Wet Bath: Pros and Cons
A specific type of RV shower is known as a web bath. It is a composite toilet and shower combination that can be found in many of the vintage and smaller RVs. An RV wet bath provides all the features of a regular restroom, in a compact package.
The Difference between a Wet Bath and a Dry Bath
A dry bath is rather like the bathroom you have at home – there is a sink, a toilet, and a shower or tub in their designated areas. You shower in the tub or shower area. A wet bath, though combines the shower and toilet space, with the whole bathroom floor being waterproof and with a drain. When you take a shower in a wet bath, the toilet and the other parts of the bathroom get wet.
Pros of a Wet Bath
Here are some advantages:
Larger Shower Space: You use the entire bathroom when you shower, instead of just a small portion, so there is more space.
A Place to Sit: Because the toilet is in the same space as the shower, you have a place to sit on when you shower, which can be convenient for many people.
A Smaller Footprint: Compared to dry baths, wet baths have a smaller footprint, and allows you to have extra space in the rest of your RV for things like storage cabinets and kitchen counter space. So you have more room to play in!
Less Cleaning: Because you are showering in the bathroom regularly, cleaning and dusting is not necessary and saves you time to do other activities.
Video Overview: 4 Must-Have Items to Make your Camper Van Wet Bath Experience Great | RV Lifestyle
> You may also like:Worst 5th Wheel Brands to Avoid <<
Cons of a Wet Bath
You should know about some of the disadvantages of a wet bath as well:
Smaller in Size: Wet baths are usually smaller and can be a little too compact, but it depends on the size of the RV you have. Sometimes, they can be more spacious.
Less Storage Space: As opposed to dry baths, wet baths have less storage space, but you can try innovative ideas like installing overhead storage units above your dining area to keep toiletries.
Wetness: A wet bath is just that – wet. In a dry bath, you can keep some items out in the open. However, you must keep any bathroom supplies and toilet paper for use under a shroud or cover because they can get wet easily. It is easy to get that type of toilet paper holder and install it in your wet bath.
Drying out Space: You must make sure that the wet bath is dried out after every use to prevent moisture from building up and mildew and mold growing there. You can keep a chamois and squeegee in your wet bath for use after showering.
If you are feeling rather indecisive about buying an RV with a wet bath, relax! They can be small, but it will be great to have a full bathroom in your RV, especially if you are planning to travel long and far.
> You may also like:45 RV Accessory Must-Haves for Your Travel Trailer<<
Related Questions:
What is a wet bath in an RV?
A wet bath in an RV is a combination of a shower toilet combo that is complete with the normal features of a bathroom though it comes in a very compact package. RVs offer a delightful traveling experience for families, couples, or individuals who want to feel the adrenalin of the roads. Therefore, RVs are complete with a wet bathroom, a proper bed, and a kitchen.
A bathroom in an RV can be an extremely luxurious affair with fancy fittings, large shower heads, etc. it can also be just a basic facility with a sink and basic toilet. A particular type of shower is called a wet bath, and it is a combination of a toilet and shower found in many RVs.
Are wet rooms a good idea?
Wet rooms in an RV are slowly becoming more popular as it is a definite way to add value to your mobile home. These rooms are a style factor and are perfect for giving a contemporary feel. It is much easier to clean as there is no shower tray or a shower screen to worry about. If you opt for a sink and toilet that is wall-hung, then it is even easier. A lot of how your wet room comes up is dependent on how skillfully a professional can set up the things for a cleaner look.
It is a good idea to have wet rooms in your RV, but there are a couple of things to be kept in mind while designing a wet room. Here are a couple of important heads to keep in mind:
A shower head- A good one is a must in an RV wet room as it conserves water. Many RV showers have a wand for easy washing.
Flooring- RV wet room floors are generally made of fiberglass, acrylic, and other non-skid materials. These generally have a long life and can be easily repaired if it develops holes or cracks. A repair kit having epoxy resin can be bought to mend the crack or hole. The toilet needs to be totally dry before the repair works are done.
Fixtures and hoses- A stainless steel or plastic fixtures are usually used in RV wet bath.
Do truck campers have bathrooms?
Trucks that are larger in size have bathrooms consisting of a sink, toilet, and shower towards the rear of the truck. There are usually two types of bathrooms in a truck camper. It is a wet bath where a shower can be taken and a dry bath where there is a separate shower. The wet ones are more popular while the dry ones are slightly heavier.
Video Overview: POOPING & CAMPING – 5 different style Toilets for your Van, Truck Camper, Trailer or RV
What is a dry bathroom?
A dry bathroom has a shower that is separated from the toilet and is generally found in large RVs.
Video Overview: Truck Camper Wet Bath – How To Keep It Somewhat Dry!
What are the best truck campers?
The best truck campers are Bigfoot 25C9.4SB, Northstar Arrow 8.5 U, Lance 865, ALP Adventurer 89RB, Northern Lite 8-11EX WET, Palomino Backpack HS-8801, NuCamp Cirrus 820, Arctic Fox 865.
Do campers have showers?
Campers do have showers if there is a provision of a reserve tank and a way to heat the water for a bath. The wait is generally longer as it takes a lot of time for water to get heated.
> You may also like: 25 Best National Parks in the USA  <<