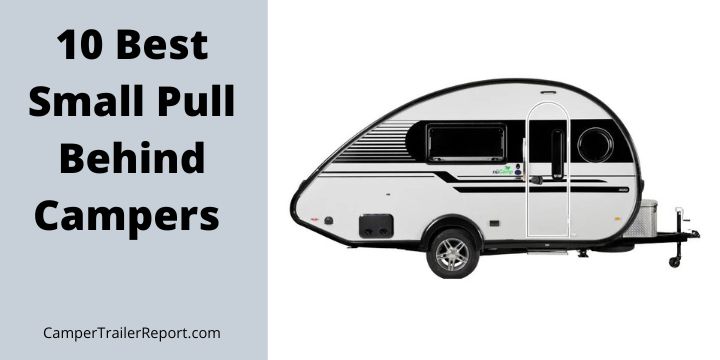 Are you looking for a small pull-behind camper that won't break the bank or your back? Check out these 10 great options for campers that you can easily tow and have a place to relax during camping.
The reviews include features of the campers and their pros and cons. So read on to find the perfect camper for your next adventure.
1. nuCamp Tab 400
Dry weight: 2840 lbs.

Length: 18′
The Tab 400 is the latest larger teardrop model that can easily be pulled by tow vehicles. It has a large floor plan that gives it space to fit various amenities and accommodate three people.
The nuCamp Tab teardrop trailer has a sleeping area with one bed that can be converted into a dinette. It also boasts an interior kitchen with plenty of storage space and a wet bath.
Pros:

• Big enough

• Plenty of storage space
Cons:

• Ceiling curvature may create sleeping challenges

• Solar option
Video Overview: 2022 nuCamp Tab 400 Boondock Teardrop Camper New Features! | In Stock at Veurink's RV Center
2. Tiny camper 4X8 Rugged Rhino
Dry weight: 890lbs

Length: 8ft
The Tiny camper 4X8 Rugged Rhino is a great little camper for those who want to save on weight and space. It's just under 900lbs, making it one of the lightest trailers.
It includes a protected rear galley with a sink and under-the-counter storage space, workspace, and a pump despite its small size. The camper is also equipped with a Rhino liner, hardwood floors, marine heater, and inbuilt shelves and nets.
Pros:

• Lightweight

• Space saver
Cons:

• Not ideal for people who love bigger space
>> You may also like:45 RV Accessory Must-Haves for Your Travel Trailer<<
3. Earth traveler T250LX
Dry weight: 250lbs

Length: 10.5′
The Earth traveler T250LX is one of the lightest campers on this list, weighing in at just 298lbs. It packs a lot of features, including a lightweight carbon fiber frame, fold-out sections, DOT-approved running lights, 2 pop-up roofs, outdoor lounge cushions, and a gallon water tank with pressurizing hose system.
Pros:

• Lightweight design

• DOT approved running light
Cons:

• Spaceship style might be unappealing to some people
Video Overview: Earth Traveler Teardrop | Camper TOUR and Factory Visit
4. Droplet XL
Dry weight: 1050 lbs.

Length: 15'4.57″
This is the newest addition to the droplet teardrop trailer line. All you need to do is attach your droplet XL to your car and explore outdoors in style and comfort.
The camper is ideal for light travelers, those who prefer multiple short-term trips, and lovers of compact, functional trailers.

It is equipped with a fully functional kitchen and a spacious sleeping area. The good thing about this camper is that it fits in regular parking spots.
Pros:

• Lightweight

• Handy shape
Cons:

• No cons found
>> You may also like: Worst 5th Wheel Brands to Avoid <<
5. Braxton Creek Bushwhacker 10FB
Dry weight: 1300lbs
Length: 13'2″
The Bushwhacker 10FB is a great option for those who want a little more space than the average teardrop trailer. This camper has a nice cooking space and a rear kitchenette equipped with a sink, cooler, and stove.

It also has plenty of storage above the galley and counter space, built-in lights, and an A/C unit. You will appreciate the AM/FM Bluetooth-compatible stereo with speakers and TV prep for a digital TV antenna if you love some comfort and entertainment.
Pros:

• Lightweight

• Plenty of storage space
Cons:

• A/C might be faulty
Video Overview: 2021 Braxton Creek Bushwhacker 10FB Teardrop Walkthrough Video | RV Dealer in Michigan
6. Casita Liberty(standard)
Dry weight: 2210 lbs.

Length: 17ft
Casita is one of the most popular RV manufacturers for small pull-behind campers. The standard Liberty is one of their most popular models, with two color options to choose from. This 17-foot camper provides versatility, convenience, and comfort to any outdoor lover.

The interior features two dining areas, a large king-size bed in two small single beds, and a full kitchen with a stove sink, refrigerator, and microwave. The camper has adequate storage space with overhead cabinets fitted on the walls.
Pros:

• It can also accommodate 2-4 people.

• Color options to choose from
Cons:

• No saving on fuel
7. Meaner Bean
Dry weight: 2000 lbs.

Length: 14′ ¼"
Meaner Bean is a bit larger than average small pull behind campers weighing 2000lbs. It comes in different colors with decorative styles.
There are also updates available in different areas. In addition, it is highly customizable and comes with a fiberglass shell construction and a queen-size mattress.
Pros:

• Durable construction

• Highly customizable
Cons:

• No wet bath and interior kitchen
Video Overview: Meaner Bean Trailer Long Term Review
8. Little guyMini Max
Dry weight: 2320 lbs

Length: 17'2″
As its name suggests, the Little Guy Mini Max has a small frame of 17'2". Let that not fool you because it features tons of amenities. The Max model includes a wet bath, an entertainment system, an interior kitchen, a large refrigerator, and a convertible dinette/bed.

It is ideal for smaller SUVs and well-equipped crossovers. It has an ideal construction of composite sidewalls and a fiberglass roof.
Pros:

• Fully equipped kitchen

• Luxurious Interior
Cons:

• Not designed for tough terrains
9. Forest River R-Pod RP-180 Ultra Lite Travel Trailer
Dry weight: 2662lbs

Length: 20ft
This is the perfect trailer for a small family of three. The RP-180 has a queen-sized bed with a dinette for comfortable seating and sleeping space at night.

The kitchen is complete with a two-burner cooktop, microwave, and refrigerator. A flush toilet, small shower, and sink are also included in the package.

With a flushing toilet in it, consider having portable wastewater tanks to help empty the black and grey water at the Rv dump station.

Pros:

• Easy to tow

• Pretty shape
Cons:

• Small refrigerator
10. Forest River Flagstaff 176LTD Pop-Up Camper
Dry weight: 1456lbs

Length: 17ft
A pop-up camper is great if you are looking for a great entry-level value. It includes a compact 2 burner stovetop and a refrigerator built to withstand bumpy roads. In addition, this trailer features a pair of full-size beds that can accommodate 6 people and a convertible sofa bed.

The exterior awning helps keep the sun off sidewalls and screening to keep bugs out. A standard 10-gallon freshwater tank sufficiently supports the kitchen sink.
Pros:

• It can accommodate 6 people

• great customizations

Cons:

• A bit costly
Conclusion:
The best small pull-behind campers provide comfortable camping experiences for couples or small families. These campers are easy to tow and offer a variety of features that make them ideal for weekend getaways or extended vacations.

When choosing the perfect small camper for your needs, consider the size, weight, and amenities that are important to you.
>> You may also like: 25 Best National Parks in the USA  <<