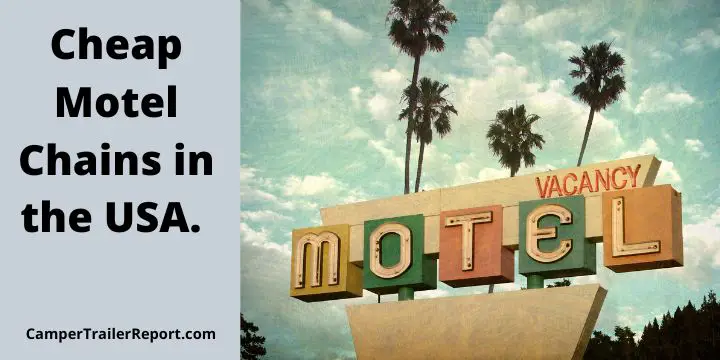 The dread of staying in an uncomfortable or unhygienic place prompts many thrifty to pay for temporary lodging. Fortunately, the best cheap motel chains offer adequate service and comfort, with double rooms priced slightly less than USSD 100 per night.
In many spots across the United States of America, properties belonging to various chains are situated along the same street, and with prices being the same, it can be hard to select where to lay your head for a few days. This article will break down ten cheap motel chains that will perfectly guide your decision-making process to help you make a sound choice.
1. Days inn
Pros
The prices at Days Inn are moderate; a wide range of locations and a more harmonious quality standard compared to the competition making it a long-time champion in the economy hotels category. At Days Inn, you are guaranteed proximity to downtowns, airports, and a wide range of other attractions and amenities at value prices. They also serve food in the morning in all their locations.

Cons

For some properties owned by Days Inn, the décor and furnishings are outdated or worn out. There is a gap between the properties' advertised condition and reality.
>> You may also like:45 RV Accessory Must-Haves for Your Travel Trailer<<
2. Microtel Inn & Suites
Pros
Despite being a newcomer in the budget lodging category, Microtel outshines most of the competition by far. Here, you enjoy pocket-friendly prices, friendly staff, quality service, hygienic rooms, excellent hotel conditions, and exceptional comfort.
Cons
In some of their properties, you will disappoint by the customer service. Guests have previously complained about overcharging, unwillingness to accommodate lost items, failure to respond to issues regarding noise, and dirty and smelly rooms.
Video Overview: Best & Worst Motel Chains
3. Motel 6
Pros
The prices here are incredibly low, and you get basic comfort for very modest rates. Also, Motel 6 accepts pets, and you enjoy coffee in the lobby, adding a friendly touch to your short stay.

Cons

Motel 6 may not be the best as far as room cleanliness is concerned. Guest reviews have indicated unregulated smoking where fellow guests smoke in non-smoking rooms. There are also reports of occasional bug infestations.
4. Red Roof Inn
Pros

Red Roof Inn takes pride in its top position in the economy motel chain category. Here you are guaranteed to get value for your money right from a well-organized booking process, quality services, and convenient checkout. Their properties have also been recently refurbished and more comfortable.
Cons
In their properties that are yet to be refurbished, guests have complained about broken fixtures, stained sheets, bug infestations, and managers who are reluctant to respond to any customer complaints.
>> You may also like: 25 Best National Parks in the USA  <<
5. Knights In
Pros

Knights Inn's properties are in good overall condition, and their services are excellent. Their staff is friendly, and their services are excellent.
Cons
Basic needs such as hygiene are not met in some of their properties. Additionally, in these properties, mattresses are old and uncomfortable, sheets are dirty, there are bug infestations, and staff is unwilling to respond to these complaints.
6. Travelodge
Pros
Travelodge accommodations are well located, with some around some of the most famous national parks in the United States. Their rooms are clean and comfortable, and they offer excellent services, giving you value for your money.

Cons

Their prices are a bit high, and the booking process is a bit of a hassle.
Video Overview: How to find CHEAP HOTEL deals (4 easy hotel booking tips and travel hacks to slash your bill)
7. Super 8
Pros
At Super 8, you enjoy pocket-friendly rates, free breakfast, free Wi-Fi, excellent service, and crisp, clean rooms.

Cons

The many broken fixtures and basics, such as coffee pots, are a major drawback.
8. Econo Lodge
Pros
The booking process is flawless, and their prices are pocket-friendly. Additionally, their staff is friendly, and their services will give you value for your money.

Cons

Room hygiene is not so good, they lack basic needs such as warm water, and their bedding is not so warm.
9. America's Best Value Inn
Pros
The motel is a ten-minute walk from Disneyland. Their rooms are clean, have friendly staff, and provide excellent services.
Cons
Their rooms are not the best when it comes to lighting. Additionally, you have to pay a $100 deposit that is refundable after 5 to 7 days, which is less convenient than a credit card holds.
10. Candlewood Suites
Pros
Their rooms are fancy and equipped well for a long-term living situation. They also have plenty of parking for any driver. Their services are incredible, and their staff is friendly and helpful.
Cons
The booking process is not streamlined, and there are a lot of hidden charges.
Conclusion
The acceptability of a cheap motel chain does not stop at the cost. Other factors to consider include hygiene, location, the check-in/out process, and much more.
>> You may also like:  15 Most Underrated National Parks in America <<