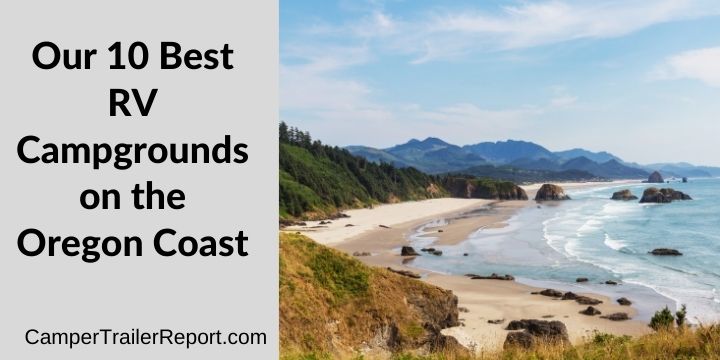 Our 10 Best RV Campgrounds on the Oregon Coast
RV camping in Oregon is popular due to the serene environment that comes with epic coastlines and beaches. There are a number of camping sites for RVs in Oregon.
Most of Oregon's camping grounds are public spaces but at the same time, there are a number of paid-for camping grounds which need a reservation before heading there.
The best time for RV camping is usually summer when temperatures on the coastline are mild and essential for camping.
RV camping in Oregon is popular that even if you don't own a recreational vehicle, you can always hire one. There are companies that offer these vehicles at a fee depending on the duration of the hire.
Here is our list of the 10 best RV campgrounds in Oregon:
Oregon has a lot of camping grounds along the beautiful coastline. Whether free or paid for, here is a list of camping grounds you can enjoy.
1. Circle Creek RV Park and Campground
This site offers up to 11.5 acres of parking space for campers. Amazing walkways overlook the Necanium River which attracts many campers. Here you can enjoy beautiful sunsets and sunrises in your tent or RV with rays shining on the river water below.
Video overview: Seaside, Oregon Circle Creek RV Park & Campground
2. Fort Stevens State Park
This is one of the most amazing and visited camping grounds in Oregon. It is located in the Northwest of Oregon where it was a military space and now converted into a camping ground. With gravel here, campers with trucks enjoy parking along with this space.
The military museum is up for viewing and great views overlooking the Columbia River. Swimming, fishing, and boat riding are common activities you can engage in here.
Video overview: Fort Stevens State Park, Oregon ~ A Campground Fav!
3. Nehalem Bay State Park
This is a camping ground that overlooks the great oceanic blue waters. It is 4 miles long and even offers a small airstrip for incoming campers who land with small flights. Activities here are horse riding along the beach and biking which has risen in this park.
Video overview:  Nehalem Bay State Park on the Oregon Coast
> You may also like:45 RV Accessory Must-Haves for Your Travel Trailer<<
4. Devil's Lake State Recreation Area
Located in Lincoln City just after Oregon, this park area offers a great site with a lake to explore activities like canoeing and kayaking. Reservation here will cost you $32. Renting tents is available at $21 too.
There are only 28 slots in number so booking first is a great option in order for you not to be disappointed when you drive in and find it is full.
Video overview: Devil's Lake State Park | 4K | You Won't Believe This is Wisconsin!
5. Pacific City RV and Camping Resort
This is a quiet and serene camping resort that attracts many people in Oregon. It offers beautiful shores and wildlife can be viewed from this point. Green trees and nature is the only barrier to the blue oceanic waters meaning you will have to make a short walk towards the ocean beach.
Swimming, hot tubs, and outdoor games and sports are offered here too. This is surely an amazing camping ground you should visit.
Video overview: PACIFIC CITY OREGON THOUSAND TRAILS
6. Sea & Sand RV Park
This is a park that is usually open all year round. Located on the seaside of Depoe Bay, you can get to watch whales from a distance. Free Wi-Fi and renting of quality RVs are available here too. Hygiene here is amazing as there is clean water and dumpsites to ensure you dump all dirt.
Littering in this park is strictly prohibited.
Video overview: Sea and Sand RV Park, Depoe Bay, OR
7. Bend/Sisters Garden RV Resort
If you are a fan of RV camping alongside scenic views of horses and activities like horse riding, then this is the perfect park for you. It is located near the town of Sisters, in the city of Bend. Mount Bachelor is clearly visible here and for beer lovers, you can enjoy locally made beer from this city.
You will also get to enjoy free Wi-Fi and swimming pools that are heated.
Video overview: BEND SISTERS GARDEN RV RESORT
> You may also like:Gas vs Diesel For Towing a Fifth Wheel?<<
8. Sunny Valley RV Park & Campground
This campground is located between Medford and Roseburg towns. Activities like hiking, fishing, and hunting are available and attract a lot of campers.
This is one of the safest camping grounds to visit and for that reason tagging along your family and children can be fun and essential for all of you. Cool and great temperatures can be experienced while your kids play in the playground available.
Video overview: Sun Valley RV Resort
9. Sunset Bay State Park
Sunset Bay State Park offers sandy beaches and brown rocks that you can relax from while watching the waves in the ocean. Yurts can be rented here and hiking in the green coastal forest is one of the most enjoyed activities. Through the hikes, you get to enjoy great scenes of the ocean too.
Cape Arago Lighthouse is also sighted here and it attracts many viewers.
Video overview: Sunset Bay State Park, Oregon ~ A Campground Fav!
10. Harris Beach State Park
Harris Beach State Park has the largest beach in the whole of Oregon. The sandy beach comes with tide pools and amazing bird watching. This beach attracts a lot of birds due to the warm weather around it.
There are rocks all over the beach where you can stand and watch a gray whale, luckily. Walkways are available and you can get to rent yurts and tents for the night too.
Video overview: Harris Beach State Park, Oregon Campsite Photos
> You may also like:Worst 5th Wheel Brands to Avoid <<
Related Questions:
Where can you camp on the Oregon coast for free?
Oregon coastlines have many public beaches which offer exciting views and places to camp. Despite the fact that there are private camping grounds that are paid for, public camping grounds that are free are all over Oregon.
Here we highlight some of the public campsites that are free of charge you can go to.
Rufus Landing Recreation Area
Rufus landing area offers spectacular camping grounds. Overlooking the Columbia River, this camping site is managed by US Army Corps, thus making it a perfect and safe camping ground.
Located in the Willamette National Forest, Alder springs camping ground overlooks the McKenzie Pass Highway and the Linton Lake trail which is an amazing sight. There is a huge campground to accommodate campers. Clean toilets and picnic tables are here too.
South Lake Dispersed Area
Located in the Siuslaw National Forest, this free camping ground overlooks the South Lake. Fishing and hunting are also allowed here.
How much does it cost to stay at a campground with an RV?
As much as there are many free camping grounds in Oregon, there are privately owned and paid camping grounds for campers. Here reservations can be made or you could drive in and pay before using the space.
Averagely, a camper can pay $33 for a night and $42 a night for non-residents. You can also tent for an average of $19 a night and $23 a night for non-residents.
Depending on the site, some private camping grounds go for up to $80 a night. This depends on the space offered and the location too.
There are those who would wish to RV camp for a whole month. Average costs for a whole month could range from $500-$1500.
Can you live in an RV park year-round?
There are regulations that govern camping grounds in Oregon. Living in a recreational vehicle all year round can be difficult unless you will have to prove that your vehicle is not a recreational vehicle.
It is very legal to live in a recreational vehicle but you will have to avoid places of residency for security reasons.
You may also like: Least-Visited National Parks: Why They're Worth a Look<<
Can you park an RV on the beach in Oregon?
In most states, it is illegal to park an RV on the beach. However, one exception is at Tillamook State Park. Until recently, some people would camp in their RVs along the highway, close to the sand dunes, and then drive to the beach from there. Today there is a fee for camping in your vehicle at any park and Tillamook State Park is one of very few that does not charge for cruising on its beaches (the norm in Oregon).
How much does it cost to park RV in Oregon?
It depends on the location. Each city or county sets its own policies and fees for overnight parking of RVs. This makes it very difficult to provide a fair comparison because there are almost no established rules. What you can expect is $10 per night per vehicle. There are two big exceptions, however: the beach and airports.
Where can I park my RV to live in Oregon?
In Oregon, it is not possible to drive an RV without displaying a "camping ball" on top. This means that you have to seek a place where you will be allowed to camp temporarily. There are many campgrounds, but they are usually very expensive and most of them have very restrictive rules (e.g. charging fees, length of stay limits, etc.)
Where can you camp on the coast of Oregon?
You will be able to camp on almost every beach. Camping is legal in most places along the Oregon coast, with some restrictions and regulations where it is prohibited. The rules vary from state to state so some of the following information might not be applicable in your area.
Can you camp for free on Oregon beaches?
On most beaches camping is prohibited except for a few exceptions designated as "camping areas". The size of these areas depends on the beach, but the general rule is: that you can camp for free at no more than one mile from a road or parking lot. If you are between a parking lot and a road, you might be permitted to camp very briefly in order to reach the beach. This can also be true if you arrive late at night and have no other options.
Is Oregon RV friendly?
In general, Oregon is not an RV-friendly state. Parks usually have no place for RVs (very few parks have designated RV camping areas) and campgrounds are either too expensive or very restrictive in their policies. You can find RV parks in a few locations: around Portland and some other places, in the north of the state, but most of those parks are focused on permanent residents rather than visitors.