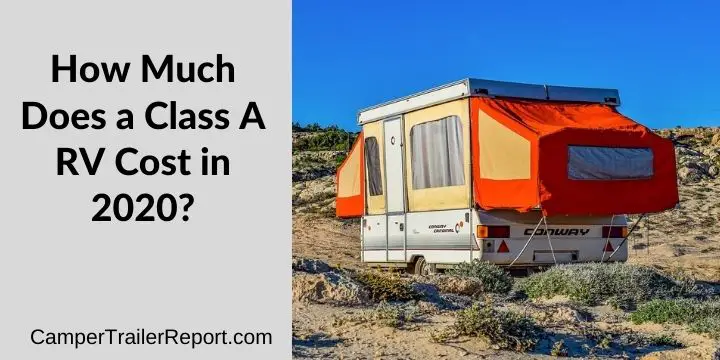 4 Best Pop Up Campers with a Toy Hauler.
Camping without your toys
Is not always a fun idea. Nor is it a camping adventure to look forward to. But when you can bring your toys along for the ride, then your camping adventure is bursting with potential.
To get your questions about pop campers with a toy hauler answered, just continue to read our article. It has the information you need to know about before you leave on vacation.
What Kind Of Toy Haulers Are There?
Pop up campers are fairly small so they have limits as to how they can be hauled on your pop up camper. You can either buy a top-loading model or go for the front loading option. it all depends on you and how you prefer to load your toy hauler section.
How Much Does a Toy Hauler Pop Up Weigh?
That will depend on the model and the number of amenities you buy when you want to own a pop-up camper. Then add in the weight of your gear, food, and toys and you are looking at 8,000 +/-.
Some pop-ups weigh about 1,000 pounds but those are bare campers with little inside.
> You may also like:45 RV Accessory Must-Haves for Your Travel Trailer<<
How Much Does a Popup Camper Toy Hauler Cost?
This is the nice thing about pop up campers. Their prices compete with the teardrop campers so they are quite budget-friendly if you do not overstock them with amenities.
Even with the toy hauler capability, you can expect to pay between $10,000 to $20,000 give or take a thousand dollars. It all depends on you and how much you want to rough it.
Can I Rent a Pop Up Camper with a Toy Hauler?
The good news is that yes you can. if you know where to look you should be able to find pop up campers with toy haulers at reasonable prices. Check out RVshare and Outdoorsy and similar companies to find one that fits your needs and budget.
> You may also like:Worst 5th Wheel Brands to Avoid <<
Top 4 pop up campers with toy haulers
#1.Forest River Flagstaff Sports Enthusiast
When you want to go all out and enjoy the great outdoors with all the benefits of home, this is the pop-up camper for you. Its weight lies around 3,500 pounds which is more than light enough to add your toys.
Inside you have a table, stove and other nice amenities as well as sleeping quarters for 6 people. The toy hauler slides out from underneath the camper right behind the hitch. That makes loading and unloading simple.
Video Overview: Forest River-Flagstaff Sports Enthusiast SE-28TSCSE
#2. Jumping Jack Classic
This lightweight pop-up camper only weighs about 2,000 pounds and it is perfect for those families that want to as close to nature as possible. Then it will carry your toys on top of its collapsed frame wherever you want to go.
With 96 square feet of living space, you can get a family of 4 inside with ease. Then when the situation dictates, remove the tent and you have a utility trailer at your disposal.
Video Overview: Jumping Jack Tent Trailer REVIEW "Black Out Edition" by Tines Up
#3. A-Liner Somerset E-3 Deck
A little more on the expensive side of things but that is okay. This trailer sleeps up to 6 people and has enough room for a front-loading toy hauler to make your vacation better than ever.
While it weighs only 3,000 pounds approx., it will hold an additional 1500 pounds of gear and toys. 2 queen size beds provide excellent sleeping space for those people who toss and turn throughout the night.
Video Overview: 2019 summerset E3 DECK NEW
#4. 2020 VIKING V-TREC V3
Last but not least, this larger pop-up camper also comes with a front-loading toy hauler. That is about the best place for your toys to sit while they are transported to the woods and back.
Weighing in at 3,200 pounds approx., you have 23 feet of space to enjoy when not driving. The off-road tires add to your enjoyment as you get to go where other pop campers with toy haulers are afraid to follow.
Video Overview: Trailer setup Front yard Coachmen Viking Trek V3
Some final words
Forget the big RV rigs and those motor homes that feel like you are bringing the whole house with you. Opt for a nice pop-up camper that fits your budget and gives you more fun with the toy hauler along for the ride.
Big is not always best.