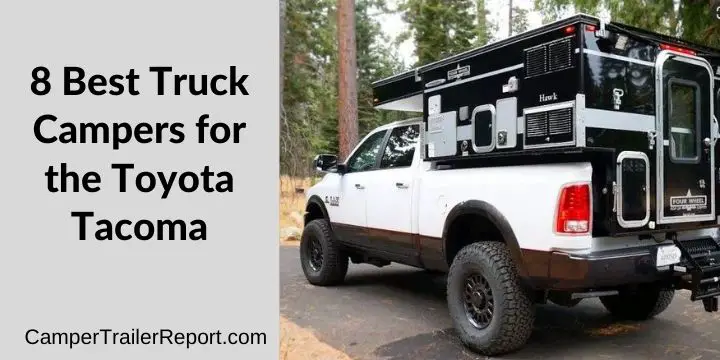 8 Best Truck Campers for the Toyota Tacoma
Do you own a Toyota Tacoma and have thought of getting a camper to haul? Then look no further as we give the 8 best truck campers for the Toyota Tacoma.
You owning a Toyota Tacoma is already a great move because of its great power and control. The 3.5L v6 engine produces great torque for hauling.
Campers have innovated great ways of modifying trucks and with these innovations, we are witnessing more trucks joining the campers way.
Here are the best 8 truck campers for your Toyota Tacoma.
FOUR-WHEEL POP-UP CAMPERS
Established in 1972, four-wheel pop-up campers are one of the long-lasting campers. They offer campers for both Short Bed and Long Bed Tacoma. The different campers offered are flatbed, topper, and slide-in campers.
With these kinds, you are sure not to miss a camper for your Tacoma. They also give lots of advice and models to choose from before designing your wish. With the vast experience of years, these campers are widely trusted.
Video overview: Four Wheel Pop Up Camper Walk Around | Hawk Model (2019)
KIMBO 6
If you are a fan of campers, you probably have heard of Kimbo 6 campers. They are vital when it comes to building and innovating campers including for the Toyota Tacoma.
These campers are known for building great aluminum campers that suit any foot length of your truck. With the Tacoma, Kimbo 6 have shown their capability in making great aluminum campers to fit it.
The camper made by Kimbo 6 only weighs 1,100 pound which means will not even drag the Tacoma in any way. Kimbo 6 is valued for such expertise and services.
Video overview: Kimbo Rig Tour!
> You may also like:Gas vs Diesel For Towing a Fifth Wheel?<<
ALU-CAB CANOPY CAMPER
This camper company started as an African traveling group. They discovered they needed more space and weight for their trucks and started building campers from there.
They have vast experience of up to 20 years and going which makes them reliable. With the new Tacoma, the Alu-Cab campers make one of the lightest and essential campers.
These campers can design heaters for the Toyota Tacoma using propane. This means even the coldest nights will be safe for you in your Tacoma. You can also have more side doors on your camper courtesy of these campers and not forgetting the dual canvas for your tents.
Video overview: ALU-CAB CANOPY CAMPER – Detailed review on features and benefits
OVERLAND
At Overland, they offer both long and short beds for the Toyota Tacoma. They offer toppers and campers with three of the different types of campers being Aterra XL Flatbed Camper, and OVE Camp, and FiftyTen Camper System.
Toppers for the Tacoma such as AT Summit can be made by these campers. They also offer a variety of options and designs where customization is possible.
Video overview: 10 Overland Mistakes Every Beginner Should Avoid
SCOUT YOHO 6.0
Found in Washington, these campers' manufacturers deliver great options for the Tacoma. Their key strategy is to always save on space and weight. From refrigerators to sleeping capacity, Scout Yoho will deliver it all for the Toyota Tacoma.
These campers are made to cover all four seasons, from winter to summer and spring to autumn. They usually make great campers but at times come pricy.
Video overview: Camper Tour | Scout Yoho
> You may also like:How To Insulate an RV Underbelly? In 5 Easy Steps.<<
PHOENIX MINI-MAX
These are the new pros in town. They offer campers with baths, yes, you heard right! They are great at custom making and can do a great job for both the long and short-bed Tacoma truck.
A small kitchenette is included on the rear passenger's side of the camper which spices things up for your Tacoma. The Phoenix mini-max will paint your camper to fit your Tacoma's color and that is absolutely amazing.
Video overview: Stealthy-Mini Phoenix Pop-up Camper
HOWER BUILT
The first camper built by the Hower built was for the Toyota Overlander. Since then, they have perfected the art of making campers and a camper for a Toyota Tacoma can come easy for them.
Colin, who is the owner of this brand, has vast experience in making campers, especially for the Toyotas brand. This comes in handy as Tacoma is another type of Toyota vehicle.
Hower built also venture to make electrically lifted campers for your Tacoma. Pretty exciting, right?
SUPER PACIFIC
This is also one of the new camper's builders in town. They come in with modern and innovative ways of doing campers and with Toyota Tacoma being a recent brand, you are sure to have excellent campers from the Super Pacific.
They custom make and offer campers for all seasons. They also offer great additives to spice up your camper.
Video overview: Inside/Out Tour of Our Super Pacific Switchback X1 | Best Lightweight Truck Camper
> You may also like:45 RV Accessory Must-Haves for Your Travel Trailer<<