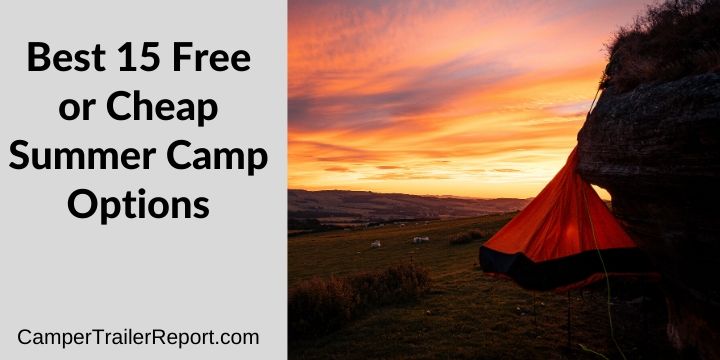 Best 15 Free or Cheap Summer Camp options for 2020
Well, summer is fast approaching and you are wondering where you can get a cheap or free camp right? If finance is a challenge to you then you don't have to worry anymore. Here are some of the best summer camps which are very cheap.
Kings camp
This is a camp that helps your kid o try a wide range of activities. This camp is always very cheap. In this camp, any bereaved child is offered free activities and also places they can stay. They also consider those whom their family members are in a high-cost medication. They offer subsidence to them. It is an exciting camp option.
Apple camp
The well-known tech giants have offered free camps in the apple store. These are found across the country. They are suitable for kids aged 8 to 12. This program runs for three days. They have helped kids in exploring the kid's creativity through hands-on projects.
Boys and girls clubs of America
This is an organization that is responsible for various programs. Not all the programs of this organization are free. The good thing is that they are always priced at the family's needs. Its activities are always great and also fun.
> You may also like:45 RV Accessory Must-Haves for Your Travel Trailer<<
Long beach
Long beach city always hosts free summer activities in its parks. These are always fun days. They have planned their activities very well. You can choose to take advantage of the resources. This can be done if you find the schedule of each park in the city. It is an exciting city for summer activities.
Video Overview: AMAZING "FREE" & Cheap Beach Camping in California 
Moorpark
If your kid does love the animals then this can suit them. Its junior safari camp which always lasts for a week. It is an exciting option that you can exploit.
Museum programs
Many museums offer free programs during the summer. Brooklyn children's museums offer a free summer program. This is not the only museum. Other several museums offer free programs during the summer.
Local arts council camps
Some of the local arts council camps offer free activities for teens and also kids. For example, the Greenfield cultural arts center which is situated in California offers free activities during summer.
Parks and recreational departments
There are some of the parks that offer day camps at a very low cost during summer. This is always for the families who qualify. You can choose to take advantage of this program.
Video Overview: Making Summer Camp Affordable for Everyone
Camp Holly woodland
It is situated in Los Angeles. It is called the best-kept secret. This is under the Hollywood sign and it has some of the exciting activities. It has swimming and even wall climbing. It is the best option you can opt for.
> You may also like:Worst 5th Wheel Brands to Avoid <<
Camp invention
This is the best for our next generation of engineers, scientists, and even inventors. This is the camp that features robotic building which will suit them well. This is a camp that can boost the academic ability of your kid when school reopens.
Kids and company
This is a camp with most adventures. It helps in creating friends and a key sector when it comes to exercise. This helps in building the mind and also the body. This is a camp that is meant for kids aged 6 to 12 years of age.
Mathcamp
This is always meant for those high school students who are talented in mathematics. It offers 5-week summer programs. The students get to explore topics in mathematics which is not a bad idea at all.
Telluride association summer programs
This is a six-week educational camp. It is meant for junior high school learners. It is situated in Colorado and can be a great option.
The University of New Hampshire summer program
This was meant for the eligible students in their dream of achieving their goals. This offers learners the ability to take some of the academic courses. It runs for 6 weeks.
Griffith perk boy' scamp
This is a camp that has been in existence for a great deal of time. It has some of the best activities and well accommodated. This is a camp that can cost very much. The good thing is that it considers low-income applicants. This means you can obtain a vacancy in this place. It is an exciting place that you can get it at a cheaper cost.
> You may also like: Least-Visited National Parks: Why They're Worth a Look<<