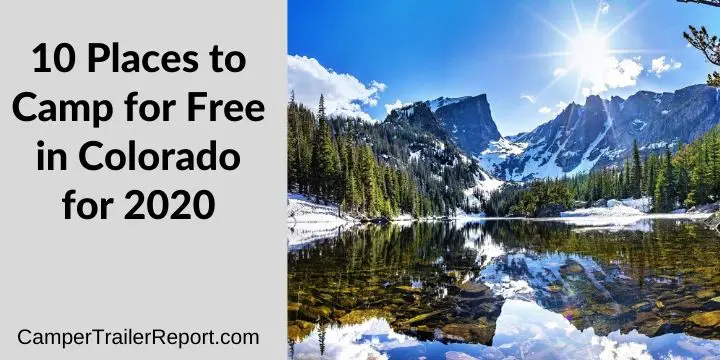 10 Places to Camp for Free in Colorado for 2020
In the united states of America, one can visit many sites as well as outdoor destinations. Still, among all of the states in this country, Colorado, a western U.S state, has a distinct landscape of arid desert, river canyons, rocky mountains covered with snow, making Colorado the ideal free place for camping.
Here are ten places in colorado you can camp for free in 2020.
Chaffee County 390
This place with several ghost towns links Buena Vista and twin lakes. It is also a part of the Isabel National forest. The location provides a beautiful landscape far down in the vast Sawatch Range. If you have a passion for climbing, this destination has four 14,000-foot peaks for you to climb.
Along the road, passenger vehicles can for up to 12 miles. This location has ample space for setting up sites, and in cases where other sites are full, it includes a large meadow close to the Winfield ghost town.
Chafee is a secluded spot where you can camp and enjoy some privacy for free.
Video Overview: Video of Chaffee County Road 390 Dispersed, CO from Kyle K.
Oh-Be-Joyful Recreation Area
As the name suggests, it is hard for you not to be happy in this free special area. It is located not far from the outside of Crested Butte. Along the slate river, it includes; picnic tables, bathrooms, and also fire rings. With a suitable vehicle, you can access more private campsites by driving across the river, after the spring snow melt-off.
> You may also like:45 RV Accessory Must-Haves for Your Travel Trailer<<
Tarryall Area
This area is less than a 2-hours when using a vehicle from Colorado Springs and Denver. Tarryall direction connects U.S Highway 285 to the north and U.S Highway 24 to the south. The area has numerous pull-off campsites to which you can ride through.
This area includes; the lost creek wilderness which has plenty of rock formations, an underground stream that 'disappears and reappears' nine times or more, and other lovely sceneries.
Video Overview: Tarryall Area Drone 2018 YouTube
Old Stage Road
This road, also known as the Gold camp road, is an excellent place for camping, but for the first several miles. staying is restricted because of private properties along the way.
As you get deeper into the Pike National Forest, campsites exist in large numbers.
Drivers with high clearance-vehicles will discover beautiful campsites up Forest 379 in a park known as Frosty's, situated in a valley between Mount Rosa and Almagre.
Video Overview: Free Camping in Colorado's National Forests
Forest 788
This place is also known as the Gunnison National Forest. It is quiet and remote, making it the perfect place to run away from the city noise, pollution, and congestion.
This flat, wide travel lane in the mountains southwest of lake city, goes past some free, slightly used campgrounds.
At the forest sits the trail(trail.no.464), running some distance on land with no trees. On the plateau, you can view the Juan mountains from a distance
> You may also like:Worst 5th Wheel Brands to Avoid <<
Guanella Pass
The Guanella pass is a seasonal pass that connects Como in park County with Georgetown and Interstate 70. It reaches a maximum height of 11,669 feet, giving residents of this city a substantial way to get above the clouds. A free site is at the south of the pass. Look for several of the many pull-off sites as you advance south.
Homestake Reservoir Road
This is a significant place to spend your summer weekend. It is situated off of U.S. Highway 24 North of Tennessee pass in White River National Forest.
The lane has a lot of good pull-off sites, and passenger vehicles can access up to the last mile to Homestake. Apart from fishing or boat riding in the reservoir, you can also explore considerable hiking trails.
Video Overview: Homestake Reservoir Camping
The Crags
The Crags is situated in Divine, Colorado. It is a 4.8-mile road featuring attractive wildflowers. The area around Crags contains enough car spots which are free, but during the weekends, the car spot areas usually fill up fast.
If the spots are already filled up, you can find more along with the Forest Service 383, where you can get enough spots.
Video Overview: Dispersed Camping on Public Lands Explained! (Finding Free & Cheap Campsites)
Jones Pass Road
If you are looking for a mountain escape, along Jones Pass lane is ideal. Along the road, there are scattered destination spots, and if you want a more isolated area to set up a camp, consider advancing further with a four-wheel-drive vehicle. In this area, you will hike in trails such as the Continental Divide Trail.
Cottonwood Pass
This pass sits on the Isabel and Gunnison National Forests. It offers scattered destination options close to Buena Vista, Colorado. It also includes sites on both sides of the pass with the trail offering free destination areas. In this area, the lovely town of Buena Vista is such a beautiful place to explore.
In conclusion, all of these ten free places are ideal when you want to get a little closer to nature and run away from the abnormalcy of city life for a while.
> You may also like: Least-Visited National Parks: Why They're Worth a Look<<