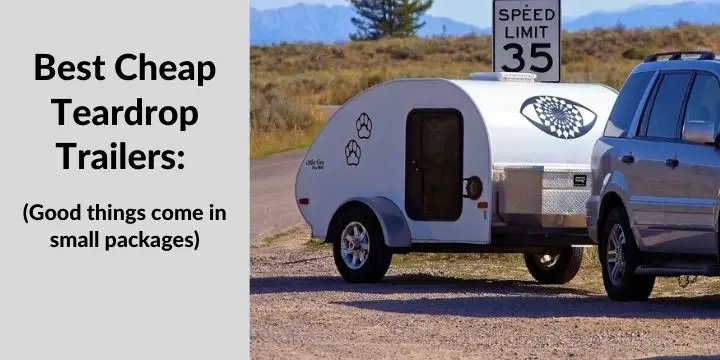 Best Cheap Teardrop Trailers: Good things come in small packages
You do not have to drive an RV or travel trailer that is as large as a small house to have fun on vacation. A little teardrop trailer will help you enjoy your holiday and provide better memories.
Plus, they are easier to park in campsites and maneuver into position. Do yourself a favor, as well as your bank account, and consider these less expensive trailer options that still give you a lot when you are away from home.
The best teardrop trailers available
#1. PeeWee camper's Small fry
The cost is under $5,000 and it comes with all the appropriate towing tools you need to get where you are going. Its dimensions are 126 inches long from tongue to rear, 59 inches tall, and 64 inches wide. That keeps the weight down making it easy to tow anywhere.
Being small still allows it to have vinyl-covered plywood flooring, dual stabilizing jacks, a roof vent, as well as a 26 by 36-inch rear door that is very secure.
Video Overview: The Small Fry Camper from PeeWee Campers
#2. Escapod
The price is a little more expensive than our #1, $16,500, but it is for those people who really want to rough it when they go camping. The tires and frame on this teardrop trailer are designed to handle those really rough roads, you like to use to get away from it all.
This option does not have all the bells and whistles of other travel trailers but then this one is made for the outdoor experience and not for bringing your home with you. It's basic but 2 doors can give you some peace of mind.
Video Overview: 2020 Escapod Off-Road Teardrop Trailer
You may also like: Teardrop Camper Prices: How Much Do They Cost<<
#3. Hiker Trailer Highway Deluxe:
When you do not want to break the bank, this under $4,000 teardrop trailer is a prime choice. The larger you go will influence the price upwards but you still get an exterior 110-volt outlet, vinyl flooring, and aluminum siding.
Just about everything is made from aluminum to keep the tow weight under your vehicle's towing capacity. There are 4 sizes to choose from that will fit your camping style.
Video Overview: The Hiker Trailer is the Least Expensive Adventure Trailer You Can Buy! It Starts at Under $3,000
When you are thinking outside the box, this uniquely designed teardrop trailer makes sure you get the shape you want. Costing only $9,000+ you get a creative look to your camping style.
Besides the design, its best feature is the solar panel electronic system. This helps keep you off the grid without losing any modern-day luxuries. Plus, you have extra insulation and a top-notch heater to keep you warm on cool nights.
Video Overview:  2020 Polydrop Trailer | Geometric Teardrop Camper
#5. Casual Turtle Campers Hatchling:
When you are on a limited budget you can still enjoy the great outdoors with this modestly priced $6,250 teardrop trailer. The dimensions still give you enough living space to be comfortable while you stay within your budget.
The 12-foot overall length and the approx. minimum weight of 760 pounds makes sure you can tow it to your destination without causing your tow vehicle any trouble. Insulated plywood flooring makes sure your feet stay nice and warm.
Video Overview:  Casual Turtle Campers
> You may also like:Worst 5th Wheel Brands to Avoid <<
#6. Ultimate Big Woody:
This is a great teardrop trailer when you want to build your own. This self-build model starts at $3,000 and weighs in at roughly at 1,000 pounds. Even though you are assembling it yourself, you still get some great features.
There is a fridge, outdoor kitchen, tables, and a patio. Not to mention overhead storage and room for a tiny television, a double bed, along with a 12-volt wiring system. You can buy this DIY option in kit forms or simply go off the blueprints.
Video Overview: Woody Tear Drop Camper
#7. Wide Path Camper Bicycle Camper:
Size matters and when you go small, you can still get a bed that should fit your frame. The bed measures 3 feet 3 inches by 6 feet 7 inches when unfolded completely.
Then the asking price is under $4,300 which gives you plenty of money left over for a dozen vacations. If you need more space, you can use the built-in slotted aluminum rail to add a tent or awning. A water-resistant plywood floor helps keep you nice and dry.
Video Overview: Wide Path Camper 2020
This little teardrop trailer's price starts as low as $6,200 but we have seen them go for as much as $14,000. No matter the price, you are still getting a lot of value for your money.
A large double bed provides comfort while a door on each side provides the security you need in emergencies. Then the approx. 500 to 700-pound weight makes this trailer easy to tow.
Video Overview: Oregon Trail'r Do-Drop Alpha
Some final words
These are the best of the best teardrop trailers. And you will find that they will have a lot of competition from other makes and models. Just do some careful comparison shopping to make sure you get the one that meets your vacation needs.
> You may also like:45 RV Accessory Must-Haves for Your Travel Trailer<<