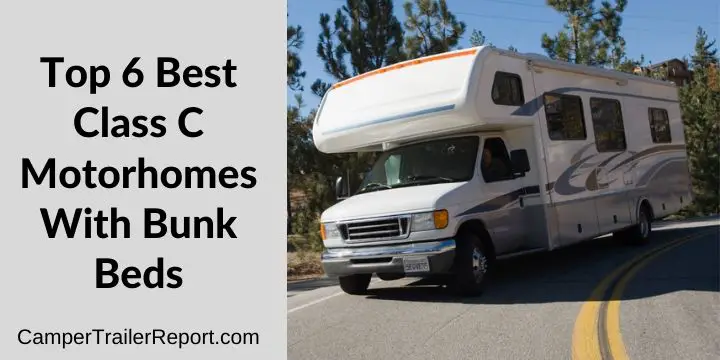 Top 6 Best Class C Motorhomes With Bunk Beds
Are you planning to get into great outdoors and RV lifestyle with the whole family? If so, you'll need all the beds to maximize bed space. That's where bunk beds come in. Today, new models of Class C motorhomes are offering something for everyone.
It is an excellent fit for persons with decent budgets. You don't have to buy a fifth/trailer wheel and a vehicle separately. However, you must choose the one that is equipped with amenities and convenient features. Let me take you through the top 6 best Class C Motorhomes with bunk beds.
Thor Chateau 30D
If you're looking for a motorhome, Thor Chateau Class C is a perfect choice for large families. Thor comes with new improvements, including better sleeping capacity, unique floorplans, and better features. Chateau 30D is well constructed and can reach 7-8 sleepers without hassle.
With a set of bunks, a cab-over bunk, and a full sleeping area made from dinette and sofa, this model is incredible. Also, it features lighted vinyl flooring and rotocast storage compartments for storing any cookware and dish.
With a sufficient counter space and a double kitchen sink, you can do lots of things in the kitchen. The living area features a 40 inch LED TV, hence one can enjoy it from the kitchen and living area. The laying space provides comfortability as you travel. Additionally, the bathroom has a toilet, vanity, and shower with a sink.
Video Overview: Thor Chateau Model 30D Class C with Bunks (32') RV Walkthrough
> You may also like:45 RV Accessory Must-Haves for Your Travel Trailer<<
Coachmen Freelander Class C
The motorhome has so many floorplans. If you need something with higher sleeping space and capacity, then this Class C is a top choice. It has 20 floorplans that have fantastic bunkhouses. On the outside, Coachmen Freelander is constructed with azdel composite.
Also, it designed with a walkable roof, hence perfect for tailgating. On the inside, you'll notice the presence of the reclining driver, booth dinette, and passenger seats.
Moreover, there is an upgrade of a DVD and 32-inch TV in coach. This ensures peace of mind and enjoyment throughout the journey with your young kids. The model has one bathroom that has an excellent shower in it. This spacious motorhome will reach 9 people. Spend your holiday in style with Freelander Class C.
Video Overview: 2020 Coachmen Freelander Class C RVs Starting at $59,999! MHSRV.com
Jayco Redhawk 31XL
Jayco Redhawk is another Class C motorhome suitable for large families. The model features plentiful space and multiple privacy options for bathing, getting washed up, and dining, as well.
It's never boring. You can tour in comfort with a TV, and an open hall ensures a wider view for passengers. The queen bed offers storage space for everything you carry.
Plus, it has exterior storage compartments. With that, you don't have to worry about larger travel items. The material used to construct the roof is durable and gives protection from wind, rain, snow, and wind. Keep your family safe as you invest in this motor home.
Video Overview: HaylettRV.com – 2016 Redhawk 31XL Class C Motorhome by Jayco RV
> You may also like:Worst 5th Wheel Brands to Avoid <<
Coachmen Leprechaun 310BH
The motorhome is among the best when it comes to physical specs and features out there. It features upgraded vinyl flooring that is quite impressive.
Also, you'll notice the even-cool ducting system, but most folks may be interested in the driver's seats, reclining passenger, and U-shaped dinette.
Plenty of space is also available as it has 18 different floorplans. Space can also be transformed into an entrainment area with the finest swing arm TV.
The bathroom comes with a shower, medicine cabinet, a sink, linen storage, and toilet. The pantry and refrigerator are there to provide quick access to foodstuffs.
Eventually, the queen bed in the master bedroom features lovely nightstands with wardrobes to match
Video Overview: 2017 Coachmen Leprechaun 310BH – wakleyrv.com
Tiffany-Allegro 35 QBA
Without mentioning, this motorhome, our list would be less sensible. Tiffany-Allegro is popular because of its durability and maneuverability. Therefore, if you're longing for a durable (long-lasting) motorhome option, this model is probably the best. For your large family, Tiffany-Allegro is an excellent option. You'll find a bedroom space with bunk beds.
For kids, there's the option of several drawers and a swivel TV cabinet. You can store all the kid's clothes and belongings without a struggle. The rear room offers comfort to passengers. In the bathroom, there's enough space for storing conditioners, medicine, linen, shampoos, and soap. Still, you've got a sink, shower, and toilet to do everything you desire. I got to say that 35 QBA is the best.
> You may also like: 25 Best National Parks in the USA  <<
Gulf Stream Conquest 63111
Conquest 63111 also makes our list this year. It comes with unique specs that will make you admire it. It features around 12 different floorplans with bunk beds. The 63111 is tailored with a skydomes shower and light cherry cabinetry. Significantly, this Class C model is solidly constructed out of sturdy aluminum on the exterior. That's the reason for its durability attribute
Furthermore, it features basement storage where you can store your belongings. Needless to say, the roof and pleated window shades are superb to ensure protection. With this model, your vacation will be historical. The space options to rest, a bathroom, and cabinets to store clothes and linen are outstanding. Choose it top to enjoy your RV lifestyle.
Video Overview: Gulf Stream-Conquest C-63111
Conclusion
When choosing a Class motorhome, consider something spacious. You'll need those sleeping spaces, especially if you have a large family or passengers. Since road trips and long vacations are our dreams, it good to be comfortable at all costs.
You may also like:  Why America's Most Popular National Parks Need to Be on Your Bucket List <<
Related Questions:
What Class C motorhomes have bunk beds?
If you plan to spend most of your time outdoors with your entire family, you need to ensure that you have sufficient beds. Therefore, when it comes to maximizing space, you must consider bunk beds. Below is an overview of class C motorhomes with bunk beds:
Fleetwood Bounder 36D
Jayco Redhawk 31 XL
Tiffany Allegro 35 QBA
Thor Chateau 30D
Newmar Bay Star 3419
Gulf Stream Conquest Class C 63111
Do class A motorhomes have bunkhouses?
Yes, class A motorhomes usually have a bunkhouse. Furthermore, there are multiple motorhomes with bunkhouses, but the class A motorhomes guarantee you the most spacious and luxurious bunkhouse.
Video overview: 2021 Best Class A Motorhome With Bunk Beds!
What RVs have bunk beds?
There are many RVs with bunk beds in the industry. These RVs include:
Coachmen Mirada Class A Motorhome
Grand Design Solitude 336DEN
Winnebago Minnie
Tiffin Allegro
Dutchmen Rubicon 2500
Forest River Rockwood Mini Lite 25O4
Forest River Wildwood Heritage Glen
Winnebago.
What is the best Class C motorhome for the money?
The best class C motorhomes for money are usually under 300 feet because they allow you to maneuver with them easily. In addition, they can fit any given campsite in any campgrounds in the U.S.A. Their bunk is usually over the cab and is shorter, unlike other RV types; hence it generates sufficient space for the living room and sleeping. Bear in mind that shorter RVs are affordable to allow you to hit your road trip early, even under a limited budget. They are versatile, comfortable, and have a creative design. Choose class C motorhomes under 30 feet, such as Coachmen Freelander Class C RV and Winnebago View Class C Motorhome.
What is the best motorhome layout?
Island bed motorhomes, most people love them because they feature the best motorhome layout that is desirable and famous.
> You may also like: The Best Generator For Travel Trailers.<<
Are there RVs with 3 bedrooms?
Yes, there are RVs with three bedrooms. They are the best when you are planning to be outdoor with your entire family. The RVs with three bedrooms can also offer you sufficient space to host your friends. If you plan to be outdoor with your family, it would be better to choose an RV with three bedrooms.
Video overview: 2 Story 3 Bed Room Travel Trailer! Is this an RV or a Tiny Home?
Summary
Class C motorhomes with bunk beds are famous globally because of their size, enabling people to sleep at a go. However, they are numerous in the industry, but you are likely to settle on the top-quality class C motorhome if you concentrate on their features. Therefore, consider investing in one today and enjoy an incredible experience whenever you are outdoor.
> You may also like: 15 Campfire Games for Adults And Kids. <<