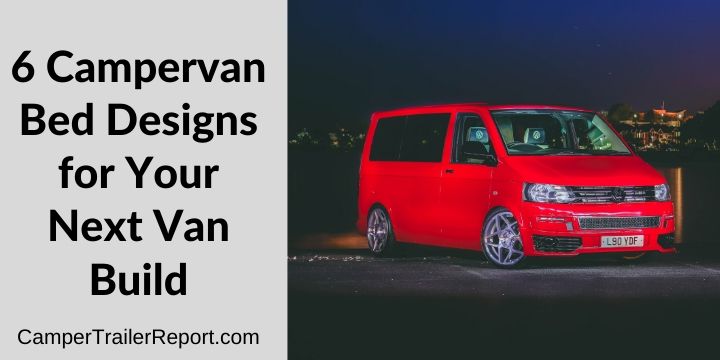 6 Awesome BED DESIGNS for your VAN CONVERSION
Want to build your next campervan, but you don't know which bed design to choose? First, your campervan is where to relax and sleep, so think about starting with the bed. There are unique bed designs out there to choose from. These van bed designs show practical and creative ideas for your campervan build.
While some people prefer a permanent fixture, others want something with more livable and flexible storage. However, while looking through different builds and designs, keep in mind the surface area and layout of your campervan build.
Here are the 6 Campervan Bed Designs for Your Next Van Build.
The Platform Bed
Probably, the platform bed is among the standard bed designs and builds around. It's a good option for your next van-building process. A platform bed tends to offer more space underneath for relaxation and storage. Since the bed is fixed, you don't have to set up and take down this bed each night. Design a layout on the amount of space you need. With a queen-size mattress placed on top, you'll have a reason to enjoy your vacation superbly.
> You may also like:45 RV Accessory Must-Haves for Your Travel Trailer<<
Flip Bench Bed Design
Another gorgeous bed design to come across is Flip Bench Bed Design. The bench flips open into this beautiful single-bed design. To ensure comfortability, you need some cushions, and then you're good to go! The bench provides a great space for everyone who needs an extra area to relax and sit straight up while traveling on the road.
Video Overview: 10 Awesome BED DESIGNS for your VAN CONVERSION ? ?
Drop-Down Table Bed
It's not a surprise to see this design here and there. It works amazingly when you want to get the best from the little space you have in your van. This bed design serves the dual purpose of both the sleeping spot and the bench. Also, it allows ample room to work, relax, and stay comfortable on memorable nights.
Video overview:
Bunk Bed
Bunk beds are common in Class C motorhomes. You'll also see a bunk bed in a campervan. It's the best choice for a family of three or four who need enough space to sleep. They're designed in a way that they will fit in a van. The bunk bed design hangs from the van's ceiling and features a ladder that helps your kids to climb up effortlessly at night.
> You may also like:Worst 5th Wheel Brands to Avoid <<
Slide-Platform Bed
Another unique design we've seen regularly is the slide-out platform bed. When the journey starts, you can push the bed against the back wall. When you find a perfect place to park, you can slide out the whole platform, hence you can enjoy the sun's rays and twinkling stars.
Video overview:
The Hammock
This design applies when one has minimal space in a van. You may decide to string a hammock directly across the inside of your vehicle. By this, you create a nice place to sleep at night and relax, as well. However, it's only perfect for those people who enjoy a hammock-sleeping style.
Conclusion
If you buy an empty van, don't worry because there are fantastic bed designs. Having fun in your vacation depends on comfortability and ample space for storage. The above bed designs offer space to the maximum. Build your campervan and keep going.
> You may also like: 25 Best National Parks in the USA  <<