The Best Generator For Travel Trailers.
This new generator from the series of inverter generators features a dual fuel system with the ability to operate on both gasoline and propane. This feature also comes with a low oil shut off sensor that makes it easy to detect when the generator is running low on fuel. It also holds 0.6-quarts of oil out of the recommended 10w-30 in most standard generators.

This generator also has a very convenient electric start with 3 position ignition switches and a quick touch panel that allows one to easily access all of the generator's controls in one spot. This also makes the generator easy to operate by any user irrespective of their abilities.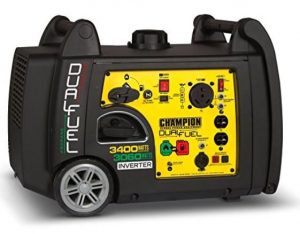 The champion 3400 is perfect for RVs, travel trailers and as a backup power generator for homes from its ultra quiet operation. This features a 59 dBA and 3400 starting watts for the generator.
This translates to a quieter generator which will minimize any noise disruption that is common in most standard generators. The generator also has 3100 running watts that allow it to run for up to 7.5 hours on gasoline.
The generator also cuts down the risk of electrical fires and destruction of sensitive electronics such as laptops and mobile phones through electrical faults. This is from its clean power feature that is considerate of sensitive electronics with 120V 30A AND 12v direct current outlet.
The generator also features a dual USB adapter for other consumer needs. Most importantly, the generator includes a 3-year limited warranty with an additional free lifetime support from the company's dedicated experts.
Selecting the most suitable generator for your traveler needs can also be done through determining its size where the larger you go, the more it would weigh. A 3000-6500W generator would be a more convenient product for a person who craves a high capacity generator, but the mobility of this generator in a traveling RV is quite questionable.
Getting this generator in and out of your traveling RV should be a very important factor to consider before going for any generator. Alternatively, one can consider buying a smaller inverter generator that is still capable of supplying an equivalent amount of power for the RV. This would mean substituting the bulky generator for a more suitable alternative.
Video Overview: Champion Dual Fuel 3400 Watt Generator Inverter
Best 30 amp portable generator on the market: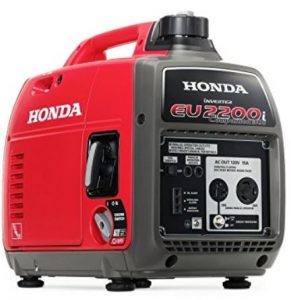 The Honda EU2200IC is one of the most efficient and portable generators in the market. It is extremely lightweight and compact weighing less than 47 pounds. This weight could be attributed to the Honda inverter technology that is seen to be trying to produce more efficient generators in the market. The EU2200IC has an inbuilt 30 Amp outlet that is suitable for all RV applications and one 20 Amp receptacle. The Honda can run in a simple parallel cord due to its 30 Amp receptacle.
The Honda also features a fuel shutoff valve that allows the engine to run and consume a majority of the fuel in the carburetor. It's only after this process is done that the engine will automatically switch off. This process aids in preventing the potential stale fuel problems from occurring and maintains the generators good health. The new Honda EC2200IC also has an increased ventilation area of about 2.3 square inches which is larger than the older Honda model. This reduces the cabinet air intake resistance generators are prone to have and improves the overall inverter cooling system.
The EU2200IC also has a larger oil filler opening that will prevent any possible spillage accidents when filling the inverter. This feature also comes along with a larger oil drain and a longer spout that guarantee of safer and easier oil changes.
Best 50 amp portable generator on the market: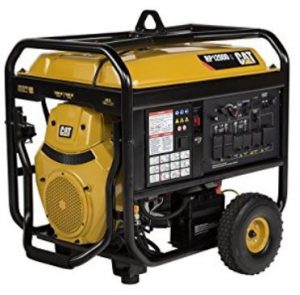 The RP12000E is one of those extremely powerful models of generators that are built to cater for all of your electrical needs. The generator features nine power outlets, 20A, 30A and 50A that enable it to cater for all needs even when using sensitive electronics. The RP12000E uses 12000 watts while running and 15000 watts for starting. It's a very fuel efficient generator allowing the user to save on most fuel costs they are likely to incur. It also comes with a 670 CC V-twin OHV engine with an idle mode option which also improves on its fuel-saving abilities. These features make the RP12000E suitable for both domestic purposes and as travel generators.
Related Post: 45 RV Accessory Must-Haves for Your Travel Trailer