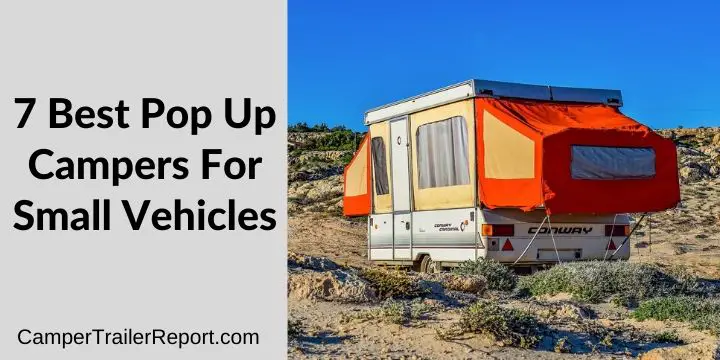 7 Best Pop Up Campers For Small Vehicles
Pop-up campers make a great companion for our camping experience. They make it possible for us to comfortably sleep while camping off the ground and are also light, and you can easily tow them.
A popup camper is an advanced innovation from sleeping in a tent. Pop-up campers have extra amenities like tables, seating, bathrooms, and even a compact kitchen depending on the model. Small Pop up campers can be carried or towed easily with almost any vehicle. Modern cars can tow nearly all small pop-up campers, including compact vehicles. You can find out this by checking the rating on your car by checking on your manual or doing some online search using your vehicle's VIN pin.
We have put together the best small pop-up campers for small vehicles that you can tow with almost any car you possess. All of them weigh below 3000 pounds.
1. SylvansportGo
This pop-up camper is specifically designed to haul around many toys. It comes in three modes, namely gear hauler, camper, and utility trailer.
It does not come with additional features like cabinetry or a kitchen. You will instead enjoy its ample space that can accommodate up to 5 adults, a center table, and enough Standing interior space of 6'5".
The significant advantage of sylvansportGo is that you can haul anything when it is in transport, including mountain bikes, Kayak, heavy equipment, and canoes. It only weighs 840 pounds; if you prefer a lighter pop up camper, then this is the best option for you.
Features
Utility trailer
840 pounds
Gear hauler
Sleeps 4 adults
Camper mode
Dinette table
Video Overview: Sylvan Sport GO setup
> You may also like:45 RV Accessory Must-Haves for Your Travel Trailer<<
2. Living lite quicksilver
This comes with more features compared to the previous one. The most noticeable features here are countertops, cabinets, and a sink. It can accommodate four adults. It offers the required comfort and has fans. It has a dry weight of about 994 pounds, which makes hauling to be easy.
It is pre-wired on the outer part for sola, and it has a battery box of a 30 amp converter. You can add the more optional package to it depending on your preference, like the air conditioner, furnace, or stovetop.
Features
External detachable table
994 pound
Sink
Aluminum cabinet
12v vent van
Solar panels
Video Overview: How to Setup a Livin Lite Quicksilver 6.0!
3. Adventure trail turtleback
If you have a more prominent family, then this is a good option for you; it can sleep up to 6 adults. It comes with almost all necessary amenities including stove, dinette, and 21 gallons of water, interior lighting, and sink.
You won't have to worry about where to charge your electronics; it has a single deep charger and battery to run your electronics. It also has a propane tank. Another excellent feature that comes with this pop-up camper is a large sunroom. This allows you to bask on the sun as you enjoy your trip.
Features
Sunroom
Water tank
1300 pounds
18" stove
Sink
Sleep up to 6 adults
12v water pump
Video Overview:  The Adventure – Turtleback Trailers
4. Coachman clipper sport
With coachman clipper sports pop up camper, you will feel like you are in a small RV. It has a tough roof, which makes it very durable even in harsh weather conditions. It also has a lot of counter space and many cabinet and room for four adults.
It has a sink, dinette, water pump, stovetop, freshwater above and below the floor, which provide enough water for all your needs or activities.
Features
1727 pounds
Hardtop design
Sink and water pump, 12v
Exterior and interior lighting
Two beds
Propane grill
Dinette and cabinet
Video Overview: HaylettRV.com – 2016 Coachmen Clipper Sport 106 Used Fold Down Popup Tent Camper
> You may also like:Worst 5th Wheel Brands to Avoid <<
5. Opus pop camper
This is the most luxurious and largest on this list. What makes it different from others is that it is an inflatable RV. It has a considerable storage space meaning you won't have problems storing your belongings.
It is built with some extra shock absorbers with high clearance to enable it to move over any terrain without difficulties.
Features
Sleeps 4 people
2870 pounds
Slide-out fridge
Optional roof
Sink and slide out banners
Optional microwave hot water and heated shower
Video Overview:  Air Opus Off-Road Pop-Up Camper Review
6. Forest Rockwood
This is best for studying. It has a hard side; you can rarely find it in the market. Its hard walls it ensures durability and stability
Features
2014 pounds
Hard walls
Sleeps up to 4 people
Sink
Spacious dinette
Stove
Video Overview:  NEW 2019 FOREST RIVER ROCKWOOD HW296 Pop Up RV Camper Shower Toilet Combo Colorado Sales
7. Alaskan 6.5 cabover
This is the best camper for a truck bed. it has soft walls that appear to be tents. You will have enough space to do your activities with an excellent inside finish with customized cushions.
Features
1390 pounds
Sleeps 4 adults
Spacious seating space
These are the best Small vehicle pop-up campers to consider this year.
You may also like: 25 Best National Parks in the USA  <<
Can a Small Car Pull a Pop-Up Camper?
Yes, a small car can pull a fold-out camper. It all depends on the size. It is important to be keen on the specifications of your car to know for sure since not all cars can do this.
What SUVs Can Tow a Pop-Up Camper?
Here are several SUVs that can tow a pop-up camper safely and securely.
It is good to know that this model has evolved from its earlier versions. The Dodge Durango is by no doubt a powerful towing machine. This SUV boasts an 8-speed transmission. This enables it to power down when you need it.
It is the deal definition of a robust machine. It provides you with comfort and smooth handling. Besides, it comes with impressive characteristics.
> You may also like:Gas vs Diesel For Towing a Fifth Wheel?<<
Is it Worth Buying a Pop Up Camper?
A pop-up camper is easier to tow and back up. Also, it is lightweight. This camper will take less gas to haul it around.
What Sizes Do Pop Up Camper Comes In?
Modern pop-up campers weigh between 700 pounds and 3,800 pounds. When opened, the length of many models is roughly double the box length.
What Cars Can Tow a Pop-Up Camper?
You can use the following cards if you want to tow a pop-up camper with great ease.
Ford Fusion.
Buick Verano.
Dodge Dart.
Dodge Challenger.
Ford Mustang.
Video Overview: How to HITCH a Pop Up Camper the Correct Way | Step-by-Step Guide with Tips
Is It Hard to Tow a Pop-Up Camper?
You should be guaranteed that you will never have a hard time towing your pop-up camper. However, it depends on the size of the camper. Also, you will have an easy time going up hills provided your vehicle is rated to tow the specific camper.
> You may also like: Least-Visited National Parks: Why They're Worth a Look<<