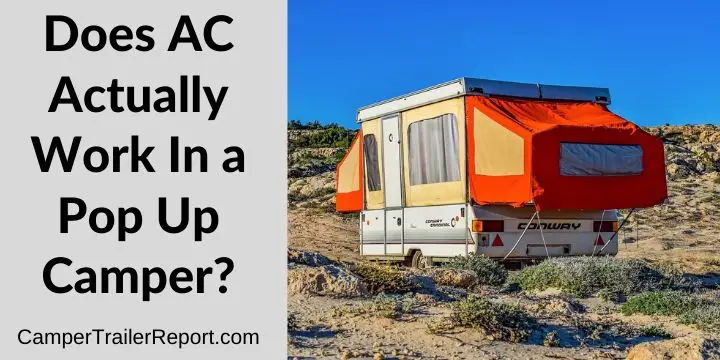 Does Air Conditioning Actually Work In a Pop-Up Camper?
We, at times, need to get outdoors, go camping just to disconnect from the daily routine, and have an amazing experience with our family and friends.
If you are planning for an adventure, then there is quite a number of things you need to pay attention to. The camping destinations and the ideal recreational vehicles to use for the adventure.
These vehicles are designed differently with pop-up campers, and you may, therefore, choose your preferred option based on your camping needs.
If you are wondering whether air conditioners actually work in these pop-up campers, then the answer is obviously yes.
Most of these recreational vehicles are fitted with different types of air conditioners mostly for temperature regulation purposes, and you can have a range of options to choose from.
> You may also like:45 RV Accessory Must-Haves for Your Travel Trailer<<
What is a pop-up camper?
A pop-up camper is basically a case that can easily fold out providing a range of services and can also collapse down into a smaller package. Most pop-up chambers have a dining area, mattresses for comfortability, and a bathroom.
The pop-up campers also referred to as the tent trailers can maneuver in different sizes depending on what you prefer. Air conditioners are therefore added on these pop-up campers for maximum air regulation, and it is essential that you figure out your needs to help you acquire the ideal air conditioner.
Different types of air conditioners
There are majorly three types of air conditioners, namely the window units, rooftop, and portable units.
1. Portable air conditioners
These are the newly designed air conditioners and are more convenient as compared to the other two units since they can be placed on the wheels or anywhere in the pop-up camper for maximum cooling experiences.
They are fitted with fans for equal air distribution in the camper. These air conditioners are light, affordable, easy to use, and does not require complex procedures to set up.
They are portable and can also be moved around the pop-up camber for maximum cooling.
> You may also like:Worst 5th Wheel Brands to Avoid <<
2. Window mounted air conditioners
Unlike the portable air conditioners which can be moved around the trailers, the window-mounted air conditioners are only fitted in the pop-up windows.
The installation procedures are simple, and you don't need to hire a specialist to help you mount the air conditioners.
These units don't take up much space since the installation is done outside the trailer. No noise disturbances and can thus be a perfect choice to consider.
3. Rooftop air conditioners
This is usually the most popular air conditioner unit that most people will consider for efficient cooling in the pop-up campers.
These units are fitted at the top of the pop-up campers and are strong and efficient providing maximum cooling inside the trailer.
The size of the air conditioner you should go for
Before you can decide on the air conditioner that you need to acquire, you need to know the amounts of British Thermal Units that are fit for your pop-up camper.
Usually higher BTUs provide powerful air conditioners though such units are a bit expensive. You can get the exact number of units you need for maximum cooling by multiplying the square foot area of the trailer by 40.
However, higher BTUs are recommended since they are durable and are efficient in cooling abilities.
Top tips to maximize your air conditioner
You can use a large fan to keep the air moving in the camper.
Ensure that you regularly clean the air filters to provide fresh air and also prevent the air conditioner from damages.
Maintain your air conditioner unit such that it operates maximum for efficient performance.
You can also consider parking your vehicle in the shade as you relax and get the best experience of your adventure.
Air conditioners will efficiently work in pop-up campers to provide maximum cooling. However, you need to ensure that you get the right type and size of air conditioner that suits your camping needs.
The best air conditioners are expensive though they are too powerful and you can, therefore, hire one if your budget is restrained for maximum comfort in your adventures.
It is essential that you also check the air conditioner regularly to prevent damages and efficient performance.
You may also like: 25 Best National Parks in the USA  <<
Related Questions:
Can you put AC in a pop-up camper?
Yes, it is possible to put an air conditioning unit in a pop-up camper. A person will want to look at their connections to make sure the unit can support the AC. Even if the camper was not designed for a unit it is still possible.
How much does an air conditioner for a pop-up camper cost?
The price of the air conditioning unit is going to vary based on the BTUs and the size of the camper. On the low end, the unit will cost around $200. On the high end, it can cost as much as $1,500. The cost will also depend on if the unit will be removed or if it will be permeant installed.
How well do air conditioners work in pop-up campers?
Air conditioning units in pop-up campers work very well. They will remove the heat from the camper and allow it to be cool and comfortable. They will take the heat out of the camper and remove it to the outside air. These units are said to work just as well as any other appliances that have been used in the campers.
> You may also like:Gas vs Diesel For Towing a Fifth Wheel?<<
How to cool pop-up camper?
There are several ways to help keep a pop-up camper cool. A person should park in a shaded area when possible. They should have an AC unit and make sure that the filters are clean. The camper should be properly insulated and it should be level when it has been parked.
Video Overview: How To Keep Cool In A Pop-Up Camper In The Summer!!! Tiny Camper Episode No.3
Is it worth it buying pop-up campers?
If a person enjoys being on the road they can get used out of a pop-up camper. They will have the experience of camping with being covered and the use of electricity. A person will have a place to stay no matter where they are. The pop-up campers are also much less expensive than an RV making it good for those that want a budget-friendly option.
Video Overview: Should you buy a Pop Up Camper? (Worth it?)
Do pop-up campers have bathrooms?
Yes, the majority of pop-up campers do have a bathroom. They may also be called wet baths. They will have a toilet and a shower. A person should make sure they are looking up the term wet bath when looking to purchase a pop-up camper that has a bathroom.
> You may also like:  Why America's Most Popular National Parks Need to Be on Your Bucket List <<