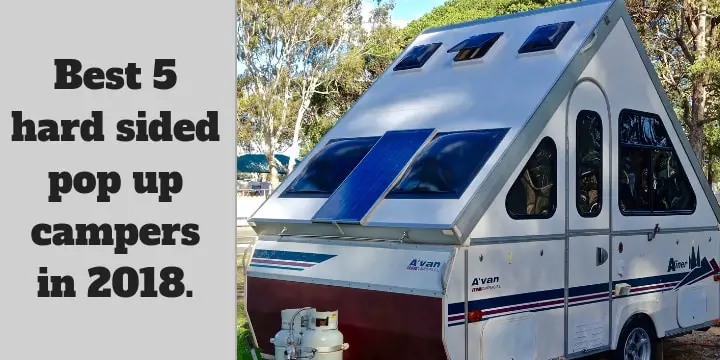 Best 5 hard sided pop up campers in 2018.
Pop up campers are becoming a popular thing of late this is because they offer more than just a tent, there are numerous pop-up campers in the market, and therefore I will give you the idea of best hard sided pop up campers this year.
1.Forest River -Flagstaff hard side pop up camper.
This model offers a hard side and pop up model floor plan and the exterior is made of fiberglass , comes with a sink ,stove , a spacious dining,sitting area and a twenty gallon pre-plumbed fresh water tank,it is also known to have features that allow you to add extra room while you still enjoy aeration, nature and always protect you from turbulent weather in addition to this it has a USB, charging port, a wifi booster and router allowing you to stay connected. The only challenge is that due to this " add extra room" feature it is much more difficult to tow it.
Video Overview: FLAGSTAFF HARDSIDE T21DMHW SETUP DEMO
2. Aliner- Newport.
This model is known for the ease at which you can set up; it is firmly built to withstand extreme weather despite being lightweight. It comes with a fridge, a microwave, and ample storage space. Quite mobile due to the weight offers convenience by providing an outside shower and toilet. The only challenge with this model is the lack of adequate sleeping space due to the size.
Video Overview: Retro Aliner Pop-Up Camper | Limited Edition
3. Livin Lite-quicksilver tent
The company produces a wide range of tents, but in this instance I want us to look at the quicksilver tent,this lightweight model comes with a sink, a dining table which can be converted into a bed, a propane stove and nice cabinet for you to place your stuff.it can also be customized depending on your vehicle size. The brand prefers to use aluminum rather than wood bringing about doubts about the ability to withstand weather elements.
Video Overview: 2018 Livin Lite Quicksilver 10.0 | Pop Up Camper | Charcoal – RV Review
4.Jayco Jay series sports camping trailer.
It comes with a high quality floors, a sink , a rust free stainless steel that can be operated from the inside or outside the tent,a screen area, a reliable shower and toilet area known for its reliability and a couple of shelves to make sure you can store enough stuff and therefore making sure you enjoy your camping experience,it also comes with mud tires and pretty easy to set up and offers five lifetime guarantee. The challenge with this model is that it is not easily towed on bumpy roads and can not accommodate a large group of people. Despite this, it still wins a spot because of its functionality and the extra features.
Video Overview: HaylettRV.com – 2015 Jayco Jay Series Sport 12H Hardside Popup Camper
5.Coachmen-clipper and Viking camping trailer.
This model incorporates a state of the art technology with an overall aim of ease. It comes to this list because of its comfort, the exterior is made of an aluminum skin walls and incorporates the latest technology to ensure that the camper is not affected by the changing weather conditions, there are multiple floor plans for this model, and you are open to pick according to your preference,the interior has storage cabinets and a heated four inch mattress to ensure your comfort. The challenge with this model is that it does not have multiple colors to choose from and it's not designed to withstand extreme weather.
Video Overview: Coachmen Clipper 21BH