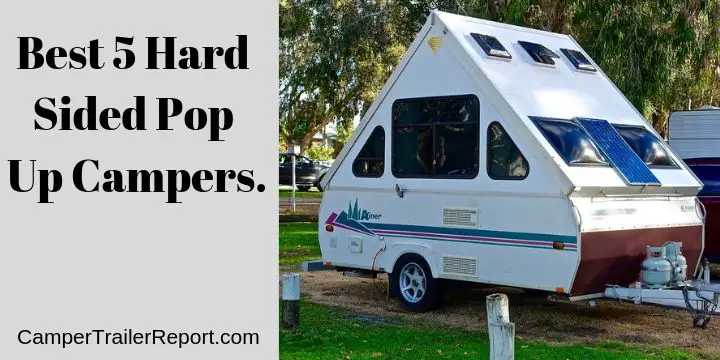 Best 5 hard-sided pop-up campers.
Pop up campers are becoming a popular thing of late this is because they offer more than just a tent, there are numerous pop-up campers in the market, and therefore I will give you the idea of best hard-sided pop-up campers this year.
1. Forest River -Flagstaff hard side pop-up camper.
This model offers a hard side and pop up the model floor plan and the exterior is made of fiberglass, comes with a sink,stove , a spacious dining,sitting area and a twenty-gallon pre-plumbed freshwater tank,it is also known to have features that allow you to add extra room while you still enjoy aeration, nature and always protect you from turbulent weather in addition to this it has a USB, charging port, a wifi booster and router allowing you to stay connected. The only challenge is that due to this " add extra room" feature it is much more difficult to tow it.
2. Aliner- Newport.
This model is known for the ease at which you can set up; it is firmly built to withstand extreme weather despite being lightweight. It comes with a fridge, a microwave, and ample storage space. Quite mobile due to the weight offers convenience by providing an outside shower and toilet. The only challenge with this model is the lack of adequate sleeping space due to the size.
Video Overview: Retro Aliner Pop-Up Camper | Limited Edition
3. Livin Lite-quicksilver tent
The company produces a wide range of tents, but in this instance I want us to look at the quicksilver tent,this lightweight model comes with a sink, a dining table which can be converted into a bed, a propane stove and nice cabinet for you to place your stuff.it can also be customized depending on your vehicle size. The brand prefers to use aluminum rather than wood bringing about doubts about the ability to withstand weather elements.
4.Jayco Jay series sports camping trailer.
It comes with a high quality floor, a sink , a rust-free stainless steel that can be operated from the inside or outside the tent,a screen area, a reliable shower and toilet area known for its reliability, and a couple of shelves to make sure you can store enough stuff and therefore making sure you enjoy your camping experience,it also comes with mud tires and pretty easy to set up and offers a five-lifetime guarantee. The challenge with this model is that it is not easily towed on bumpy roads and can not accommodate a large group of people. Despite this, it still wins a spot because of its functionality and extra features.
Video Overview: 2019 Jayco 12SC Jay Sport 12ft Box Popup Fold Down Tent Camper with Dinette Slide
5.Coachmen-clipper and Viking camping trailer.
This model incorporates a state of the art technology with an overall aim of ease.
It comes to this list because of its comfort, the exterior is made of aluminum skin walls and incorporates the latest technology to ensure that the camper is not affected by the changing weather conditions, there are multiple floor plans for this model, and you are open to pick according to your preference, the interior has storage cabinets and a heated four-inch mattress to ensure your comfort.
The challenge with this model is that it does not have multiple colors to choose from and it's not designed to withstand extreme weather.
Video Overview: Coachmen-Viking Legend Series-2485SST
> You may also like: Worst 5th Wheel Brands to Avoid <<
RV Related Questions:
Upgrading from using a tent during your camping adventure to a pop-up camper is the perfect way to start RVing. Since pop-up campers are cost-effective and easy to tow, they provide one of the ideal RVing options for a camping adventure with friends or family.
This article will answer some of the frequently asked questions associated with pop-up campers as an optimal solution for your RVing lifestyle.
What's the Best Pop-up Camper?
With different assemblers of pop-up campers in the market, it is quite hard to come up with the best pop-up camper. However, a few factors can be used to determine the best pop-up campers for your camping adventure.
These factors include optimal functionality and amenities, user-friendliness, cost of maintenance, durability, appearance, and resilience to harsh weather conditions.
Additionally, the selling price, customer rating, and feedback from product experts help in making the final decision on the best pop-up camper to purchase.
Jayco Jay Series Sport pop-up campers, Coachmen-Clipper, and Viking pop-up campers, and Forest River-Flagstaff Hard Side pop-up campers are some of the best pop-up campers to purchase.
They provide the best functionality, offer value for your money, and have the best ratings by users and products reviewers.
> You may also like: 25 Best National Parks in the USA  <<
Are There Pop-up Campers with Bathrooms?
In most cases, camping might take more than just one day, meaning that a bathroom near your camping area is essential. However, it is not easy to find one in remote camping areas, thanks to the designers of pop-up campers that come with a bathroom.
There are different kinds of bathrooms for pop-up campers, including wet bathrooms, dry bathrooms, fully-enclosed bathrooms, curtained bathroom, and an outdoor shower.
Notably, some of the bathrooms come with water heaters. Most of the pop-up campers from Jayco Jay Series, Coachmen, and Forest River manufacturers have bathrooms in variant designs.
Choose the pop-up camper that offers the ideal bathroom requirements for your camping adventure.
What is Hard-sided Camping?
Hard-sided camping is a term used to mean camping adventures in campers made of hard sides, unlike the common canvas sides. Hard-sided campers offer better insulation from hot or cold weather than the tent campers hence a better option for camping adventures.
Additionally, they offer security and privacy for the campers, keeping campers off from prying eyes, petty thieves, and attack from wild animals such as bears.
Some camping adventures might require any pop-up camper. However, a hard-sided camper is mandatory for camping in less secure places of places where the human-wildlife interaction might be high.
The Forest River-Flagstaff Hard Sided pop-up camper is one of the best campers when it comes to hard-sided camping.
Do Pop-up Campers Have AC?
The temperature during summer is too high for a pop-up camper to be fun, especially a tent camper. However, an AC might come in handy in helping cool down the temperatures inside your pop-up camper.
In most cases, pop-up campers are not equipped with an AC, but surprisingly, some pop-up campers have an AC installed in them.
There are three major ACs for a pop-up camper. They include a window air conditioner, a portable air conditioner, and a rooftop air conditioner.
Most of the AC-equipped pop-up campers have the rooftop air conditioner that is the best and preferred choice for many.
Final Thought
Camping adventures in pop-up campers are the best way to kick off your RVing experiences. However, the choice of the perfect pop-up camper to purchase for your camping adventures should be made with certain factors at hand.
Such factors include the cost, durability, value for your money, functionality, and amenities that a pop-up camper offers. A perfect pop-up camper is the beginning of making camping adventures memorable.
> You may also like:  Why America's Most Popular National Parks Need to Be on Your Bucket List <<