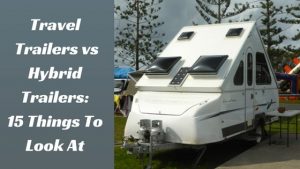 Travel Trailers vs Hybrid Trailers: 15 Things To Look At
When looking for a travel trailer, you've really got to keep a lot of things in mind, some of which might not be too obvious. The choice becomes a lot more difficult when you find yourself considering the choice between hard-side travel trailers and hybrids. There are a lot of real benefits to both choices, but the best choice will always be an informed one.

Here's a quick look at the factors you should consider before taking the plunge:
Safety
While the risk of animals or criminals getting into your hybrid's canvas sides is negligible, hard-sides have an obvious advantage here. This is especially true when you've got the kids or first-time campers along, who might need the extra feeling of security the solid panels provide.
Peace and quiet
As you might imagine, canvas-sided hybrids don't really do much when it comes to blocking out noises from outside. This can be a real damper on your outing if you're parked close to other campers or if you've got a rather loud generator as main Champion running outside.
Toughness
As you might imagine, hybrids aren't really optimized for durability. They will go a long way, sure, but hard-sides ultimately win out on this one.
>> You may also like: How To Prepare Your Truck for Towing: 9 Important Tips<<
Sleeping Arrangements
Hybrids are a clear winner on this score, as you can fit in a number of separate, dedicated sleeping areas, which can be doubly important if you've got older children coming along who need their own 'rooms'.
Floorplan Considerations
The popouts that come with a hybrid offer up a lot more flexibility when it comes to floorplan design than most of us give them credit for. You can get a lot of openness with these lightweight popouts.
Video Overview: Benefits of Hybrid vs Tent Trailer
Authentic Camping Experience
If you're looking to get as close to the real feel of camping, then hybrids are the way to go. Youll be able to get that outdoor feeling, which doesn't compare to the insulated, closed-off feeling of hard-side trailers.
Waterproofing Worries
This is one of the biggest gripes hybrid users have, as the canvas allows a bit of moisture to get in when it's raining outside. This gets into the beddings, meaning you'll have to dry out your stuff after the trip if you don't want mold. It isn't a worry when the weather's good, though.
Privacy
Just as you can hear all the noises coming in from outside n your hybrid, you have to consider that the outside world can hear all the noise you're making. Conversations, crying toddlers, and family fun won't be bothering the neighbors when you're in a hard-side.
>> You may also like Gas vs Diesel For Towing a Fifth Wheel?<<
Ventilation
It's a lot easier to get the air flowing just as you like in a hybrid trailer. Zip open a window or two when it's hot, and the air will flow freely through your living areas.
Waterproofing
Another major concern with hybrids is the issue of leakages between the canvas and hard parts of the trailer. These can be a real problem as moisture can damage the underlying components or bring about mold.
Temperature Control
While canvas obviously loses out when we consider insulation capability, hybrids don't lose out quite as heavily as you might think. Even if you don't like the additional covers, you could use your heater to get reasonably cozy when it gets really cold out.
Tonnage
While the slide-outs on travel trailers will weigh around 800 pounds, at least, you can get your hands on popouts weighing less than 50 pounds. This means that you can have as many as you want along without significantly affecting the overall weight of your setup.
>> You may also like: How To Insulate an RV Underbelly? In 5 Easy Steps.<<
Assembly/Takedown Times
While the setup times for hard-sides will be about ten minutes, hybrids can go for a whole lot longer. Depending on the number of popouts you have, you might need to plan for an hour or an hour and a half of settling down, sometimes in bad weather. This might not be a major consideration if you'll be staying put for a week, but it can put a real crimp in your program if you're looking for a quick overnight stop-and-go.
Light Control
In a hybrid, you really have no control over how much light gets in at sunrise, meaning sleeping in after a late night around the fire can be difficult. This can be a real sore spot when you've got the family along with you.
Conclusion
The best way to make this choice is to take a good look at the people you'll be camping with, and try and figure out how they would feel about the considerations raised above. Think about what you can and can't do without for a perfect camping trip, and the choice will be a lot easier to make. Happy trails!
Related Post: First Time Travel Trailer Owner Tips, Beginner's Guide.
5TH WHEEL RELATED QUESTIONS.
What are hybrid travel trailers?
A trailer is an unpowered vehicle which is being towed powered one and is mostly used for transportation of goods and materials. Sometimes people use them to camp.
A hybrid travel trailer therefore is, a recreational vehicle that has the combination of both tent camping and hard-sided travel trailers, that is, it has more space for activities like entertainment.
Video Overview: The Best (and Worst) of Hybrid Travel Trailers | Things to Consider When Purchasing a Hybrid Camper
Are pop up trailers considered as RV?
Recreational Vehicles popularly known as RV are motor vehicles that are equipped with some of the home amenities such as bathroom, bed and a kitchen. Pop up trailers are considered to be RV which can be collapsed for easy storage and transportation.
When they are set up they tend to provide a large interior space as compared to how they look when they are collapsed. Another feature which makes them be RVs is that they have wheels and also some amenities such as kitchen and bed space are available.
Are tent trailers waterproof?
YES. When the tents are in the process of manufacturing, waterproof agents are part of the composition of the manufacturing materials. Therefore there is no need for applying the waterproof product after the purchase since this may result in clogging up of the pores leading to breathing problems. To keep them waterproof, you only need to repeat the seasoning process and keep clean and dry.
Video Overview: How to waterproof a tent trailer (pop up camper)
How to clean a tent trailer?
Maintaining regular cleaning of the trailers prolongs its life. If not properly maintained they tend to get dirty and they may be damaged with mildew or debris during storage You require various items to clean a tent trailer such as ;
Soft scrub brush

Broom

Large bucket

A car washing sponge

Hose

Mild and no- detergent soaps

First, Using a broom, brush off all the loose leaves, dirt and debris. In case the trailer material is wet, allow it to fully get dry by exposing it to direct sunlight. After its dry, brush again for removal of any mold and mildew spores.

Secondly, In one bucket, mix the mild detergent with warm water. deep in the soft scrub brush in the detergent solution and scrub the tents' surface to remove dirt and stains.

Thirdly, rinse the surface with ha one until all the detergent is washed off and then allow it to air dry.

Fourthly, apply the protective spray to reduce the formation of mildew.
Video Overview: How to clean the outside of a pop-up camper ( tent trailer )
How to get rid of mold on a trailer?
Mold is a type of fungus that thrives in moist or warm conditions. Mold doesn't the only form in bread alone but also on trailers too and if not taken care off immediately may end up damaging it. Mold on trailers is as a result of not drying them completely. So to get rid of the mold on that trailer you need: 


To dry it directly to the sunlight. 

Using a brush you can also scrub off the mold from the trailer.

Avoid using detergents and chemicals that contain bleach.

Give your trailer a preventive treatment to help in restoration if sealant on

 the material.

Ensure that all the pipes in your trailer are working well.

In case of leaking in your trailer, repair it with the specifically designed product.
Video Overview: Black Mold – How To Kill Toxic Mold In Under 5 Mins!
> You may also like:Gas vs Diesel For Towing a Fifth Wheel?<<