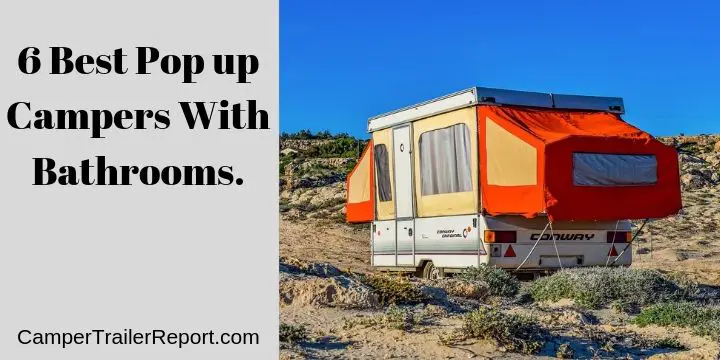 6 Best Pop up Campers With Bathrooms.
Do you really want to camp regularly but you feel sick setting up a tent? For the last couple of years, pop-up campers have been gaining a lot of popularity for all good reasons. When compared to travel trailers, they are smaller. In fact, they are more than a tent.
This is the reason behind their increased popularity among the masses. You can attest that the best pop up camper is lightweight and portable. It will easily fit into a garage or even a driveway.
You will have a special feeling simply because of its canvas walls. What is exactly a pop-up camper? It is simply flat and wide. Do you know that it will not pop up when you arrive at your campsite?
You can agree with me that some amenities can't be skipped no matter what. In most cases, you will come to notice that bathrooms are the number one priority when designing pop-up campers. With a bathroom inside the camper, you don't have to stray in the woods while it is raining.
Numerous people prefer purchasing these pop-up campers. Here are the best pop up campers with bathrooms.
> You may also like:45 RV Accessory Must-Haves for Your Travel Trailer<<
FOREST RIVER HIGH WALL SERIES
This camper might look like an RV but it is not. It has been designed with a nice bed on both ends. You don't have to worry about the sleeping space when you camp with your entire family. The beds can comfortably hold six people. Away from that, it boasts of nice looking bathroom. The bathroom has shower walls.
Video Overview: UPDATED 2019 Rockwood HW277 Highwall
COACHMEN CLIPPER CLASSIC
This list can't be complete without featuring this amazing pop-up camper. People who have purchased it in the past have claimed that it is quite impressive. What makes it impressive? It comes with a small wet bath inside. The toilet has strategically been positioned near the entrance.
Video Overview: 2018 Clipper 1285 SST by Coachmen – w/Paul "The Air Force Guy"
> You may also like:Worst 5th Wheel Brands to Avoid <<
JAYCO JAY SPORT
Do you want comfort and class at the same time? Besides being designed with some standard interior toilet space, it has some well-furnished floors. What is the reason behind the floor plan? You will have full freedom to take a shower anywhere. What do you have to do in that case? You can pop up some accessories into the existing compartment.
Video Overview: 2019 Jayco 12SC Jay Sport 12ft Box Popup Fold Down Tent Camper with Dinette Slide
A-LINER FAMILY SCOUT
This is arguably one of the most fashionable pop up campers that are worth purchasing. It has a shower and a toilet. Do you have a small family? This is the time to purchase this pop-up camper. You will join thousands of satisfied customers who have purchased it. It has three beds. Therefore if you are four, you can consider buying it.
Video Overview: 2020 Aliner Family Expedition Folding Trailer Walkthrough Tour
FOREST RIVER FLAGSTAFF
Have you ever heard about the Forest River? This is quite a big company when it comes to the manufacturing of trailers. They manufacture pop up campers as well. Why is this pop-up camper fantastic? It comes with its own shower and toilet. Besides a bathroom, you find have a stovetop and also a reliable fridge.
Video Overview: Forest River Travel Trailer: Flagstaff A-Frame Demo & Review – 2018 Flagstaff 21TBHW
A-LINER SOMERSET UTAH
Is shower a necessity for you? This will be a great option that you should never ignore. It has been designed with two king-sized beds. In addition, it comes with a certainly covered toilet. From a close look, you can see how classy it is.
Video Overview: NEW 2018 Somerset Utah Grand Tour Pop-Up Camper | Mount Comfort RV
CONCLUSION
Surely, it is everyone's dream to have an unforgettable camping experience. If you want a shower to rinse off your day, you need to purchase any of the above pop up campers. All that you need to do is to pick that which suits all your needs.
You may also like: 25 Best National Parks in the USA  <<
Related Questions:
1. Are there pop up campers with bathrooms?
Even though it is currently winter, it won't be long before summer is upon us once again. When the summer months come, there will be a lot of people who want to go camping, and a lot of those people like to use pop-up campers. Of course, if you've never owned a pop-up camper before, the elephant in the room is this: are there pop-up campers that come with bathrooms. Surprisingly, the answer is actually yes. All you have to do is look in the right place.
2. Which pop up campers have bathrooms?
There are a lot of brands of pop-up campers that are well-known for having a bathroom. These would include Rockwood, Clipper Camping, and Somerset. One of the main reasons why these brands are ideal for this purpose would be because they have mastered various useful configurations.
For example, many of the Rockwood models have the bathroom designed in just the right way in order to ensure complete privacy. Moreover, many of the Clipper models will have a design that will allow for the toilet to be covered by the countertop when no one is using it. They will also usually have the bathroom next to the main entrance, providing campers with a little extra space if they want to move around.
Finally, the Somerset models will often have a bathroom but not a shower. This might seem like an inconvenience, but it is great for those who want to save the amount of water that is in their camper's water tank. These campers all have their advantages and disadvantages, and you will have to evaluate your personal needs to determine which one is right for you.
> You may also like:  Why America's Most Popular National Parks Need to Be on Your Bucket List <<
3. What is the best-rated pop-up camper?
As of 2019, some of the highest-rated campers would be the Starcraft Comet, the SylvanSport GO, and the Forest River Flagstaff. Even though the last one is the only example with a bathroom, people rate these examples highly for a number of reasons. One of the main draws for most people would be that they do a lot with just a little. Even though it is listed as number four on the list, the Flagstaff is the only example in the top five that has bathroom amenities.
4. How do you use a pop-up camper toilet?
There are several things you need to keep in mind in order to use your pop-up camper toilet in the right way. Here are some steps:
Understand your parts.
First, you need to understand all of your parts, both on the top and the bottom of the camper toilet. You start by understanding the top of your pop-up camper toilet. The parts you need to be most aware of would be the valve blade opener, valve blade door, the flush knob, and the tank level indicator. The valve blade door will empty the contents of the camper toilet. Of course, the flush knob is what you use to flush, and the tank level indicator tells you when it's time to dump the contents.
The bottom, or interior, of your camper toilet, will include such parts as the freshwater level indicator, the freshwater fill spout, the emptying spout, and the safety catch. As your tank gets to at least three-quarters of the way full, you will get very familiar with these parts. You should also be aware of all of the local regulations before you take the contents of your tank to a campground restroom.
Follow the correct procedures.
The next thing you need to do is fill up the water tank. You do this by rotating the freshwater fill spout by ninety degrees and then remove the yellow cap. Although some people use additives to fill the tank, most do fine with just regular city water. Once you are done filling the tank, drain the remaining water from the fill spout. Finally, add some chemicals to the new water in the tank in order to avoid a foul odor.
5. Are pop up campers waterproof?
The answer to this question is yes and no. Yes, they are waterproof as long as you ensure there are no leaks in your fabric. However, if you encounter rain on your camping trip, you should take care to let your camp trailer dry out before storing it. Otherwise, it will cause the fabric to deteriorate. That's the best-case scenario. The worst-case scenario is that it will allow mold and mildew to accumulate, making it impossible to use.
Either way, keep all of the answers to these questions in mind if you are thinking about purchasing a pop-up camper.
> You may also like:How To Prepare Your Truck for Towing: 9 Important Tips<<