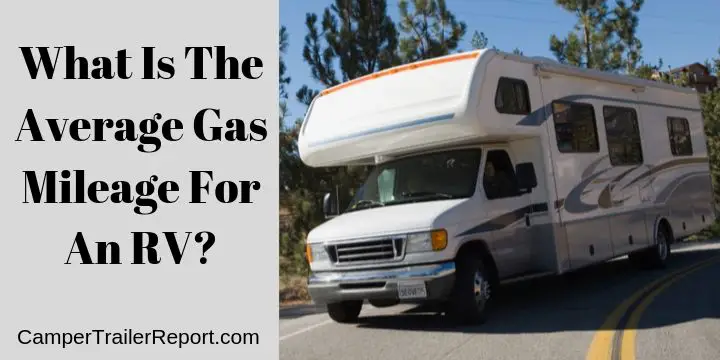 What Is The Average Gas Mileage For An RV?
Are you considering renting or buying an RV to explore and have fun? You should also consider the gas mileage to determine the cost of traveling and camping. Ideally, the average gas mileage varies depending on some factors which include speed, RV class, weight, and maintenance.
However, it is possible to estimate the average gas mileage for your RV to help you calculate your fuel costs in advance and budget for your trips. Let's start by breaking down the different classes of RVs and their average gas mileage. The common types of RVs include:
Although your style of driving, the size and the weight of the RV will determine the exact miles per gallon (mpg), class A motorhomes range from 6 to 13 mpg. Diesel offers a better fuel economy for RV compared to gas engines. Therefore, if you are looking to save fuel costs, renting or buying a Class A motorhome is a better choice.
> You may also like:45 RV Accessory Must-Haves for Your Travel Trailer<<
Since Class B motorhomes are smaller in size compared to Class A motorhomes, they have a better fuel efficiency. Class B motorhomes range between 10 and 23 miles per gallon. However, the mpg can vary depending on the RV you rent or buy. For instance, old Class B motorhomes with V8 or V10 engines consume more fuel compared to modern Class B RVs which has relatively smaller engines.
Class C motorhomes can be classified between Class A & B because they are larger than class B but smaller than class A motorhomes. However, unlike Class B motorhomes, Class C RVs are luxurious and their miles per gallon ranges between 10 and 20.
Video Overview: What Kind of Gas Mileage does my Class C RV Get? (And other FAQs)
> You may also like:Worst 5th Wheel Brands to Avoid <<
Your MPG in 5th wheelers depend on the tow vehicle's ratings. Therefore, you are supposed to look for the most efficient truck first to save on fuel costs. Then, your trailer's fuel efficiency will be determined by the weight and how sleek the trailer is. To economize on fuel, you need a lightweight trailer that's sleek. The mpg in 5th wheels range from 11 to 15.
This is arguably the broadest RV category and the trailers can range from 500 lbs. to 12,000 lbs. depending on your needs and budget. It is important to understand that the size of the trailer will determine the size of the car to be used. For instance, although you can rely on an economy car to pull light trailers, you need a heavy-duty truck to pull the heavy luxury rigs.
If you are using an economy car to pull a light trailer about 500 lbs. you can expect a 35 mpg depending on the terrain. On the other hand, to pull a luxury rig weighing from 10,000 – 12,000 lbs. you can expect mpg to be around 11 o 12. However, the mpg drops to 9 mpg if you are driving on mountain terrain.
Video Overview: Van Life – How to Get Better Fuel Economy in a Campervan
Pop-up campers are popular among RVers because they keep a low profile while towing and upon arriving at the camp, they can expand up and out to provide a large living area. Pop-up trailers tend to weigh much less i.e. between 600 and 2,500lbs. The weight plays a role in fuel efficiency the mpg for pop-up campers range from 16 to 17.
The average miles per gallon in an RV may vary greatly depending on several factors. Therefore, you need to look for an RV that suits your budget and needs. To improve your gas mileage, you need to maintain your RV regularly, change your driving habits and check the tire pressure to make sure they are not under-inflated.
> You may also like: 25 Best National Parks in the USA  <<