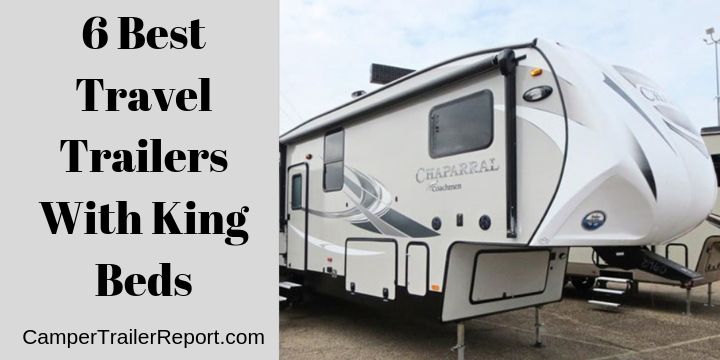 6 Best Travel Trailers With King Beds
It is everyone's dream to have a recreational vehicle. Purchasing one can be a hectic task. What is the reason behind this? While there are numerous varieties of cars to choose from, there are several relevant factors that you need to consider when buying one.
For the last couple of years, travel trailers have been gaining a lot of popularity. We have seen multiple models emerging over the years. Therefore you have unlimited options as a buyer.
Travel trailers with King Size bed have continued to attract the attention of many people. There is no doubt that recreational vehicles are a vast category of vehicles. This means that there are several types you will come across. It depends on your overall needs and goals. Before making a decision to purchase a specific trailer, you need to do some research on it. This will ensure that you have a trailer that meets all your expectations. Here are the best travel trailers with King Beds.
> You may also like:45 RV Accessory Must-Haves for Your Travel Trailer<<
1.JAYCO WHITE HAWK
Have you been looking for a trailer you can use for camping? This is arguably the perfect choice. Besides being spacious, it is stylish. Usually, its interior has been designed with hardwood cabinets. What is the best thing about this trailer? You will have enough space with your family. When it comes to bed, you can easily slide it out. Away from that, it has been attached to the fireplace. If you really like cozy sleep then go for this trailer.
Video Overview: 2018 Jayco 29FLS White Hawk Front Living Rear Bed Slide Half Ton Towable Travel Trailer
2. HEARTLAND NORTH TRAIL
It is good to know that this trailer is not cramped out. The manufacturer came up with a trailer that had enough space for the campers to move around and also relax together. Also, it comes with an extremely large kitchen. The kitchen boast of the four-door fridge. You don't have to worry about food storage for a long journey.
Video Overview: 2019 Heartland North Trail 22 CRB Travel Trailer • Guaranty.com
> You may also like:Worst 5th Wheel Brands to Avoid <<
3. PALAMINO PUMA
Do you love long trips inroads? This trailer is mainly designed for you. Besides giving you a good view of the landscape, it will not compromise on your luxury. Being spacious means that you will easily find everything in there. The kitchen has been positioned towards the living area. In fact, it has a large space as a residential fridge. The large window is quite crucial more so for the natural light. Moreover, it will bring some open feeling to the kitchen.
Video Overview: 2019 Puma 31FKRK Front Kitchen Travel Trailer @ Camp-Out RV In Stratford
4. KEYSTONE RV COUGAR HALF-TON
Many people have praised this trailer for its ability to perform extremely heavy duties. Durability has made it a great choice more so when it comes to long trips. Whether you are touring through bad roads or terrains, it will never let you down. What is the main reason behind its durability? It has been manufactured from the highly regarded Road armor suspension.
Video Overview: UPDATED 2019 Cougar 29BHS Bunk Garage Outside Kitchen Bath Entry Half-Ton Keystone Travel Trailer
5. PRIME TIME RV
This trailer has everything you have been dreaming off in your camping trips. In fact, the design was mainly meant for adventure. The strong built trailer is a great choice for weathering any wear. What is the main attraction in this trailer? An outdoor grill is a great addition.
Video Overview: General RV Center | Prime Time LaCrosse 3299SE | Travel Trailer
6. DUTCHMEN AEROLITE
It is among the very few trailers that are fitted with every amenity one might need. It can be used in any kind of road. Double entry and separate bunkhouse are some of the unique features that make it quite admirable.
Video Overview: Dutchmen-Aerolite Luxury Class-319BHSS
> You may also like: 25 Best National Parks in the USA  <<