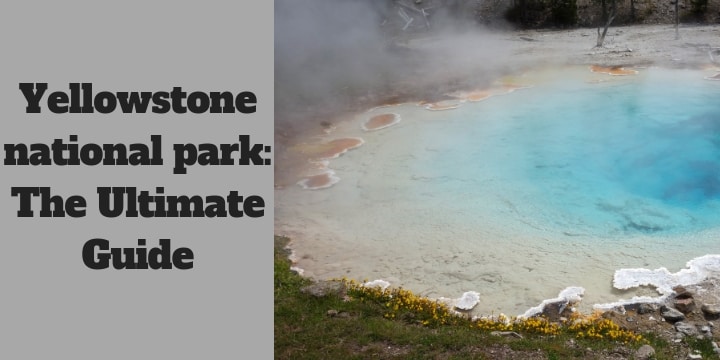 Yellowstone national park: The Ultimate Guide
Located in Wyoming, Montana, and Idaho, Yellowstone national park is America's first national park and also widely regarded as the first ever national park in the world.
It is known worldwide for having been the home of native Americans for thousands of years. Apart from this, it is still recognized and appreciated for its vast wealth of diversity which includes wildlife and it's numerous geothermal features.
This and many other factors make it a prime favorite for many adventure seekers willing to get in touch with nature. It definitely offers many campers a temporary way out from all the hassles of the city life.
Which entrance to Yellowstone is best?
Getting to Yellowstone is easier said than done, at least this is what many first-timers will later come to confess. There are five major entrances these being, the north entrance, northeast entrance, east entrance, south entrance and finally the west entrance. So when deciding the best entrance to use it all comes down to the direction from which you are coming.
> You may also like:45 RV Accessory Must-Haves for Your Travel Trailer<<
Which part of Yellowstone is the best?
The North entrance is quite special, this is the best option for many visitors especially the ones coming from areas around the Pacific Northwest. This is the only entrance that is usually open for vehicles during the winter periods making it very convenient at least throughout the year.
At the town of Gardiner, there is quite a lot of things you can do. It's a nicely amusing old fashioned town where you can always get to buy stuff at the various shops and restaurants not forgetting the lodging facilities available, in case you need to rest.
If you are a history fanatic you won't be disappointed. Apart from the Roosevelt Arch, you can always wander about through the famed Fort Yellowstone. Then there is Mammoth Hot Springs, famous for being the home of the Boiling River a sanctioned swimming area. Here you can always stroll along the terraces or even drive if you wish to.
Video Overview: Yellowstone National Park, the USA in 4K
As you explore further you are bound to reach the Lamar Valley, a place often likened to the majestic African plains and Savannah's such as the world-renowned Serengeti, for its diverse wildlife presence. You simply cannot fail to catch a glimpse of some of the revered giant mammals such as the bison, grizzly bears or the wolves, just to mention a few. It's true that many people just don't grasp how huge Yellowstone national park is, and might even be tempted to believe that the different entrances are close to each other but nothing could be further from the truth. For a region that is bigger than the state of Rhode Island, it's true to say that the experiences may differ from area to area. But what remains constant is the richness and assortment no matter the entrance you enter from. This, however, does not take anything away from the North Entrance. It will always remain to be the most reliable entrance since the gates will always be open for you! You will never go wrong when planning your trip to Yellowstone.
How much does it cost to camp in Yellowstone?
Campsites in Yellowstone National Park could cost you about $15 for every night you spend there, per site. Campgrounds that have more amenities like flush toilets and laundry services could cost between $20 to $28 every night.
All the campgrounds have the tent sites, excluding the Fishing Bridge RV Park; although a lot accommodates RVs, most of them have size limits (calculated from the bumper at the front of your RV to the back bumper). If you hold the Access Pass or Senior Pass you will receive a 50 percent discount from all prices. The campsite fees for group camping are between $49-79 (inclusive of tax) every night.
How many days do you need in Yellowstone?
Yellowstone sits on over 2 million acres and although it is possible to drive across the park in a single day, you would want to spend about 5 days in the park.
There is a lot to see and do; fly-fishing in the Madison River, taking photos of the geysers close to Grand Canyon, hiking in the Mammoth Hot Springs, watching wildlife in the Hayden Valley and Lamar Valley and watching waterfalls in the Yellowstone Grand Canyon. There are a lot of things to do apart from the above. Actually, you can spend as much time as possible.
How long does it take to drive the loop in Yellowstone?
The major road of Yellowstone is Grand Loop and is a challenging drive to complete in a single day.
For you to arrive at the loop, drive along the five entrance roads, which could take an hour. The loop goes 142 miles around the park like an inscribed circle which ends at the center of Yellowstone.
Simply driving in this distance may take you between four to seven hours. Even at 45 mph speed limit, you may want to take time, especially on the winding turns, the epic
the scenery, and heavy traffic because of wildlife near or in the road will consume most of your time.
What is the best time of year to visit Yellowstone National Park?
You should visit Yellowstone between April to May and from September to November. These are the best times to visit this National Park since it is less crowded and the weather is mild.
August and July are popular months to visit because the kids have closed a school and the warm weather allows you to sleep outside.
What is the offseason for Yellowstone?
However, Yellowstone is not a stranger to cold weather. Temperatures can drop to even 30 degrees during the summer. In winter, temperatures vary wildly, ranging
from subzero amounts to 30s. However, this should not prevent you from visiting Yellowstone. The sight of plumes rising from ice and snow is spectacular.
 Can you swim in Yellowstone Lake? 
Yellowstone provides few opportunities to swim. The high-elevation rivers and lakes filled with snowmelt present hypothermia risks.
If you decide to swim in the lakes, do so at your risk because lifeguards are not there. Moreover, all the thermal waters have micro-organisms which may lead to sicknesses like skin rash, diarrhea, and vomiting or other illness which may threaten your life.
To reduce risks of illness in Yellowstone refrain from swallowing the lake water, avoid swimming if you have diarrhea because you may spread germs in the lake and cause sickness on other people and refrain from sinking your head or games which cause to get into your nose.
> You may also like:First Time Travel Trailer Owner Tips,Beginner's Guide. <<