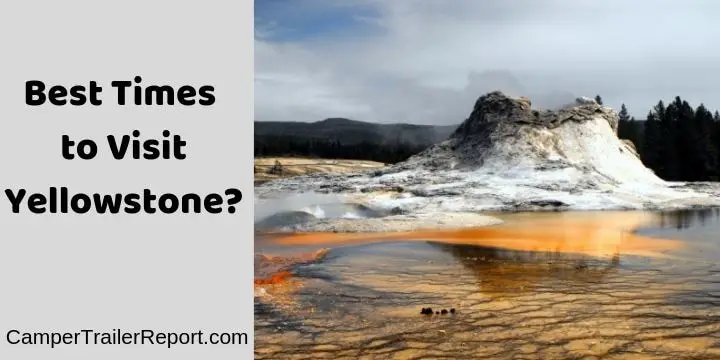 Best Times to Visit Yellowstone?
Yellowstone is one of the most remarkable national parks in the US. This pristine national park offers visitors a rare and perfect blend of natural beauty and rich history. Its breathtaking scenery, magical animals, and historic landmarks give you a perfect reason to visit Yellowstone.
One of the outstanding features associated with Yellowstone is the fact there is actually no bad time to visit the park. With a magical all-year-round experience, Yellowstone captures every visitor's heart.
However, the challenge comes with identifying the ideal time to visit.
Essentially, the best time to visit Yellowstone depends on several factors. Some of these factors include your personality, that is, do you like visiting a place and getting the thrill of other visitors, or do you prefer going to visit the place during a low season?
Secondly, are you planning a visit with your family or alone? Lastly, what features interest you? What do you want to do during your visit to Yellowstone National Park? To identify the right time for visiting Yellowstone, we need to shed some light on some of the seasons.
Some of the ideal times to visit Yellowstone are from April to May and September to November. Other times are July to August. Each of these times comes with its pros and cons.
> You may also like:45 RV Accessory Must-Haves for Your Travel Trailer<<
Summer Visit
Summertime is prime time. During this season, everything runs in full swing. It gives you an opportunity to interact with park ranger programs alongside insightful seminars.
Summer comes with warm weather where animals are active in a picturesque scene. In addition, the weather is normally perfect for outside activities such as camping, hiking, site seeing among others.
However, with a high number of people, it also means that accommodation facilities are few. As such, if you are looking for an opportunity to visit with family and friends, this is the perfect season.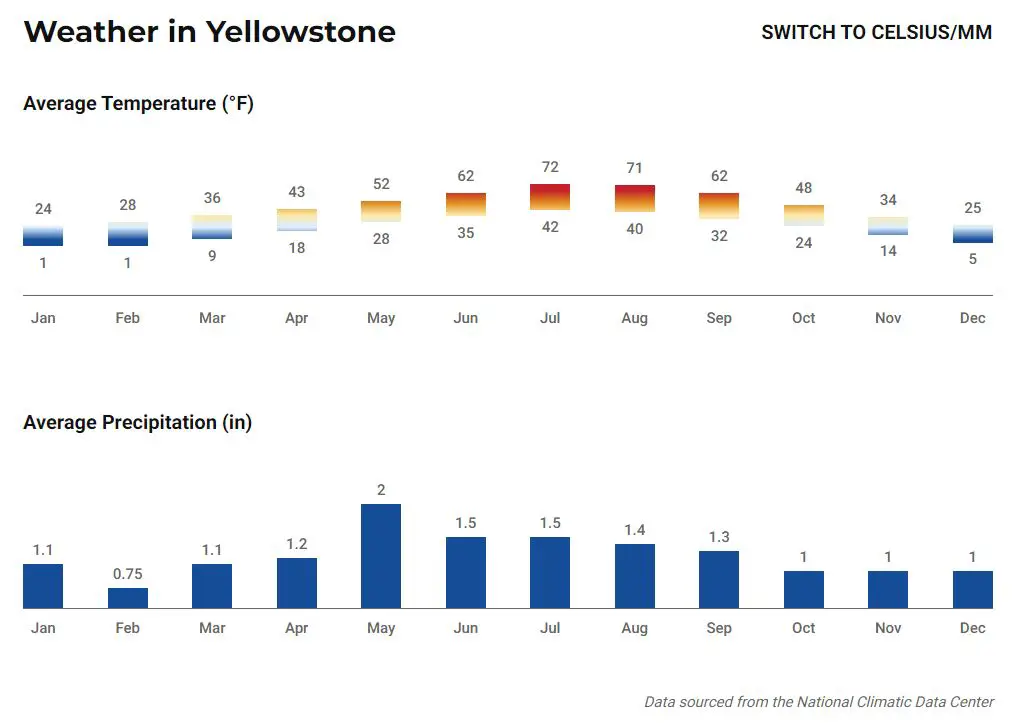 Fall Season
If you are a quiet person looking for a moment to sit quietly and relax, then this is the best time for you. Fall is characteristically quiet. The park experiences few visitors.
However, it is also a great time to see rare animals such as the Black Bear, the male bison, the white deer, and the elk. There is a lot of room without much disturbance as many facilities are free to use.

Winter Season
You may be wondering what happens during the winter season. There are visitors who prefer this time as their best time. Essentially, this season is synonymous with solitude.
The park closes all the entrances except the Northern Entrance. Since most visitors shy away from visiting Yellowstone during this season, it gives a rare feel of silence and isolation.
Some of the animals you will experience include wolves, which are easy to spot. Another remarkable attraction to see during this season is the Boiling River, located between Mammoth Hot Springs and the North Entrance.
This phenomenon occurs when hot water from natural springs mixes with cold water from the Gardener River creating ideal conditions to soak in.
Essentially, the best time to visit Yellowstone depends on your personal preferences.
> You may also like: 12 Best Waterfront RV Campgrounds: You Need to See. <<
How does Yellowstone on a budget?
1. Accommodation
Ensure you look for accommodation outside the destination. On one hand, there are cabins, camping grounds, and also lodges inside Yellowstone National Park. However, they are a bit pricy. This will lead to you
expensing more on accommodation.
On the other hand, there is accommodation outside but close to the park. Additionally, in case you are camping, there are available camping grounds that are very pocket-friendly. Moreover, some of them charge
as low as 8 dollars per night.
2, Food
Ensure that you carry your own food. As much as there restaurants in Yellowstone the prices are a bit high. Notably, there are a few grocery stores outside the destination.
However, if you want to carry a grill then you
can since the picnic areas inside the destination are many. Notable, there are places you can buy ice cream at a very affordable price.
3. Gas
Yellowstone Park has various gas stations. But then again, the prices are a bit high. Prices may go up to 35 cents more for each gallon.
Surprisingly, the gas stations situated outside the park are quite affordable. You may find out that the prices there are a bit lower than you would expect.
Importantly, when going for a game drive in the park ensure that you fill up your gas tank.
Video Overview: Yellowstone National Park Vacation Travel Guide | Expedia
Video Overview: What is the cheapest way to get to Yellowstone?
Things to do on the way to Yellowstone?
1. Take a detour to Mesa Falls
The attraction is only 25 miles away from the main road. On arrival, you can decide to use the well-paved.
passages that lead to the top of the falls for a nice scenic view. Moreover, there is a lodge in the falls. You can also indulge yourself in sightseeing as you hike.
Best Photography Spots in Yellowstone?
1. The Lower Geyser Basin
The best time to take photos in the Geyser Basin is during sunset. The reason being you will be able to capture the rising steam which is reflected by the beautiful sky.
2. The MorningGlory Pool
This pool is one of the most mesmerizing views in Yellowstone Park. However, the best time to photograph this pool is during the day when the sun cuts across the water. Due to this, it completely illuminates its colors
giving you a very colorful view.
Another key thing to note is that you should use a camera with a pretty large lens considering that you will be standing too close to the pool. Furthermore, the use of a modifying filter will intensify these colors.
3. Waterfalls
The fascinating truth is that hikers still discover new waterfalls in Yellowstone each year. There are so many waterfalls maybe you might end up discovering one or two during your visit. One of the most scenic views is
Lower Falls which is really large.
Notably, it is advisable to photograph these waterfalls on a cloudy day. This is because shooting when the sun is shining straightly on the water will lead to dark and light spots on it. This, in turn, will not create real
clear photographs.
Video Overview: How To Plan Your Yellowstone Trip! | National Park Travel Show
> You may also like: 15 Campfire Games for Adults And Kids. <<