First Time Travel Trailer Owner Tips, Beginner's Guide.
This article is beginners guide for first-time travel trailer owners.I have owned a travel trailer for a few years and I have learned a lot so I want to share my experience and help people to learn from my mistakes.
So, if you've managed to buy your dream home on wheels. Congratulations! Now you can hop into your mobile home with all the amenities you need, and head to the mountains, to the beach, to a river or lake – relax and love every moment of it. As you never took a long cross-country trip before, there are so many things to learn to make your road life as enjoyable as possible. Check out this list of tips to get started and avoid common rookie mistakes.
Packing checklist for your first RV trip
My family was so excited before our first camping trip. We bought Jayco Eagle HT travel trailer. On our first trip, we forgot a lot of vital items that will help us to have a nicer trip.
Here is the list of things that you should buy after you get a new trailer. I absolutely recommend have separate items for the trailer than just grasp them from your house so you don't have to remember to pack them every time and the camping gear is ready on a short notice.
Before you embark on your first trailer trip, create a checklist of essentials you should pack and bring with you.
Start with eating RV essentials: utensils, bowls and plates, cups and mugs, pans, pots, sponges, towels, rags, bottle and can openers, cleaning supplies, matches, and cooking oil. You'll need some lounge chairs, firewood, games and cards, books, and lanterns for relaxing times.
15 RV Essentials: What You Need to Buy After You Buy a Camper.
As for bathing, don't forget to bring towels, shampoo and soap, toothpaste and toothbrushes, toiletry kit, and toilet paper. For outdoor activities, you'll need sunscreen, insect repellent, backpacks, comfortable shoes, first aid kit, and gear for your preferred activity (binoculars, fishing poles, hiking boots, etc.).
Eventually, you should be prepared for any problem that may arise on the road. Equip your trailer with a fire extinguisher, shovel, ropes, tool kit, water hose, road flares, batteries and flashlights, trash/recycling cans and bags, jumper cables, extension cord, tire pressure gauge, leveling blocks, light bulbs, and duct tape.
Tip: Plan your meals ahead and bring canned foods, dried soups, rice, beans etc. That way you have everything you need for the next trip – even the food.
Video Overview: FIRST TIME RV BUYERS.. Watch this! Travel Trailer
You may also like: 30 RV Hacks and Tricks for Beginners <<
RV Camping Checklist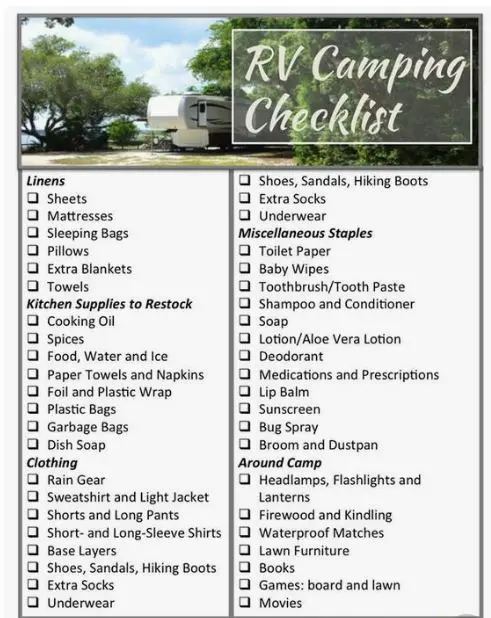 RV driving tips
Before you go on the road, take a practice drive by setting out on a smaller trip on a similar terrain. You need to "feel" the drive with a trailer and know how hard it'll be to switch lanes, park, ascend hills, and other intricacies of driving an RV. Find the most comfortable seat position, adjust the mirrors, master parking and backing into tight spots, as well as how to balance your trailer load, how to start and stop safely, how to drive up and down hills, turn corners, and how to deal with wind resistance. Know your trailer's or RV's measurements, so you don't fear driving under bridges and know which roads you can legally drive on with your motorhome.
Video Overview: How to Drive a Motorhome/RV — Driving Tips: Off-Tracking & Rear Overhang
Video Overview: RV Driving Tips ~ Grades, Gears & Brakes
Hauling an RV
First, you need to do is to check how much your vehicle can tow. Commonly you can find it on the sticker on the drivers' door jam. Next step is to check the trailer, usually, you will find a few different numbers:
Dry weight -just the RV weight without gear and water
GVWR -RV weight with gear and water
Tongue weight – trailer pushing down on the hitch of the car.
You need to be sure that none of these numbers exceed the numbers of what your vehicle can tow. Try to have a buffer of approximately 1000 pounds and check you ball size on your hitch. The usual ball size for the travel trailers is 5/8″.
Tips for backing up your travel trailer:
The back of the RV turns the opposite direction
Make very small adjustments to the steering wheel – Will take a minute before start heading in the right direction.
Setting up your campsite – water and electricity
When you arrive at the campground, disconnect any towed cars and drive around to locate your campsite, and see whether there's enough space for your vehicle. Drive your RV to the campsite, set the parking brake, and chock the wheels.
Put down stabilizer jacks, and before you hook up your rig – test the voltage of the campground's electricity. Plug into the receptacle that suits your amperage requirements – most travel trailers have 30 amp. service but some have 50 amp or 15 amp and all of them have a different connector so you need to have the right connector to hook up your RVs to the park power, and then check to ensure that the electricity is working.
Next, you need to hook up to the water supply by attaching the white water hose of your RV to the camp supply and check to ensure that there's a water flow to your RV. The last thing to do is attach the sewer hose to your vehicle's drain outlet (most campgrounds require a sewer seal on the connection).
Tips: Try to park your travel trailer on flat ground, here is why:
You can damage the RVs fridge
Als will be wired when the RVS is not balanced, the trailer will bounce more as you walk.
>> You may also like: Driving RV for Beginners: 12 Pro Tips <<
Using the water system while on your trip
The trailer has different water capacity tanks. Usually, the tank is large enough for one family to cook with, use the restroom for about 3 days.
Your RV's water system works to remove the used water out (black and gray water) and bring the fresh water in (whitewater).
Gray water – the water that comes from the shower and sinks, and should be dumped last to help clean up the RV's hose.
Blackwater – the water that comes from the toilet, and should be dumped only in an approved dump site at the campground. Keep the black water valve closed at all times to allow the waste to break up before dumping, prevent solids from getting left behind, and prevent odor from coming up into the living space.
Hoses – buy a hose that's designed for drinking water (they are usually white and lead-free).
Regularly clean and sanitize your fresh water tank, because water can get stale over time and spread a bit of an odor. Also, connect a water filter to where it connects to the outside water source to purify the incoming water.
Video Overview: RV Fresh Water System: Tips & Tricks
Probably you need to have several trips before you fully figure out the power system. I was very surprised that the travel trailer battery will not power my air conditioner. You need to have a powerful 3,000 watt or more generator to power your air conditioner. You will find that you can not do more than turn on the TV if you want to use a microwave at the same time you need a larger generator but if you connect your RV to the park's power you can run everything at the same time.
Tip: Try to set up your generator far away from the trailer if you want to keep the things quiet.
You can run all the lights, power jacks, heater etc. but you will find that the battery doesn't last more than 3 hours before you need to turn on the generator again and charge them.
I recommend for your first trip with your travel trailer that you go to an RV park so you can learn the trailer without electrical or water hookups.
For the most RVs, you can power the fridge either on gas or electricity. I run my own gas when I am on the road and I switch to electricity at an RV park.
Common Newbie mistakes to avoid-for your first trip Dumping the RV and Post-Trip Cleanup
Using an RV and finding an RV dump site can be quite a challenge for any RV owner during an adventure or trip. But the fact is a couple of them are found around town. Most cases it is always advisable to Google them and find yourself any station near you.
Some dump stations are found in some municipalities so it is wise to make your research before going out for that trip. At times gas stations can allow you to use their own but will usually charge you between $5- $15.
In order not to be messed up during the dump, you should always park the RV in front of the dump hole in order to have the back side near the dump hole.
As much as you want to have an RV you should also buy yourself a dump hose because most new purchases do not come with one and many are found on Amazon such as the Camco RhinoFLEX 15ft RV Sewer Hose Kit this comes with a clear connector which enables you to see when you did emptying.
When you are ready to start dumping, connect one end to the RV and the other end placed in the dump hole. Thereafter, open your black tank by pulling the black large lever located under your RV which allows all the nastiness to flow out. To avoid touching the residue nastiness, pull the grey lever and once you're sure you're done, remove the hose, wash it with the hose in either the dump station or the gas station and put it back into the bumper of your RV.
It is also not wise to leave water in your tanks in any case you believe it will be a while before you take another trip. There is a little white valve that allows you to empty the fresh water tank. It will take just a few minutes or an hour at most to squeeze out the water. It has no damage to spill fresh water on the way as you move back home.
What are the best RV accessories a camper trailer should have?
For any camping activity always carry with you at least the following equipment:
Sports scout bag
Ultra-light Folding Camping Chairs
Portable solar charger
First Aid Kit
Self-inflating camp pad
Man tent or a hammock
Water bottle
Outdoor LED camping light
Flashlight
Insect repellant
Water filter
Trailers come in very many sizes which makes ensuring them a confusing issue costing you from a few hundred to a couple of thousands depending on which trailer your using. For purposes of your own research let us give you some estimates:
Personal watercraft and motorcycle range from $700 – $5,000
Snowmobile trailers range from $500 – $100,000
Utility trailers range from $200 – $8,000
Just know that the frequency of trailer use, length, and width of the trailer will also affect the cost of your trailer insurance premium.
Video Overview: RV Insurance – Money Saving Tip
Camper trailer registration-what you need to know?
There are a couple of steps that you need to take so as you can register a camp trailer.
Get the camper to be examined
Obtain and fill up the VL17 form
Provide your identifications
Submit your application for review and there for approval.
We believe that this simple guide will open your eyes to entertaining camping. But making more research on how to make it more comfortable will be a wise choice.
Here are my favorite 3 best campgrounds in the USA:
ARCHES NATIONAL PARK, UTAH – It has several adjacent and nearby campgrounds but has also a limited number of campsites.By visiting Arches, you can discover amazing landforms, contrasting colors and giant red-rocks. The price is 10 USD per vehicle.
In the following video you can see and learn more about the Arches campground:
HAWAII VOLCANOES NATIONAL PARK, HAWAII –It have numerous light hiking or strolling trails but its Hawaii so campsites are expensive.
In the following video you can see and learn more about the Hawaii Volcanoes campground:
3.OLYMPIC NATIONAL PARK, WASHINGTON-It have a lot of campgrounds and camping sites to choose from.The price is from 7 USD to 20 USD.
In the following video you can see and learn more about the Olympic National campground:
Bottom Line:
Traveling with a trailer or an RV is a wonderful way to explore and travel through the outdoors. This gives RV beginners a lot to look forward to, but in order to have a stress-free trip, you need to know the basics.