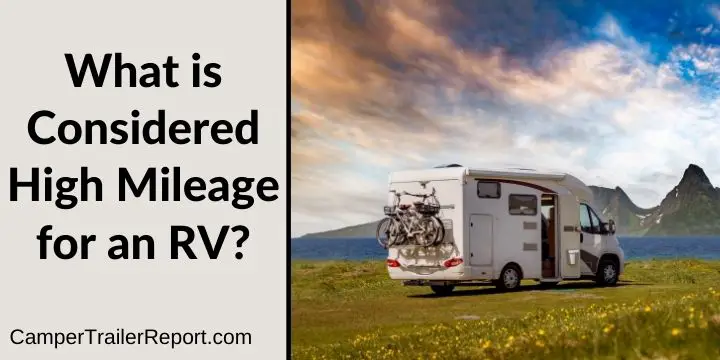 What is Considered High Mileage for an RV?
Traveling with RV can be the best relaxing and memorable way to see around the country or preferably best for camping in style. RVs are among the best cars, whether financially, traveling with it around the town car, for safety, recreational vehicles, and other related benefits.
But what is considered high mileage for an RV? How good, safe, and durable are RVs? Relax, I got you covered. Fortunately, I have deep-researched and came with an ultimate and honest guide about Rvs for you.
1. How many miles are too many on an RV?
Generally, the average lifespan ranges between 200,000 miles or 20 years, whichever comes first. Based on the Meta Camper RV association, anywhere between 200,000 and 100,000 are miles considered to be much high for an RV, and this will depend on how the owner is taking care of his/her Rv. For example, less than ten years old class an RV with below 50,000 miles is really not a good sign. Probably, this Rv might have sat idle for a long duration, accumulating different kinds of problems.
2. How will you know your Rv has too many miles?
Tracking Rv miles is quickly done via manually logging the specific miles or preferably vi installing a quality odometer manufactured for RVs. Besides, this is helpful and useful when planning and tracking for maintenance of your RV
3. How long do Rv trailers last?
With appropriate maintenance and care, travel trailers will last around 25 years, making them a beneficial and dependable investment. Meaning Rv trailer life all depends on how the user is taking care good care of it. But also remember, purchasing a used trailer will come with wear and tear, so ensure you get all necessary information on the Rv before purchasing.
> You may also like:45 RV Accessory Must-Haves for Your Travel Trailer<<
4. Do RVs break down a lot?
Generally, a well maintained and taking proper care RV will rarely break down. On the other hand, a poorly maintained motorhome might break down many times when used actively. Statistically, many RVs tend to start breakdown on their eighth year.
Besides, you can try and stop an Rv from breaking down by practicing few essential steps. First, purchase the right RV that will meet your needs and expectations. Second, look for the appropriate care and maintenance for your RV, and third, ensure in case of any breakdown ensure everything is checked and fixed over the warranty duration before worse issues arise.
5. What is the Rv 10 years rule?
This is the code that is enforced in most upscale RV parks worldwide. Besides, this specific rule implies that any Rv which ten years and above older are much worn and weathered and should ultimately be prohibited.
Video Overview: The 10 Year Rule & Why RVers Hate It
6. Is a used Rv a good investment?
In most case, the used Rvs are usually better investment provided it is well and properly maintained. Given that someone is looking for an Rv that is well maintained, free from water damage, and in perfect repair, you can purchase it. On the other hand, it might be challenging to find and spot an ideal uses Rv that suits all your needs and expectations. And this among the common disadvantage that is associated with purchasing used RVs.
Video overview: How Much do Used RV repairs cost? (A lot!)
> You may also like:Worst 5th Wheel Brands to Avoid <<
7. How many miles in a day should you drive an Rv?
The simple answer; the experts recommend that you should not drive an Rv over 500 miles in a day. Besides, 500 miles comes in between 10 and 9 hours of driving time.
Video Overview: RV Life: Bad things can happen | Driving too much | How many miles to drive your camper in a day
Conclusion
Buying an Rv tends to be an exciting and considerable investment. You will eventually have many years of fun and adventure ahead, but it makes sense to find how long your RV can last when it comes to mileage, durability etc. We have made everything more manageable by providing the facts about RV.
> You may also like: Least-Visited National Parks: Why They're Worth a Look<<