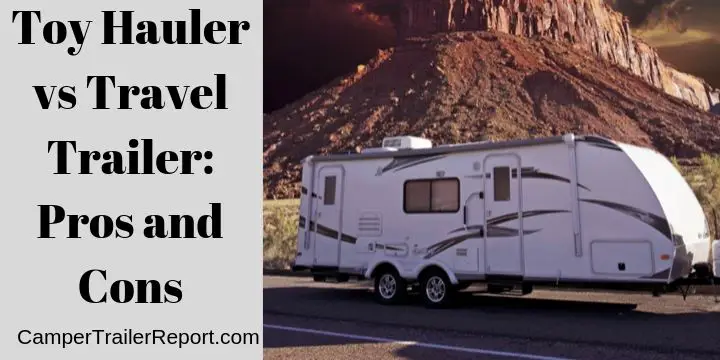 Toy Hauler vs Travel Trailer: Pros and Cons
Toy haulers and travel trailers make great options for RVing since they are user-friendly and less expensive than motorized RVs. However, looking for towables can be overwhelming whether you are new in RVing or a long-time motorhome owner.
With so many amenities offered by both the toy hauler and the travel trailer, the debate about what's better to purchase between the two seems to be dilemmatic. The following major differences between the toy hauler and travel trailer might help one on choosing the suitable towable for their RVing experience.
Cost
Purchasing a new travel trailer costs between eight thousand dollars to over sixty thousand dollars. The average price of the travel trailer, however, ranges between fifteen thousand dollars to thirty thousand dollars. Notably, the cost varies with weight, size, amenities, construction model, and materials, as well as the floor plan. On the other hand, toy haulers have their cost ranging from twenty thousand dollars to eighty thousand dollars, meaning that they are relatively more costly. As the cost of a toy hauler rises, so does its size, comfort, and luxuriousness.
Weight
Toy haulers are typically heavier than travel trailers. Notably, toy haulers are designed to withstand more weight and usually possess a heavier hitch weight. However, the adoption of lighter construction materials such as aluminum frames while constructing toy haulers have helped cut on their weight significantly while still maintaining their strength.
> You may also like:45 RV Accessory Must-Haves for Your Travel Trailer<<
Towing
The truck to use in towing of a travel trailer or a toy hauler is dependent on the weight your travel trailer or a toy hauler possesses. While toy haulers are generally heavier than the travel trailers, one would need a truck with a larger towing capacity while dealing with a heavy toy hauler. It is therefore advisable to understand the towing capacity of the truck you intend to use on whatever weight of your towable.
Interior Features
Travel trailers have nearly the same amenities. The interior features in the travel trailers and toy haulers rival those in larger RVs. However, toy haulers have more upgraded interior and exterior features to maximize on space.
Length
Both travel trailers and toy haulers have comparable lengths having their length range from fourteen to forty feet. However, a fourteen feet toy hauler would feel smaller compared to a travel trailer of similar length.
> You may also like:Worst 5th Wheel Brands to Avoid <<
Storage
Travel trailers have more interior spaces hence more offering better storage than toy haulers. The more interior space is due to more closets per foot in travel trailers as compared to the toy haulers.
Garage Space
The garage space of a toy hauler is usually large, having it range from eight to thirteen feet in length. Notably, the garage space of a toy hauler can be used as an expansion of the living space as well as a dining area.
Video Overview: Checking out Toy Haulers at RV 4 Seasons for RV Living
Floor Plans
While both the travel trailer and toy haulers have lots of floor plans to choose from, travel trailers offer more interior living space hence more space for usage. However, toy haulers' garage space adds on their available space for use.
Off-road Handling
With heavier frames, toy haulers can withstand off-road trips better than travel trailers. Notably, the toy haulers have stronger suspensions and axel than the travel trailers.
Gas Mileage
Gas mileage is solely dependent on the weight of your towable. With toy haulers being relatively heavier than travel trailers, they possess a lower gas mileage. You might consider purchasing a lighter towable for better gas mileage.
Hauling ATVs/ Dirt Bikes
Notably, toy haulers offer a better chance to haul your ATVs or dirt bikes compared to travel trailers. In most cases, you might require to load your ATVs or dirt bikes on your truck's bed while using a travel trailer.
Availability of Bathrooms
With more space in travel trailers, they can accommodate more than one bathroom, unlike toy haulers that have one bathroom in most cases. A travel trailer might be the optimal solution for better bathing solutions for your family on your RVing experience.
Video Overview: 5th Wheel vs Travel Trailer – You Choose!
Bunkhouses
While travel trailers possess bunkhouses, toy haulers lack the bunkhouses. However, toy haulers have foldable beds on the garage wall with 5th wheel toy haulers possessing a bunkhouse.
Water Tanks
While both the travel trailers and toy haulers have water tanks, the size of the water tank is dependent on the size of the towables. However, 5th wheel toy haulers possess larger water holding tanks.
Brakes
The brakes installed in either of the towables are based on the weight of the towable; thus, toy haulers have a more advanced braking system compared to travel trailers. One should be keen on their electric brakes to their towable if they tow heavy loads.
Final Thought
With the above major differences between the travel trailer and toy hauler, one can make an informed decision on what towable to purchase. The choice on which towable to purchase, therefore, will be based on the needs of an RVer as well as the ability to purchase a given towable.
> You may also like: 25 Best National Parks in the USA  <<