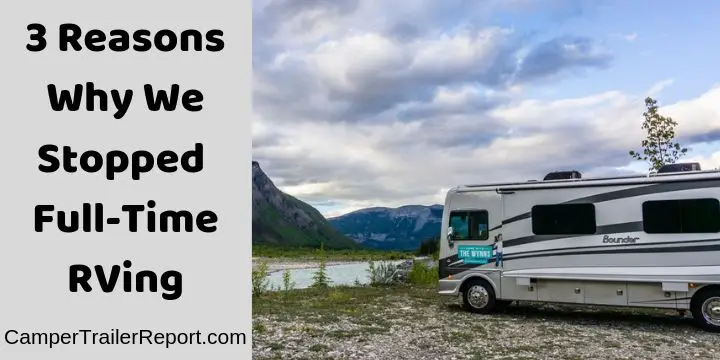 3 Reasons Why We Stopped Full-Time RVing
RV living is a continuously growing trend which appears to be very interesting and happening from a far-away view of it. No matter good or adventurous it may sound, a full-time RV living has its own disadvantages which are way more challenging to digest than the catchy advantages.
The problems of full-time RV living can prove to be a huge price for someone who is not fully aware of the know-how of it.
It seems to be exciting to view new places while traveling in a home like a recreational vehicle. But, believe me. It is not how it seems to be. It is not just about smelling nature or nurturing your relationships in your own recreational vehicle.
There is much more than all of this to a full-time RV living. You, very soon, during that time, realize that living in a recreational vehicle on a full-time basis is way more than learning what it means to be flexible with your life and all the circumstances that it serves on your plate in the name of experiences.
Here is a list of the top 3 reasons we stopped full-time RVing. They will definitely force you to think twice before you opt for this supposedly adventurous venture.
> You may also like:45 RV Accessory Must-Haves for Your Travel Trailer<<
1. Change is the only permanent phenomenon in a full-time RV living.
No matter how interesting it may sound, a full-time RV living has a feature named change which happens frequently yet suddenly during the course of time. So, sometimes it becomes difficult to adapt to the swiftly changing and continuously challenging situations which a full-time RV living offers you.
This is one of the primary reasons why there is a downfall in the trend of full-time RV living.
2. It demands to be your own solution book in any particular problematic circumstance.
Living in a recreational vehicle on a full-time basis sounds really good. But it demands you to be your own service provider in the face of plumbers, mechanics, repair person, etc. You can surely hire people to serve you with this service but, that might weigh heavy on your pocket.
Hiring technicians for the regular repair work of your recreational vehicle necessitate you to be full of funds. If at all you showcase the audacity to take the face of the service providers for your own sake, then, make sure that you are well equipped with the skill set required to perform the tasks of plumbers, mechanics so on and so forth. This hidden expectation is yet another reason behind the fall of the full-time RV living trend.
3. People these days are gradually turning into social animals.
The current generation of human beings is fast turning into social animals who like to be surrounded by a lot of people. The only difference is that some are more social while some are less. But there is no one who is away from the trend of socializing.
Socializing is gradually taking the shape of a need these days. One of the prerequisites of living in a recreational vehicle on a full-time basis is that you need to turn that requirement of yours off for that particular period of time.
Trust me on the fact that it is easier said than done. This is also one reason why we have put a full stop at the full-time RV living trend.
> You may also like: Worst 5th Wheel Brands to Avoid <<