The Beginner's Guide to Full-Time RV Living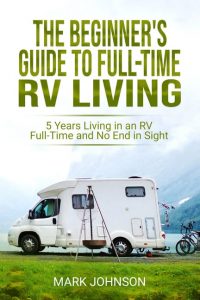 The Beginner's Guide to Full-Time RV Living is written by a full-time RVer and presents, from the beginning, everything you need to know for a life on the road!
From choosing your RV to earning a living, this book covers it all.
The Beginner's Guide explains in detail the pros and cons of the various types of recreational vehicles, what the costs are, how to deal with unforeseen emergencies, and how to have fun living in an RV!
Now available in ebook and paperback formats!
Praise for The Beginner's Guide to Full-Time RV Living
Such a blessing Mark is for the newest generation of full-time RVers hitting the road and working remotely! We've been on the road ourselves for over a decade, and it's rare to encounter their tenacity for providing helpful, well thought out and informative content.
—Chris,  Gotraveltrailer
Mark guide is packed with useful information for those looking to transition into the RV lifestyle. Not only does she take you on an educational journey by sharing knowledge from her experiences in an easy to read format, but he will also have you cracking up along the way!
If you're looking to learn about topics ranging from finding the right RV to obtaining healthcare and mail on the road, then this is the book for you.
—Travis,  RV favorite
I only wish there was a guide like this when we started traveling full time! It definitely would have helped us and stopped us from making some bad decisions when we first got on the road. If you are in the planning stages, getting ready to launch or already on the road this guide will be useful in making the transition to full-time RV life!
—Bryana, Crazy Adventure
Table of Contents
Getting Started
Chapter 1: What is Full Time RVing?
Chapter 2: The Pros and Cons of Full-Time RVing
Chapter 3: Preparing for Full-Time RV Living
Chapter 4: Packing an RV for Full-Time Living
Chapter 5: Downsizing – Lean but Not Mean
Finding Your Perfect RV
Chapter 6: How Do I Choose an RV for Full-Time Living?
Chapter 7: Best in Class A
Chapter 8: Best in Class B
Chapter 9: Best in Class C
Chapter 10: Best in Class: 5th Wheel
Chapter 11: Are There Brands to Avoid for Full-Time Living?
Chapter 12: Ten Factors to Consider When Buying a Used RV
Living In An RV: What You Need To Know
Chapter 13: How Much Does RV Living Cost?
Chapter 14: Saving Money on Repairs
Chapter 15: Communication, Mail, and TV
Chapter 16: Must-Have Smartphone Apps for Full Time RVing
Chapter 17: Health Insurance for Full Time RVers
Chapter 18: The RV Family – Living with Kids and Pets
Chapter 19: Where to Park and Live in an RV Without Breaking the Law
Chapter 20: The Dark Side (Black and Grey) of RV Living
Chapter 21: Generating Income While Full-Time RVing
Now available in ebook and paperback formats!