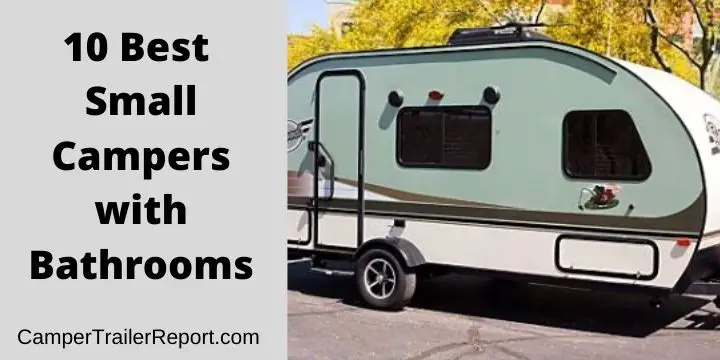 10 Best Small Camping Trailers with Bathrooms
Being a camper, one will know that going camping is a comfortable way of getting close to nature. Traveling with a camping travel trailer that does not have a bathroom, on the other hand, can be quite uncomfortable. If you are looking to buy a new trailer, I have listed four excellent choices, which will make it easier for you to find one that is suitable for you.

United Recreational Vehicles, LLC's iCamp Elite
If you are in need of a trailer suitable for a family with kids, then this might be the one for you. This is a light-weight trailer, weighing only 1337 LB GVWR. It is a stylish product that is small in size, yet the inside is spacious with a 5.11 ft. interior height. Inside the trailer, you will find walls covered with wallpaper, and furniture made out of solid wood. The bathroom has a toilet and a shower. iCamp Elite is equipped with a digital audio and video system. It also includes a refrigerator, a wardrobe, and most of the other amenities you need.
Other interesting features iCamp Elite have are, such as:
less drag and less fuel usage
iPod connection so you can listen to something else besides the radio on the road
semi-gloss painted plywood furniture
wallpaper throughout
easy towing
Click here to see the full specifications
Incredible, in this mini trailer the manufactures still found room for a bathroom.
Video Overview: 2008 iCamp Elite
Scamp 13 Standard Trailer
The 13-foot travel trailer is the tiniest from the Minnesota based trailer company Scamp. This is a compact trailer, ideal for small families or couples. It contains the basic appliances that you will need in order to prepare your meals, and the bathroom has a toilet and a shower. The dining table can be converted into a large double bed, suitable for two to three people. If you need more sleeping space, then you can convert the sofa into bunk beds. The walls are covered with marine headliner wall fabric, and the furniture is upholstered in brown.
In this trailer, you will also find:
fiberglass cabinets
wood panel cabinet doors
a wardrobe
vinyl flooring or carpeting
more outlets and lights
a 30-amp power converter
roof-mount air conditioning
roof air heat strip
a front porch light
microwave oven
stove cover
Click here to see the full specifications
Video Overview: Scamp 13 Tour 2019
Video Overview: Walkthrough of the 2017 Scamp 13 (Standard) Fiberglass Trailer
> You may also like:First Time Travel Trailer Owner Tips,Beginner's Guide. <<
Airstreams 2018 Sport
If you are looking for a trailer with a modern and sporty design, then you do not need to look further. This silver camping 2018 Sport trailer comes with air conditioning, speakers and an LG TV. The bathroom is as classy as the rest of the 2018 Sport and equipped with a toilet and a shower. There is sleeping space for four people, including a queen-size bed. The kitchen, which is located in the center of the trailer, has a stove, two oven burners, an overhead fan, a stainless-steel sink, and a refrigerator. The trailer has aluminum interior walls and ceiling and seamless vinyl flooring. The interior height is 6.25 ft.
Some high-end features are:
auxiliary heating strip and air conditioning
Fantastic Fan of natural air rotation
Ultraleather dinette set
appliances like a convection microwave oven/standard microwave, refrigerator, and two-burner cooktop
Moen faucet
the cutting board sink cover
blackout shades with panoramic front windows
An LED HD TV and JVC stereo
Some additional features are:
tempered tinted windows
one-piece white aluminum roof for temperature control
Manual ZipDee patio awning
freshwater tank inlet
exterior shower with both cold and hot water
waste hose storage
cable TV hookup
Click here to see the full specifications
Video Overview: 2019 Airstream Sport 16RB Bambi Walk Through Travel Trailer Small Light Weight Caravan Camper
Video Overview: Walk Through 2017 Airstream Sports 22FB Bambi Light Weight Tiny Small Camping Travel Trailer
2017 Lance 1575 Travel Trailer
This camping trailer has a much larger feel to it than most other trailers of the same size, mainly due to its large windows and the skylights in the living area and in the bathroom. With sleeping capacity for four people, this trailer also comes with a complete bathroom – toilet, and shower. It has the amenities you need when you want to cook. It also has a wall thermostat, which makes it easy to adjust the temperature.
The keyword when it comes to the interior design is wood, which makes this camping trailer feel rustic and homely. With more room, pop-outs, Lite-Ply wood, the Lance 1575 Travel Trailer gives campers the experience of the outdoors with all the comforts of home. Surprisingly larger inside than it seems outside, 1575 comes equipped with sliding technology for the dinette area and skylights throughout the living room and bathroom areas.
The wood uses both Azdel and Lite-Ply that gives strength to the counters and tables yet maintains the beautiful finish. The décor throughout the trailer is minimal yet stylish with neutral colors and can sleep up to four comfortably. When fully expanded, the dinette can seat four and the kitchen offers more than enough room to work. Over the queen size bed is a flat-screen TV, and the bathroom opens comfortably off the main area to offer both a toilet and shower.
To feel at home you will get the following features as well:
an interior key hanger
wall clock
tables and countertops
shade and screen for all windows
dinette complete with wall backsplash
a three-burner range stainless steel stove
three-way double door refrigerator that can stash five cubic feet of food
wall thermostat for easy temperature adjustments
Click here to see the full specifications
On the exterior, the trailer has an extendable screen to cover the front door.
Video Overview: 2019 Lance 1575 Travel Trailer Video Tour • Guaranty.com
Video Overview: 2018 Lance 1575 | Travel Trailer – RV Review
You may also like: Worst 5th Wheel Brands to Avoid <<
Barefoot Caravans
This company is based in the UK but they will ship to the US for a fee. Like the rounded teardrop trailers, the Barefoot Caravans is oval. Despite its seemingly small size, the inside is both cozy and spacious and makes this caravan the perfect purchase for short getaways or cross-country trips.
The bathroom and shower area is small yet enclosed for privacy. A sofa easily converts to a twin mattress and there is plenty of hidden storage and cupboard space throughout the unit. The kitchen has a two-burner stove that sits beside the sink and compact refrigerator. Oakwood lines the walls and creates the cabinets. This small unit has the same hot water and heating units as many of its bigger brothers and comes with both a radio and TV.
This travel trailer has customization options, you can choose your favorite colors for the following features:
the Roberts Revival DAB Mini Radio
curtains (which can be custom-made)
bathroom and kitchen walls
seat upholstery (which is fabric or vinyl)
Some other features that make Barefoot Caravan such a standout:
L-shaped seating that can be configured into a spacious bed
cupboards and wardrobe space for storing belongings when on the road
roof lighting
eco-friendly polycarbonate windows
included freezer and an Isotherm compressor fridge
Click here to see the full specifications
Video Overview: Barefoot Caravans the egg-shaped caravan
Casita Travel Trailers Spirit Deluxe Trailer
An American-made product, Casita Trailers, has been manufactured in Rice, Texas since 1983. The 13' Deluxe model comfortably sleeps, 1-2 people. The bedroom area can be converted to the dining area featuring a small dinette table. Perfect for short weekend getaways, these trainers also feature a bathroom with a toilet and shower. Casita has five different models to suit individual tastes and ranging from 13' to 17'. Higher-level models such as Spirit Delux Trailer are equipped with a larger bath and shower, swiveling charges, and larger windows. The 17' model comes with two twin beds and can sleep up to four people.
Other interesting exterior features you won't want to miss are:
a 110-volt exterior outlet
a 12-volt battery pack
a freshwater fill you can lock for better hygiene
a city water connection for an alternate source of water
an exterior door light
Click here to see the full specifications
The biggest areas of the camper are inside the bathroom and the shower space and toilet are separated.
Video Overview: CASITA 2017 Spirit Deluxe
> You may also like 12 Best Waterfront RV Campgrounds: You Need to See. <<
13' Deluxe Trailer
These mini-homes on wheels bring the comforts of home to the campground.  13' Deluxe Trailer is decorated with Oak or Birchwood, many of these trailers can be customized to fit your every need and specification. Floor plans offer the choice to put either the dinette/sleeping area at the front of the bathroom.
The dinette area easily converts to the bedroom with plenty of storage on either side as well as two extra closets throughout the rest of the unit. The bathroom features a modest toilet and shower, and the kitchen is more than adequate to enjoy homecooked meals or grab a quick bite from the refrigerator.
Video Overview: Walkthrough of the 2017 Scamp 13 (Deluxe) Fiberglass Trailer
Jay Sport Trailer
If you have a small family Jay Sport Trailer from Jayco is perfect for you. This trailer is compact and simple and you can get:
Exterior:
double entry steps
stabilizer jacks
15-inch mud tires – for off-roading
Interior:
residential cabinetry
a stainless steel stove that can be used outdoors or indoors
vinyl flooring from DiamondFlor
For sunny days you get such features as:
heated bed mats
reversible cushions
a plush dinette
stereo and TV capabilities
propane pre-plumbing
Click here to see the full specifications
But of course, the best part of this trailer is the bathroom and the tank is huge six gallons.
Video Overview: 2017 Jayco Jay Sport 8SD, 10SD, 12UD Popup Fold Down Tent Campers
> You may also like: RV Questions: I Am Asked the Most<<
Teardrop Trailer
One of the first trailer designs, the teardrop trailer is coming back into style in 2018. Not only is this unit compact and has all the amenities of home, but it looks sleek and stylish from the inside out. Teardrops come in five different floor plans and can be customized to fit the buyer's needs.
The seats the 4-person dinette convert into a twin bed. The kitchen contains a surprising about of storage space. Units come complete with a bathroom area and the more deluxe models have a shower as well.
Video Overview: Hand-Built Teardrop Camper Trailer with Solar Power & Running Water – Perfect Mini RV
Small campers with a lightweight pull
When I first looked at that kind of camp I thought it is too small and how would I survive in one like this one? Well, here the story begins. It was incredible! Definitely incredible! This one was so easy to maneuver that I could not believe at first sight. I love mountains and traveling.
Yeah, you caught me but what can I do if those are in my blood? I tried many trailers but I love this one. It is like a little fluffy baby. I fell so comfortable in it and you can go with it everywhere you want because it does not need much space. And let's not forget that it has a bathroom too! What else do you need after a long walk in the mountains instead of a long shower? Nothing more!
Video Overview: VERY LIGHTWEIGHT TRAVEL TRAILER…very easy to tow!!!
My uncle used to use this type too. I asked him about his opinion and he said that the space for him is quite too small but all in all you are at the mountain, you go there for fresh air so you should not sit inside four walls and start to move your feet and find out what nature has to say to you.
 There are so many places he wished could visit but now he is old and I feel sorry for that but I hope I can do my best and try to visit the places he wished too. Another interesting thing he said was that when you are up, there, it does not matter so much the trailer but the person you are with so I guess he suggested me to fall in love quickly :)) (I might understand him)
You may also like: Worst 5th Wheel Brands to Avoid <<
Pop up campers with bathroom, type Coleman
You heard about those types. They seem pretty nice and comfortable for a couple or a family.T hey reminds me about old American movies from 2000. I watched them so curious and I still remember the way actors were so romantic while being in a trailer like this.P.S. You have a lot of space there.
> You may also like:  15 Most Underrated National Parks in America <<
Small RV
What is great about those small RVs is that they are easy to drive, more fuel-efficient and there you can put a lot of stuff from your home. In those ones, you can feel at home and that is my opinion.
I have a friend who uses this one (we are a community that loves camping ) and he made it his home. It sounds great! He loves it and I am pretty sure why. He can do everything he wants and have everything he needs. That is why they seem
so perfect to be tried by everyone not just people like us!
Video Overview: 10 MINI CAMPERS & CAMPER VANS GREAT FOR SUMMER GETAWAYS 2018 – 2019
Conclusion:
If you are interested in buying a camping trailer, then we suggest that you take a look at https://rv.campingworld.com/. Camping World is recognized as the number one trailer dealer in the US, and you are guaranteed to find small camping trailers with bathrooms of many different models here.
Enjoying the great outdoors in comfortability can expensive except with these 5 awesome and small camping trailers with bathrooms.
Related Post: 45 RV Accessory Must-Haves for Your Travel Trailer