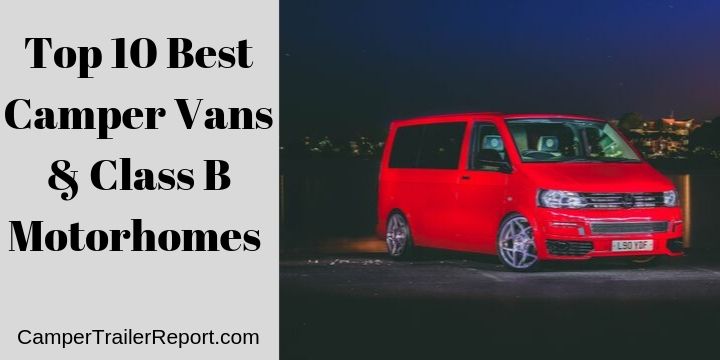 Top 10 Best Camper Vans & Class B Motorhomes for 2019
Camper vas and class be motorhomes are one of the best light cars for weekends or tours. Besides their fuel efficiency, these cars are also easy to drive. What's more, they provide adequate space which you can comfortably pack your home amenities.
Therefore, if you are looking for best camper vans and class b motorhomes on the market right now, worry no further. The following are 10 best options you can consider.
1. Pleasure way Tofino
One great feature with Pleasure-Way Tofino is its spacious design. The van maximizes its space effect by incorporating a small kitchen, refrigerator, and a steel sink. The seats are also very spacious, making passengers comfortable throughout the journey. Also, the vehicle can be powered using solar panels at the roof hence providing a maximum source of electricity.
Video Overview: Ultramobility News | Pleasure-Way Tofino | New Details
2. Dalbury E Electric
With zero emissions, this vehicle operates in a quiet and nature-friendly manner. Also, due to its electrical power source, this vehicle consumes a little significant amount of fuel. The Dalbury E Electric also contains the following features: air conditioning, electric windows, climate control, intelligent key, mini-fridge, low voltage LED lighting, and iPod compatibility.
Related Post:  How To Build A Camper Van (Step By Step Video Guide) 
3. The Earthroamer
This camper has gained popularity over the recent years. Built on a four-wheel drive, the vehicle offers ultimate performance both off-road and on-road. The vehicle is also powered using solar panels hence environmental friendly.
Video Overview: 2020 Earthroamer XV-LTS Expedition Vehicle 4×4 – Full Detailed Tour
4. Hymer Aktiv S
This van is arguably one of the best in the market. It has a spacious room enough to sleep a family of five. Besides, it contains dual lounges, full bathroom, source of entertainment, and other common amenities. Last but not least, the vehicle is fuel-efficient despite being powered by a v6 engine.
5. Mercedes Benz Midwest RV Camper
The Mercedes Midwest RV camper is full of luxurious appointments that make an immediate impression. Apart from the leather sofas the van also has a refrigerator, HD TB screen, Wi-Fi connectivity, just to mention a few. If you are looking for luxury, this van best suits you.
6. Winnebago Revel Camper
If at all you love convenience and ease of the class B motorhomes, Winnebago Revel Camper is just the thing for you. This vehicle is built to take you anywhere, for however long you want to stay. Besides its four-wheel drive, the vehicle also has outdoorsy amenities such as 3-liter turbo diesel engine, all-weather tires, and decent hill features. Also, they are fitted with a kitchen, air conditioning, and heating. This makes it one of the best camper vans in the current market.
Video Overview: $150,000 Winnebago Revel 4×4 Sprinter Van Tour!
7. Volkswagen California XXL
The Volkswagen California XXL is another popular camper van in 2019. This vehicle is built with cutting edge technological designs. When viewed from above, the Volkswagen California XXL can be divided into six sections: the dining, kitchen, wet room, sleeping area, and lastly living area. During cold nights, the electrical system installed in the beds can provide some heating hence maintaining a comfortable temperature.
> You may also like:45 RV Accessory Must-Haves for Your Travel Trailer<<
8. Roadtrek Zion
The new Roadtrek Zion is not only stylish but also comfortable to drive. The van is built on a Ram Promaster engine which helps in fuel conservation.
In as much as this isn't the largest van, it just packs enough amenities for your road trip. Some of the unique features that come with this van include a mini kitchen, a stove, bathroom, and a microwave.
9. Airstream Interstate
Airstream Interstate camper vans are not only flexible but also designed for maneuverability. The van is fitted with ultra-leather seats that can comfortably accommodate nine. Also, there are LED HD TV screens to provide passengers with ultimate entertainment. Other unique amenities include bathroom, kitchen, and foldable beds.
Video Overview: 2019 Airstream Interstate GT EXT Motorhome
10. Ford Terrier M Sport
The Ford Terrier M Sport is based on nothing but luxury and speed. This camper van has an upgraded engine system with up to six-speed manual transmission. An automatic gear system is also available in the market. For those who would like to travel a long distance for a short time, this is the vehicle for you. Its seats are made of Nappa leathers with M-Sport logo. Besides, it has one piece side kitchen, a storage unit as well as a bathroom.
Related Post: Why You Shouldn't Live in a Van? Why Van Life Sucks!