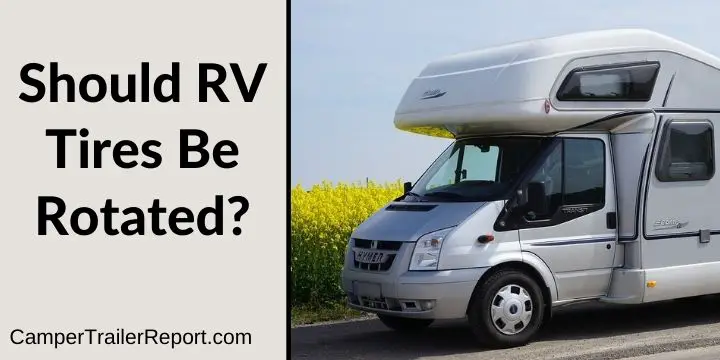 Should RV Tires Be Rotated?
Recreational cars need a lot of attention, tires are essential parts that if often overlooked and RV tires are not exceptional. Generally, tires are a vital foundation of our RV. And since RV tires are designed in different construction, design, and purpose, it helps to have a clear understanding of them.
Should RV tires be rotated? This is among the frequently asked questions among others by many individuals out there. So without further ado, allow me to take you through a comprehensive guide about trailer tires while answering frequently asked to help fully understand these tires to have a smoother and comfortable ride.
1. How often should someone rotate trailer tires?
Like other related vehicles, trailer tires also need to get rotated to avoid major or minor mechanical problems. The trailer experts on rubber manufacture association commend that we should rotate out RV tires after every 8,000 and 6 0000 miles. This will typically prolong the entire life of your tires and provide you with a safe and smooth ride.
However, when rotating the trailer tires, you should start from side to side, front to back, or even a combination of both. You only need to adopt a specific rotation pattern. Overall maintaining your tires with rotation and other related simple tire maintenance will eventually keep your trailer stable, facilitate safe maneuvering and keep its primary handling predictable over its lifespan.
> You may also like:45 RV Accessory Must-Haves for Your Travel Trailer<<
2. What happens if trailer tires are not rotated?
First and foremost, if your tires are rotated, this will typically lead to uneven wear formations. Braking and cornering will further cause tread deformations alongside the tread areas? The uneven wear leads to quicker wear of tires, shortening their service life.
Without regular tire rotation, your trailer tire treads will wear down to typically create potentially and rough unstable driving surface. And at the end, this tire tread wear might decrease the user's safety on the road, causing hydroplaning, heat buildup, poor traction in ice and snow, as well an increased risk of blowouts and punctures.
Based on the NHTSA report, the inadequate tread depth is claimed to be responsible for about 25 percent of tire-related vehicle accidents. During the tire's rotation, every tire tends to get moved in a different position to help your tires not wear evenly.
Video Overview: RV Tip: Rotate Your Tires
3. Why do trailer tires wear out so fast?
Generally, trailer tires are among the essential parts of your trailer because they allow users to effectively and safely transport their cargo from one point to another. And like other related tires on your standard vehicle, SUV, or truck are subjected to wear and tear due to getting rambled down on the road; trailer tires are not exceptional. However, it is essential to eventually identify the tire's tread trailer wear to avoid severe damage or costly blowouts on your trailer on the road.
Camber wear – this is ordinary trailer tire wear that tends to affect the tread half. And it can a result of an overloading situation or alignment issue. Besides, this wear will make your trailer tire appear slanted; therefore, if alignment is done and is not solving this problem, consider lightening your cargo.
Normal tread wear – this wear is effortless to spot via looking at tread wear indicator right on trailer tires. Once you notice that tread and edge are even, consider replacing your trailer tires before more damage happens.
Feathered wear – this wear happens on half part of the trailer tire, and it is caused by unbalanced toe alignment. Meaning too much toe-out and stresses the half tire contributing to a quicker wear. Solve this issue with appropriate toe alignment.
Wear because of under and over –inflation- lack of pressure on trailer tires will show through wear outside and inside tire edges.
Video Overview: Tire Wear and Diagnosis
> You may also like:How to winterize RV without antifreeze?<<