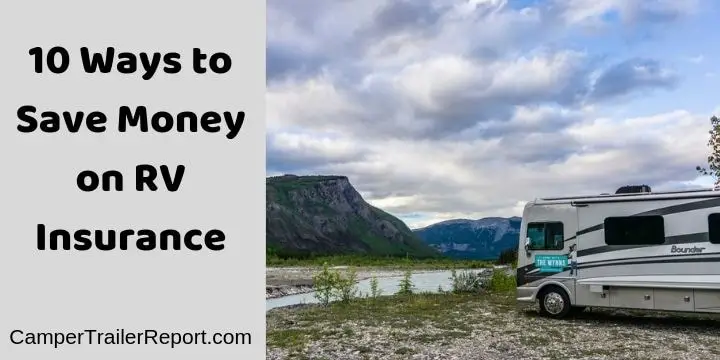 10 Ways to Save Money on RV Insurance
A recreational vehicle (RV) is a vehicle designed to include living quarters to accommodate the occupants. The most common features of an RV are a kitchen, a bathroom, and a bed. The more luxurious models usually contain extra amenities like air conditioning, television sets, heaters, etc.

RV insurance is tricky, given that it can serve the functions of both a home and a vehicle. As such, insurance policies on RVs tend to be complicated and expensive. Here are 10 ways to save money on RV insurance.
1. Compare RV Insurance Rates Online
Before purchasing insurance for your RV, check out the insurance companies on the internet.
Compare the services offered, and the premiums required and choose the best fit for your RV.
2. Improve Your Credit Rating
Your credit rating indicates your ability to pay the claim of a policyholder. When your credit rating is good, it inspires more trust, which in turn reduces the premiums required.
Related Post: How Much Does Travel Trailer Insurance Cost? With 2 Examples.
3. Select the Right RV Coverage
The more coverage you demand from your policy, the more you will have to pay in premiums so, watch out for unnecessary coverages.
The least comprehensive policy you take out on the RV should be enough to replace the RV and pay for any damages or bills incurred.
4. Choose Your RV with Insurance in Mind
There are many different types of RVs. Motorhomes, truck campers, fifth-wheel trailers, popup campers, etc., are just a few of the many kinds of RVs there are.
Your need for RV insurance will depend on the type of RV you own. The type of coverage you need will also depend on the RV you own.
So, it's best to choose an RV you can comprehensively insure.
5. Buy Usage-Based Insurance
If your use of the RV is sparse, usage-based insurance may be the best option for you. Usage-Based insurance determines the premiums by the type of RV, measured in time, distance, place, and behavior.
An RV that isn't used much will lead to lower payments under a policy like this.
6. Ask Groups About Membership Discounts
Insurance providers have partnered with a varied number of groups and societies all over the world to provide discounts on insurance.
You might be a part of a group with such perks and all you'll need to do discover it is to ask another member or an executive of the society.
7. Look for Discounts
The payments for RV insurance can be reduced with discounts offered by your provider. Some offer discounts for actions like paying the entire annual premium in a single payment.
Other discounts are based on the security of the RV, storage, ensuring other possessions, etc.
8. Drive Safely
If your RV sees frequent use, your premiums will be higher than someone who parks his or her RV for most of the year.
Also, accidents and other road mishaps will increase the risk factor associated with the RV, leading to higher premiums
9. Review your Deductibles
If your deductible is high, this lowers the insurance company's liability. This will, in turn, lower the premiums you must pay. Conversely, a lower deductible will lead to a higher premium.
10. Set up Automatic Payments
Using an automatic payment feature frees you from worrying about paying your premiums on time and opens a discount option for you.
This will, in turn, reduce your payments on the insurance policy.
Conclusion
The above ideas are just a few of the ways you can save money on your RV insurance. Usually, the best option to keep your insurance costs down is to stay healthy.
Related Post: 5 Tips for Saving Money While Living Full-Time in an RV
RV Insurance Related Questions:
How much does it cost to ensure an RV?
The cost for Recreational Vehicle insurance varies from regions to region and is affected by different factors before a conclusion is made. If you have an RV, this auto insurance policy is the best thing to go for. It's wise also to make sure that the insurance policy you have subscribed for, covers both accident and property as you are using the vehicle, just to be on the safe side.
The cost for an RV insurance is relatively cheap compared to the basic car insurance since the RVs are considered to be less used. Also, the assumption is that the drivers that drive this vehicle are more experienced. One of the major factor to consider when determining the average cost of an RV insurance is whether your RV Is motor home or non-motorized.
Your location-If you live in an area where there is a high risk of theft or accident occurs, the rates will be higher and vice versa.
You driving history-The accidents maybe you have caused, or any traffic violations in the past will determine the amount of money the insurance cover will sum up to.
Your Experience as a driver-This is specifically on your experience as an RV driver. Driving any other car and driving an RV is a different thing. For an RV, it requires a driver who knows all about the height restrictions, the parking, turning, and all that.
There are different types of RVs. Until the specifications of your RV are well known, determining the insurance cost will have to wait.
The condition of your RV-Factor like age and the state your RV is in are very important in determining the value of the insurance policy. Based on the possibility of wear and tear, the price for your RV cover will be reached
Frequency of use-Some people use their RVs quite a lot, and some use them as their residence. If this is the case for you, the cost will be high as the insurance company will be covering you, your property inside and the RV itself. If otherwise, you use your RV less frequent, the cost will be low without a doubt.
What is the best RV insurance?
When it comes to choosing the best RV insurance, we take into contemplate three major factors.
The cost of the cover. As discussed above, the cost is decided when different factors are taken into account. Now, depending on your pocket, you can decide on the best RV policy for you. Also, some companies offer discounts. It's up to you then to choose the one offering favorable prices and discounts for you.
The coverage and benefits. The company offering an insurance cover with versatile coverage and lots of attached benefits is the best. Go for a company that offers full timer cover that also covers your personal property and you as a person. Go for the one with unlimited liability.
Customer support. A company that takes care of their customer's issues and complains about the immediate effect is the best. It's quite boring to wait for so long before your issue is attended by your RV insurance company. If it is a query or compensation, they deserve urgency that you should get from your insurer.
Considering the three factors above, some companies ranked top five as follows;
Good Sam company
Rvinsurance.com
National general
Progressive
State Farm
What does Good Sam RV cover?
As per each customer needs. It offers its insurance cover. Some of the coverages that Good Sam customers are;
• Full-Time RV Coverage
• Collision cover
• Personal Liability
• Property Damage Liability
• Bodily Injury Liability
• Personal Injury Protection
> You may also like:45 RV Accessory Must-Haves for Your Travel Trailer<<
Does Liberty Mutual offer RV insurance?
Yes, they do. Liberty Mutual offers an RV insurance cover that will help you ensure your motorhome or travel trailer. The cover is also meant to protect your RV on the road or wherever it is parked.
Do I need a special license to drive an RV?
The rules changes from state to state another. In most states, it's not a must for you to have a special license for you to drive an RV. As far as you have a regular driving license, you are good to go. However, in other states, you must have a special license to drive an RV. Therefore, we cannot conclude for sure whether or not you are supposed to have the license. It depends on your state rules.
What does Safeco RV insurance cover?
Safeco Insurance Company is specifically meant to cover RVs used for recreational purpose only. In case your RV meets a risk on any other even rather than recreation, the company does not compensate for your loss.
They usually cover the following;
Total compensation –full repair in case of accident to your RV. In case the RV is destroyed beyond repair, they can either offer you Actual Cash Value Agreed, Value Coverage or Replacement Cost.
Loss of Use
Emergency Assistance
Personal Effects Replacement Cost Coverage
Vacation Liability
Mexico Physical Damage
Roadside Assistance
Audio-Visual and Custom Equipment Protection
The company also offers;
Bodily Injury Liability
 Property Damage Liability
Collision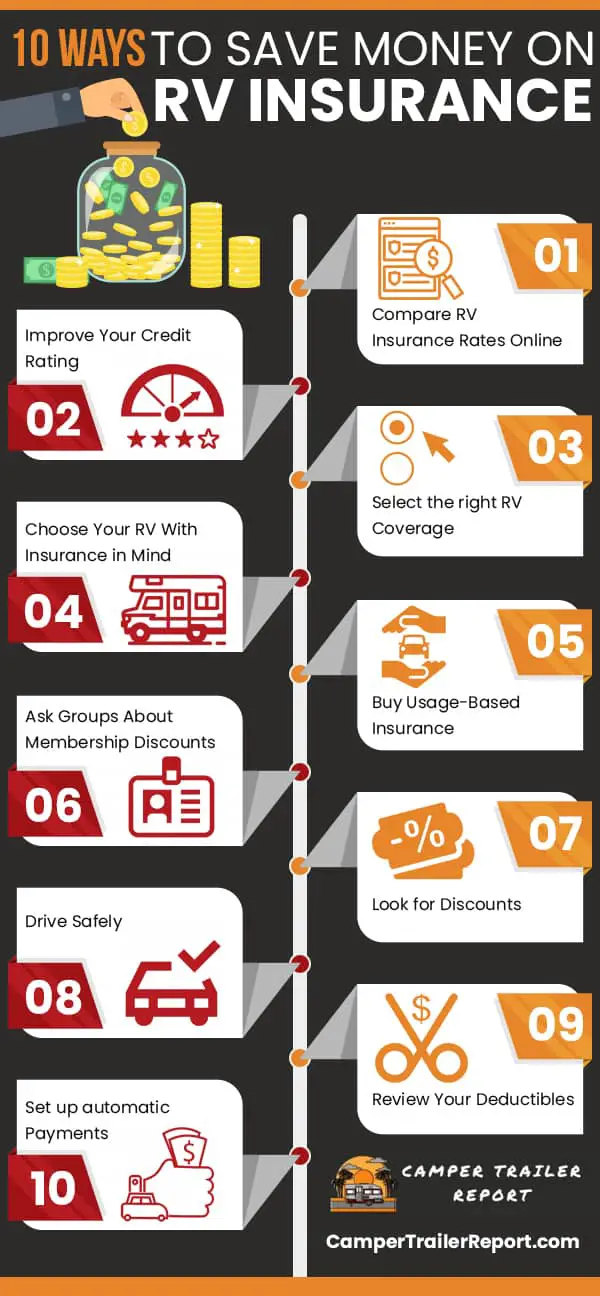 > You may also like:Worst 5th Wheel Brands to Avoid <<