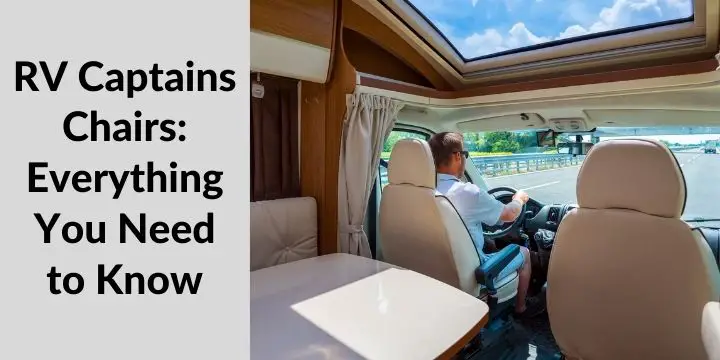 RV Captains Chairs: Everything You Need to Know.
Seating is important.
Not only does it signify status, but it helps you enjoy the event you are attending or the rig you are driving. Very little thought was given to what type of old-time seats were place in any vehicle.
RV manufacturers always go for the cheapest option so upgrading even standard captain chairs is vital. That is if you want a comfortable ride that does not harm your back. Captain chairs are essential in RVs as your long drives can take their toll.
Make your RV driving more fun by making the upgrade to top-quality seats that provide status, quality, and good looks.
What to look for in captain chairs
Everything you need to know about a good quality captain chair is found in what you should be looking for. Both the driver and the up-front passenger will benefit from the upgrade when you get the right chairs for your bodies.
#1. Comfort– while you do not want to go to sleep while driving, you want your chairs to be comfortable. The road can be bumpy and hard and those vibrations and shocks can harm your back. make sure your captain chairs will fit your body and have all the right padding in the correct spots.
#2. Class A or C chairs– there is a difference between the captain chairs made for Class A RVs and Class C models. The latter options usually do not recline but they are covered in the same materials as the Class A options.
#3. Options– Both classes of RVs have many features you can add to your captain chairs. These options include the following items:
adjustable arms for added comfort
lumbar section is powered either by manually operated dials or electricity
they have remote slide and swivel functions to help give you more legroom and space
the seats can be heated for cold weather driving
built-in massage function helps relax sore tired muscles after a hard day's drive.
#4. Price– these chairs are not exactly cheap although the economy class of chairs costs between $300 and $500. The next class runs you approx. $500 to $900 while the top class of captain chairs is $900+
> You may also like:How To Insulate an RV Underbelly? In 5 Easy Steps.<<
These chairs are ergonomically designed
What that means is that you can get your pilot's and co-pilot's chairs to fit your body so you get the maximum amount of comfort and support. The contours of these chairs should fit your body well and you should avoid any that does not meet this test.
Video Overview: RV Quick Tip – How to Swivel RV Captains Chairs
They are not just for comfort
That may be the main reason you will buy captain chairs for your RV but it is not the only reason they are made by their manufacturers. These chairs are designed to enhance your RV's interior design and look.
The company's want your rig to look its best and they want you to buy their models so they are going to make sure the chairs they offer you are looking their best.
You may also like:Gas vs Diesel For Towing a Fifth Wheel?<<
Insurance and Warranty issues
The captain chairs made for RVs usually come with the best warranties possible. They are long-term coverage to make sure you are covered in case of most emergencies or breakdown of the features under normal use.
However, the chairs you buy must be designed for the type of RV you already own. The reason for this warning is that insurance companies can deny claims based on the fact the captain chairs were made for a different RV class and model.
In both instances, you will need to read the fine print of your insurance policy and warranty along with talking with your insurance agent and chair salesman. Also, most RV makers will state which chair options will work for the different classes of RVs and their models.
there are people out there who encourage you to go with non-RV furniture because it adds style and creative design options. But, before you buy, make sure those innovative options do not cause your insurance problems.
Video Overview: How to Remove the Captains Chair from RV
Find the right furniture maker
Captain's Chairs are not all equal. Each manufacturer will add their own idea of what the chair should look like, how it should feel, and what features it should have. They also make their chairs in different qualities.
Some companies will use cheaper construction materials than others and you should check out which materials were used and how they were put together before you buy. There are a lot of top RV furniture makers out there that put the best materials inside their chairs and a little research should lead you to those companies.
You may pay a little more but the extra cost is worth meeting insurance regulations as well as your own comfort level requirements.
Video Overview: RV Captain Chair Replacement
Some final words
Captain chairs are the way to go as you can get better back support than regular RV chairs to provide. Plus, they come with a lot of features to make sure you get the most out of the money you spent. It is worth upgrading to this style of the chair when you know you will be spending hours in it as you travel over the different roads.
> You may also like:45 RV Accessory Must-Haves for Your Travel Trailer<<