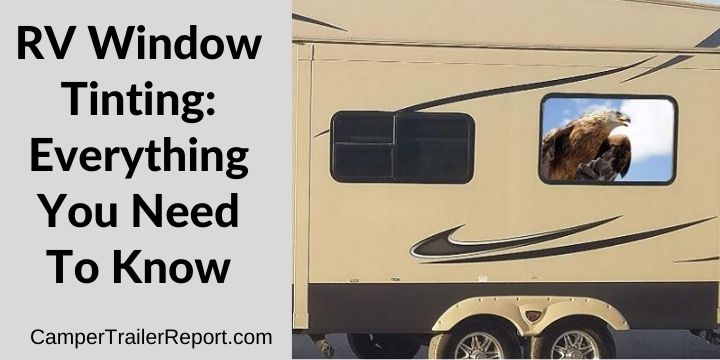 RV Window Tinting: Everything You Need To Know
If you have considered window tinting for your RV but you aren't sure that it is worth the cost, then you need to learn more about all of its benefits. You also need to learn about the various types of window tinting.
Here is a guide that you can use for RV window tinting: everything you need to know.
Window Tinting Will Give You More Privacy
If you are worried about people looking through the windows when you are asleep in your RV, then window tinting is a good option. It will keep people from easily seeing into the RV. It will give you a feeling of privacy and security, and you might sleep better when in the RV because of that.
> You may also like:45 RV Accessory Must-Haves for Your Travel Trailer<<
It Will Block Out The Bright Light
Another way that the window tinting will help you to get better sleep is by blocking out the light. It will make your mornings in it feel much more comfortable, and you will have a more relaxing vacation when the light doesn't start pouring in through the windows right when the sun comes up.
The window tinting blocking the light may also help you to be safer as you are driving, as it will cut back on glare. It can keep the RV much cooler and more comfortable and energy-efficient in hot weather, as well.
Video Overview: WINDOW TINTING: HOW TO TINT WINDOWS (FOR BEGINNERS)
The Tinting Can Make The RV Safer
One of the reasons window tinting is a good choice may surprise you, and that is that it can make the RV safer. When you get the right type of window film, it may prevent the windows from breaking. That will keep you safe if you are ever in an accident in the RV, as the glass won't shatter around you.
It Will Keep Things From Fading
The window tinting will help preserve everything about the RV and the features inside of it because it will block the sunlight from hitting on the furniture and everything inside it.
That will keep things from fading and will make everything appear much better. If you are worried about the RV becoming old and rundown too quickly, then you need to have the windows tinted right away.
> You may also like:Worst 5th Wheel Brands to Avoid <<
Window Tinting Is Good For Your Health
If you are concerned by the amount of sunlight streaming into the RV all of the time, then window tinting will help with that. It will keep the sun off of you, and that will be good for your health. You can add the window tinting to any or all of the windows so that the sunlight will not damage your skin.
Choose The Right Type Of Window Tinting
If you are worried about the cost of the window tinting for your RV, then you can go with a dyed window film. It is one of the most inexpensive choices for this, and it is easy to apply. It is stuck onto the windows to block out the harsh light.
Metalized window film is another great option, and while it is a bit pricier, it may be worth it because of how well it will hold up. It will not get scratched as easily as other types of film.
There are several other options, as well, many of them newer to the market, and each one has its benefits and drawbacks. If you want to get window tinting in your RV, then consider these options and decide which one is right for your RV.
> You may also like: Least-Visited National Parks: Why They're Worth a Look<<