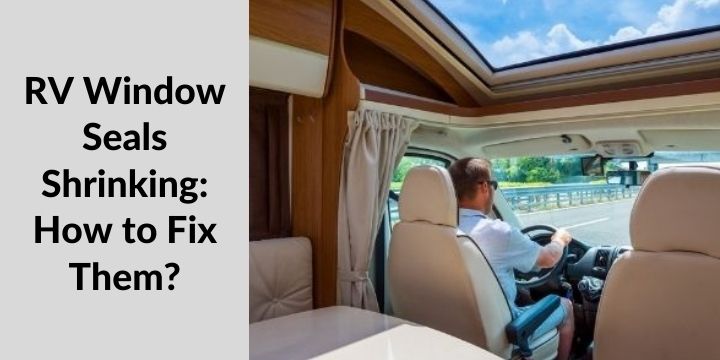 RV Window Seals Shrinking: How to Fix Them?
Fixing shrinking RV window seals is a common problem for many RVs. Some people think that the seal on their windows is just old and needs to be replaced, but in reality, it can often be fixed with some simple solutions.
This blog post will help teach you how to fix your RV window seals without spending any money or using any tools. The best part about this method is that it's super easy and doesn't take much time at all.
1.Why do window seals shrink?
While they are excellent in keeping out the weather, one of the factors that make them fit snugly against your RV's windows is their thick material. As the years pass, this material will eventually dry up, and its size will shrink.
And if you don't notice it right away, it might later result in leaks at some point.
But this doesn't mean that you should replace all window seals with new ones so often to keep your windows watertight. Instead, please take a look at how you can avoid having to deal with shrinking seals before they even become a problem by possibly sealing along the seams with silicone caulk or other sealants, which will last for longer periods without the need for replacement.
2. How to Fix Shrinking RV Window Seals Step by Step
The first thing you can do to fix your shrinking seals is by adding silicone caulk or sealant on the seams to prevent them from becoming loose and allow water intrusion into your camper through leaks.
It would be best if you started sealing right away any time you notice that the softness of the window seal starts changing because this will let you stop it before it becomes a problem and let you ensure that there will be no leaking later on down the road.
And if possible, try not doing things that can make the seals shrink any further such as exposing them to hot weather conditions during summer, so they won't become loose or much smaller than the windows in your camper, which can contribute to leaks.
Video Overview:  RV Camper Window seal repair – Quick permanent cheap way
> You may also like:45 RV Accessory Must-Haves for Your Travel Trailer<<
3. Cost of replacing RV window seals
The cost of replacing the entire set of window seals that you have is almost equivalent to having a new camper, as it may range from $1,500 to $2,000 for the average size camper.
But suppose the problem is only with specific areas such as seals around doors or windows.
In that case, you will be able to prevent damaging any other parts inside by just patching them up and sealing them off at first so they won't get worse until you finally decide on getting new ones installed instead.
When doing repairs, make sure that you are working on areas where water leakage is impossible so that they don't emit water again when you are done with the repairs.
4. How to avoid RV window seals from shrinking
Some of the things that can let your RV's window seals shrink are by exposing them to higher than usual temperatures and direct sunlight, which will cause their material to dry up and lose its size in the process.
You should also make sure that you never get any waterlogged areas such as doorways or windows exposed to moisture for long periods, especially during wintertime, so they won't shrink away too much and result in leaks.
Also, if possible, try not working on larger parts of your camper right before leaving it either because this increases the chances of getting something wrong even more.
And if you know that there are signs of leaks in your camper or that your seals are starting to shrink, then you should take care of repairs as soon as possible before they become worse and enter the point where it will be very costly.
> You may also like:Worst 5th Wheel Brands to Avoid <<
5. Should you caulk around RV windows?
Even if you are sure that you won't get any waterlogged areas exposed for long periods, there is always a possibility that humidity can still penetrate through cracks and crevices, so adding silicone caulk all around these parts will keep them sealed off from moisture which may contribute to shrinking the seals too much over time.
And since it takes only a short while to add this and that you'll end up saving yourself from having to go through leaking problems, later on, you should be careful not to ignore this step for any parts that can get moisture even when not used all the time.
Video Overview: How to Caulk an RV | "DIY" NO LEAKS EVER!
6. How do you reseal a vintage camper window?
The best way to resolve seal issues is by removing the old seals carefully and replacing them with new ones right away.
You can do this yourself or have it repaired by a professional, and once done, make sure that no water gets inside your camper through leaking holes, especially at places like doors where leaks will usually occur first if you don't take care of repairs in time.
If possible, try clearing areas around doors and windows of dirt because these allow water to seep into cracks easier and help them dry faster so they won't shrink any further.
Conclusion
There is nothing worse than having your camper being unable to function properly because of leaking problems, so if you see any signs of them appearing, and then it will be much better for you to take care of repairs as soon as possible before they get even worse and too costly to fix.
And make sure that you don't neglect things like resealing window seals every once in a while or installing new ones after long periods if they have been exposed to high temperatures.
This promotes water leakage and contributes to shrinkage, which can cause major leaks down the road. But no matter how small or large your camper may be, make sure that repairing RV seals is given attention regularly and maybe consider getting a new set installed when needed because having them replaced all at once is the most effective and cost-efficient means of keeping small leaks at bay.
> You may also like:  Why America's Most Popular National Parks Need to Be on Your Bucket List <<