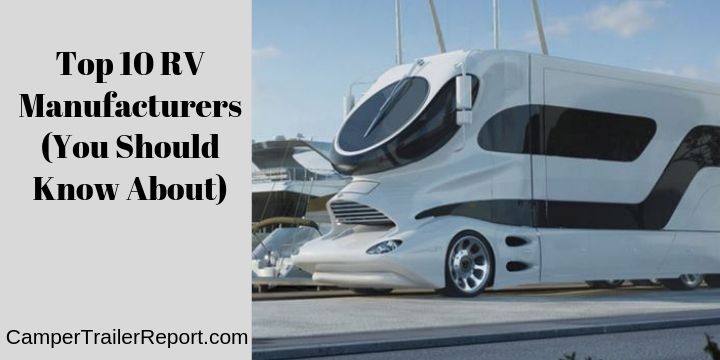 Top 10 RV Manufacturers (You Should Know About)
RV is an abbreviation of 'recreational vehicle', a special van furnished like a small house with beds or cooking stuff, etc. This kind of truck can be used for accommodation, though usually, people travel on it on their holiday. There is a funny slang in Australia for retired people going traveling on their RVs as 'grey nomads'.
There are many types of RV, including motorhome, camp trailer, caravan, truck camper, and so on. By June 2019, Business Insider had released a post listing the most popular brands up to then, which are a Travel trailer, Fifth wheel, Class A, Class B, and Class C.
So the question now is what are the leading RV manufacturers?
1. Tiffin
This business gets by far the highest rate among users. Established in 1941 with the name 'Tiffin Supply Company' in Alabama selling household furniture, Tiffin has risen to be one of the top motorhome companies run by a family. People love their RVs for plenty of cabinet space, basement storage, excellent exterior finish, and five-star-quality driving/ towing.
Video Overview: Tiffin Motorhomes: A Closer Look – Tiffin Allegro Club
2. Coachmen
A long-standing brand in producing RVs with 50 years of history and over 600 000 RVs made with a motto 'Dedicated to the enrichment of your life'. With the focus on simplicity and functionality, they manufacture RVs that are a good value for money. Their products also have the most customization power with reviews and feedback integrated into new models.
Video Overview: Building a Fifth Wheel RV! Coachmen Fifth Wheel factory Tour! Part 1
>> You may also like:45 RV Accessory Must-Haves for Your Travel Trailer<<
3. Newmar
Charming RVs produced by passionate RV people. The manufacturers' distinct vision is to produce the best RVs possible. The founders are RV enthusiasts themselves with abundant first-hand experience and strive to create the most functional, innovative, well-made recreational vehicles for owners.
4. Oliver Travel Trailers
Travel trailers topped the list of popular RV brands in 2018. This enterprise is proud to provide travel trailers of high quality, luxury, and comfort just like at home. They provide RVs of various features and options, also great personalization abilities for their customers at a competitive price.
5. Airstream
One more manufacturer with high user rate. People enjoy the comfortable driving in many kinds of road, beautiful design bringing cleanliness, and great warranty/ support. They shall have lived up to their philosophy 'Let's not make any changes, let's make only improvements'.
Video Overview:Airstream Factory – Jackson Center, OH
>> You may also like:Worst 5th Wheel Brands to Avoid <<
6. Entegra
Focusing on providing RV owners just what they want, the 50-year-old company by the Bontrager family holds strong values. The models are aimed to bring peace of mind, residential amenities with a 2-year warranty. Their RVs have a great layout and lots of storage compartments.
7. Dutchmen
Dealing mainly with travel trailers with a bunch of models, this business also gives customers much personalization power. Feedbacks report their RVs with nice floor plan, durability due to weather package, insulated bottom, stability on roads and so on.
8. Lazy Daze
With the objective to build the best RV, not the highest number, Lazy Daze with excellent manufacturing staff has turned out motorhomes with outstanding durability. This business makes every effort to bring out the 'high-end' quality products.
9. Grand Design
Living up to their saying 'more features and superior values for your dollar', this manufacturer has an excellent reputation for quality craftsmanship and structural warranty.
Video Overview: Grand Design RV Factory Tour 2018
10. Keystone
Affordable price, few mechanical issues, great floor plan, ample living and seating are some of the features of their RVs, They really do carry out their mission 'Building adventures for the long haul'.
>> You may also like: 25 Best National Parks in the USA  <<