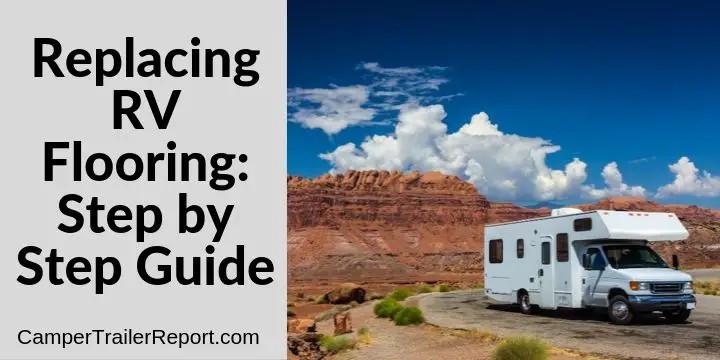 Replacing RV Flooring: Step by Step
Whether you like it or not, there comes a time when you have to replace your RV flooring. One of the features that make your RV stand out is the flooring, and you should ensure that you properly maintain it. Sometime back my RV experienced a water leak and my floor was damaged, forcing me to replace it. This is a step by step instructional on how to replace RV flooring.
Tools needed
Spacers
Pencil Ruler
Rubber Mallet
Utility Knife
Tape Measure
Drills
Jigsaw
New Flooring
Step 1: Remove your old RV flooring
Now, you will need to dismantle some of your furniture first and store it somewhere else before you start removing the old RV flooring. However, it is important that you properly mark the position of each furniture to ensure you replace it exactly where it used to be when you are done. Some benches may contain electrical wires and you need to be careful when cutting the wires because you will need to splice them once the repair is complete.
Removing the old tiles from your RV is not a difficult task because in most cases the glue has already deteriorated. Did you know that the flooring of your RV is usually installed before putting up the walls? This makes this process rather tricky and you should be careful at this stage.
After removing all the tiles, you need to turn your attention to the carpet. Now, I wish I could tell you that removing the carpet is a simple process but it is not. It took me a lot of time to completely remove the carpet due to the many staples used, and I was completely worn out. The square-headed pliers and utility knife will come in handy when removing the carpet.
Once your old is removed, vacuum the subfloor and ensure that it is clean and smooth. Properly cleaning the subfloor is important and it will not take you a lot of time to complete.
Video Overview: RV REMODEL – Flooring Installation Start to Finish
> You may also like:Worst 5th Wheel Brands to Avoid <<
Step 2: Cutting the flooring
Use the utility knife, square, or leftover flooring pieces to cut the flooring plank. A square is an incredible tool when you want to cut straight lines quickly while the jigsaw id=s great for making detailed cuts.
Should you need to cut extremely narrow pieces, use the table saw. It isn't necessary but it certainly speeds up the work greatly. Ensure that you wear a face mask and safety goggles when cutting the flooring planks for your safety.
Video Overview: RV REMODEL – Water Damage Floor Repair
Step 3: Installing the flooring in your RV
Start with the planks that run against the longest wall of your RV unit. You will notice that thee new flooring has different interlocking connectors on each side. Ensure that the female connector faces away from the wall, and the male connector should come down to connect from the top.
You must use the spacers which will ensure that your new flooring will contract and expand with climate change. The first piece of the female connector should be lined to the second piece of the male connector and you should tap it with a mallet to ensure it is properly secured. Continue the entire process until you finish the wall length. Once you finish a row, then start on the second row and move on until you complete the entire area.
Conclusion
Replacing your RV flooring is quite simple once you follow the steps illustrated above properly. Be sure to do extensive research before deciding the type of new flooring that best suits you.
> You may also like:45 RV Accessory Must-Haves for Your Travel Trailer<<