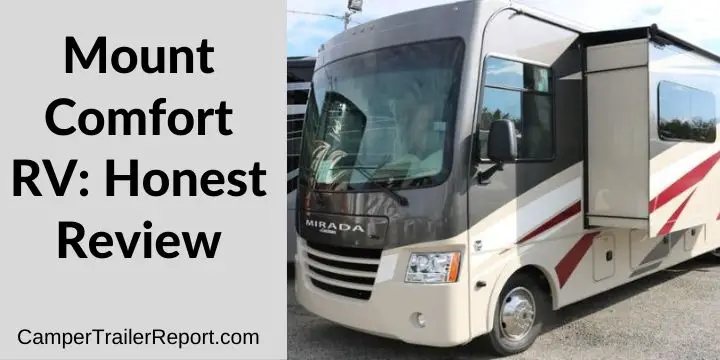 Mount Comfort RV: Honest Review
Mount Comfort RV is a renowned dealer of a variety of models of recreational vehicles. The dealer has an experience of over 40 years in this particular field. A big sales area of this company is in a massive area of17 seventeen acres in Greenfield, Indiana State.
Since this Mount Comfort RV sales area store is near to the Indianapolis KOA campsite, lots of campers come here intending to rent or purchase recreational vehicles.
The buyers can get all types of RVs here for rental or sale. There are lots of all other RV types: class B RVs, class A RV motorhomes, class C motorhomes, travel trailers, pop up campers, toy haulers as well as a fifth wheel, which are the most popular types of recreational vehicles.
> You may also like:45 RV Accessory Must-Haves for Your Travel Trailer<<
Mount Comfort RV reviews
Buying and Renting RVs Online Options
The clients can visit the Mount Comfort RV website and choose any specific RV model offered for rent or sale from the big online directory uploaded there.
Also, there are lots of photos of the big motorhomes, smaller-sized camper trailers, travel trailers, as well as other RVs available for rent or sale from this company.
Clients can, besides, find the photos of the updated RV models on their webpage that are offered with additional facilities for enhanced comforts of the users.
Video Overview: NEW 2020 Newmar Dutchstar 3709 | Mount Comfort RV
Discounted prices
There are many varieties of RVs of all the leading brands available in the huge sales area of Mount Comfort RV.
Therefore, the clients don't require visiting any other place to fulfill their RV needs. Mount Comfort RV is well known to give the best competitive prices in every type of RV service.
The discounted prices range from the sale price to the repair charges of any recreational vehicle. As a result, even the common customer can anticipate finding the best quality RVs models manufactured by their preferred brands at affordable prices that are within their means.
You may also like: 25 Best National Parks in the USA  <<
Customer Service
The customer services from this company are excellent. The excellence of their services can be proved by the lots of testimonials that are posted online on this company's website. According to the reviews from the clients, the busy customer care professionals of Mount Comfort RV are always available for the customers.
They don't fail at any given time to attend to any customer entering their sales area for renting, buying, or repairing purposes. Each client is given the same importance, and nobody requires staying for long to get the essential services here.
It has been proven that many people from other states often visit, to get the best RVs from this reputable dealer. Mount Comfort RV has a big team of RV professionals who guides the clients in choosing the ideal vehicles that perfectly go well with their recreational purposes.
You are a very important person as a client and this is why you are their priority also better services to the client are key in Mount Comfort RV just get there with whichever services they offer and you will be assisted.
> You may also like:Worst 5th Wheel Brands to Avoid <