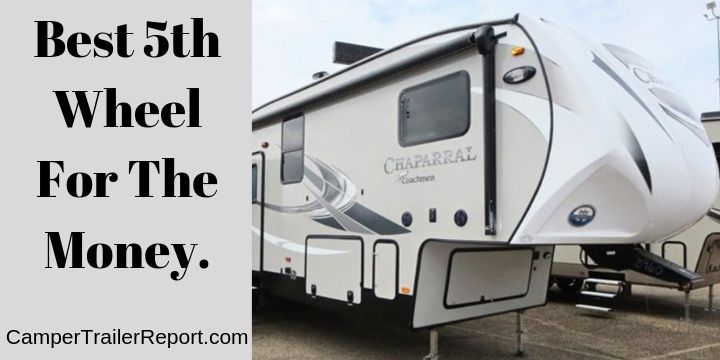 Best 5th Wheel For The Money.
If comfort and stability are your top priorities when looking for an RV to invest in, look no further than the 5th wheels. These RVs are quite luxurious, and spacious and provide the best maneuvering experience that any camping enthusiasts crave.
They are bigger than standard campers or travel trailers. They are equipped with amenities and functionality that solo travelers, families, or couples will take advantage of regardless of where they travel across the country.
Let's take a look at the best 5th wheel you can invest your money in.
1. Redwood 5th Wheel RV.
This RV is manufactured in Indiana by a company having eight years of experience. Those who have tried it say nothing but the good things that come with this 5th wheel. It has 18 different floor plans and sleeping spaces for 4 to 6. It is 41 feet (12.5 m) long meaning you have a lot of space though there is an option of 36 feet (10.97 m) long if you want something compact. Some Redwood key features include:
Dual pane windows.
Solid-Marple hardwood cabinets.
An HDTV is located in the bedroom.
Robust construction.
Fifteen thousand BTU air conditioner.
The soundbar and effective electric brakes.
Video Overview: Ultra Luxury Redwood Fifth Wheel RV! Crossroads Redwood 4001Lk
> You may also like:45 RV Accessory Must-Haves for Your Travel Trailer<<
2. Forest-River Wildcat Series.
If you are a newbie and looking to buy a 5th wheel RV, the Forest-River Wildcat series may be your best bet for its affordability and features. To be honest, this model is affordable but that doesn't mean you'll have to trade off key amenities that come with RVs. Its key features include:
12V LED light system.
Hardwood kitchen cabinetry.
An 8 cubic feet (0.23 m³) fridge.
Large-sized windows.
Queen size sofa.
2 swivel glider recliners.
A 39-inch 1080P Furrion HDTV.
Eleven different floor plans.
Video Overview: RV Review: Wildcat Luxury 5th Wheel by Forest River
3. Coachmen-Chaparral 5th Wheel.
If you're looking for an RV with ample sleeping space, then Coachmen Chaparral is the perfect RV for you cause it can house up to 11 people in its bunkhouse. It is 40 feet (12.19 m) in length. On the outside, Coachmen are painted with UV-treated paint meaning the decal is resistant to corrosion. It also has a couple of other features such as a 50 to 55-inch HDTV, panoramic sofa, dual pane windows, an electric fireplace, and a 13500 BTU air conditioner located in the bedroom.
Key features:
11 floor plans to choose from.
Oversized bed storage.
Solid hardwood cabinet faces and drawers.
Dual-zone thermostat controller.
Large-sized wardrobe with hanging drawers and storage cabinets.
Video Overview: Totally Unique Coachmen Chaparral 355FBX Fifth Wheel RV!
> You may also like:Worst 5th Wheel Brands to Avoid <<
4. Luxury Suites 5th Wheel DRV.
This RV was created with luxury in mind. You can have a massive 44 feet (13.41 m) or 34 feet (10.36 m) depending on the number of people you want to bring with you. The first can handle 5 while the latter 3 people quite effectively. Despite its weight DRV Luxury Suite is stable and the extended 8-inch ceiling height adds to the spacious feeling. The hardwood dinette, vinyl plank tiles, mocha cherry cabinets, and LED lighting systems make you feel at home away from home.
Key Features:
High and quality polished surface countertops.
Aluminum weather shield and power awning LED light.
4-season perimeter heat-ducting on the floor.
20 floor plans to choose from.
Frameless safety glass windows(tinted).
Carefully placed vinyl tiles.
Video Overview: 2022 DRV Mobile Suites 41 FKMB Luxury Fifth Wheel • Bishs.com
5. Coachmen Brookstone 5th Wheel.
Like all 5th wheels, Coachmen Brookstone is stable and can handle 9 people with quite ease. This RV has all the features you would expect in any fifth wheel. For example, it has a 15000 BTU central air conditioner, a 40000BTU furnace, an inclining bed, electric front jacks, a well-sized kitchen, a phone charging station, and a rubber-diamond coating on the pass-through among many other unique features.
Key Features:
12 cubic feet refrigerator.
60 by 80-inch memory form mattress.
4 freestanding dinette chairs.
Corian polished kitchen countertops.
5 floor plans to choose from.
MCD-roller nightshades.
Video Overview: Benefits Of Coachmen Brookstone 5th Wheels | Mount Comfort RV
BOTTOM LINE.
Prior to any deal, ensure the 5th wheel has all the amenities that you and your family need. In most instances, the RV you will invest your money in will be determined by its functionality and the brand you like.
You may also like: 25 Best National Parks in the USA  <<
Related Questions:
What fifth wheel is the best built?
The Keystone Montana
It is one of the best-built fifth wheels. It is a well-known and used camper.
Features
It has a rather large kitchen
The refrigerator is huge
It has a microwave, a dryer, a bathing room, and a washer
Its advantages
The keystone Montana is one of the bestselling fifth wheels worldwide.
If you plan on going off-grid, you will not go wrong if you try out this wheel.
It has several storage areas that you can use if you have lots of clothes and other valuables.
It possesses a single state bedroom with a queen-sized bed. The bedroom has other several storage areas. It also has other sleeping areas; hence it can be suitable for families.
Video Overview: Why Buy a Keystone Montana
Do 5th wheels hold their value?
The fifth wheel can hold its value from as long as five years to 15 years before it fully depreciates from factors such as time, mileage, maintenance, and other types of damages.
Video Overview: Watch this before buying a Fifth Wheel
> You may also like:  Why America's Most Popular National Parks Need to Be on Your Bucket List <<
Which fifth wheel has the best insulation?
If indeed you are planning on winter camping you should have an insulated wheel. An ordinary one lacks the necessary insulation that is required to keep the inside warm; hence one should go for the best which offers the same experiences but with that extra coziness.
The Keystone Montana is the best-insulated wheel that you can find as it is equipped with several heating elements that ensure it can withhold even the most frigid winter. It has the following features
An insulated roof
A remote sensor for accurate temperatures
A heat duct system
Water drains and electric tank that is both heated
A ventilated attic
Who makes the best 4 season 5th wheel?
The Keystone Montana makes the best season 5th wheel. It is an outstanding fifth wheel with lots of storage and sleeping space and an outdoor kitchen area. It is the wheel for those who wish to hit the road in comfort while having exciting adventures in the outdoors.
What is the most luxurious fifth wheel?
The Grand Design solitude is widely known as the most luxurious fifth wheel as it offers several models and floor plans ranging from 34-41 feet. In all solitude models, you will find large kitchens having island theater seats, queen beds, and a 10-gallon water heater.
If you want a luxurious fifth wheel, then you can't go wrong if you decide to choose any model of solitude.
Video Overview: 2020 GRAND DESIGN SOLITUDE 382WB WALKTHROUGH! (AN RV WITH A BAR? YES PLEASE!)
> You may also like:  15 Most Underrated National Parks in America <<