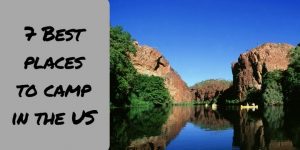 7 best places to camp in the US.
The US offers endless sites for camping, for those with an interest in camping; there are many options that you can have. For first-time campers, it might be difficult for you to find some of the best campsites. Ranging from the prestige beaches, the many lakes, and the soaring mountains the US has a lot to offer. The good thing is that all these campsites are not equal.

The experience you get from one of them won't be the same as what you get from others. And I know that finding the best place to camp can be overwhelming. In this review, am going to introduce you to the best camping destinations that you can visit. The list below reviews the best places to camp in the US.
This is one of America's natural wonders. This National Park was formed by salt erosion from the salt bed. The arches have a desert landscape with an orange glow that gives the best view at sunrise. The Devil's Garden Campground, located just a few miles from the park provides the best campsites for individuals.
Though the campsite is a bit limited, the experience here is the best. If you are looking for a place to mystical scenery for night viewing, then this is the best destination for you.
Video Overview: Arches National Park, Utah, USA in 4K Ultra HD
This is one of the camping sites that will give you a different experience each day. There are many activities you can do while on your camping. The activities include; swimming in Lake Michigan, jet skiing, kayaking, beach walks, and so on. If you are planning to go camping with your family, this camping destination is the best for you. The interest of each of your family members will be taken care of. Those who love swimming will have an opportunity to swim and do other activities. The campsite offers year-round and seasonal accommodation for those who visit the site.
Video Overview: Ludington State Park; is maybe the best State Park in Michigan
Located in northern California, Yosemite National Park is known for its clean water, impressive granite cliff, and many more activities that are open to its guests. It is one of the most visited national parks in the US. Some of the activities this park offers include; hiking, rafting, rock climbing, and much more. This campsite is open year-round, though some of its sections remain closed during the winter months. For those who like skiing and snowshoeing, you can visit this site during the winter months.
Video Overview: Yosemite National Park Vacation Travel Guide 
Oregon's Crater Lake is a crystal clear lake that is perfect for many outdoor activities. This campsite has the best features that will enable you to erect your camping tent. Some of the activities you can do include; exploring Wizard Island, hiking, and swimming. Exploring this beautiful campsite will probably make your holiday the best.
Video Overview: Crater Lake National Park, Oregon, USA in 4K (Ultra HD)
Best places to camp on the east coast:
Whether you like to pitch your tent or get a good night's sleep in an air-conditioned cabin you should have no worries, there are a number of camping grounds on the east coast that are just perfect for you. The camping grounds are great for all sorts of people they enable you to spend time in nature and practice skills such as building a fire and many other interesting activities. And they are the places that you have been looking for, so look no more. Here are some of the best places that I would recommend for you to help you start planning your next camping trip.
It's a national park that is found on Maine's Mount Desert Island. There are two campsites to choose from that is, Blackwood's and seawall. Campers who require quick access to the town may go for Blackwood's which is the only site open all year and the fees and permits vary and are often based on the season. The seawall is for those who are looking for a much solitude place.
Video Overview: Acadia National Park
If you are looking for many varieties to choose from, then wood state park in Vermont is the best place for you. The campsite has 103 campsites and also nearby access to the green mountain national forest, the George Aiken Wilderness Area, and the Adams reservoir. If you need to get out of the site with your family then this is the best place for you since there are numerous tourist points in the area that, is, for example, there is a Rockwell museum near the site. Which you will tend to enjoy.
Video Overview: Woodford State Park, Vermont
Are you a New York lover? Or do you live in New York and want to get away, either way, Eighth Lake campground is a practical paradise for casting and also tenting with the best places to camp. The places have many places to explore and also get out in a boat while traveling the area. The camping ground is in the Adirondacks, and the tent site fee is friendly. If you also need a break then you will also enjoy the nearby old region or museum.
Video Overview: Eighth Lake Campground, Adirondack Park, New York
Conclusion
Camping is one of the best activities you can engage in while on your holiday. The US is known for having the best campsites. If you are troubled in identifying the best, our review has just highlighted the top sites you can pick from. These campsites will give you the experience you need. Whether you are a beginner in camping or you have done it before, these sites will give you a ravishing experience.
Related Post: First Time Travel Trailer Owner Tips, Beginner's Guide.