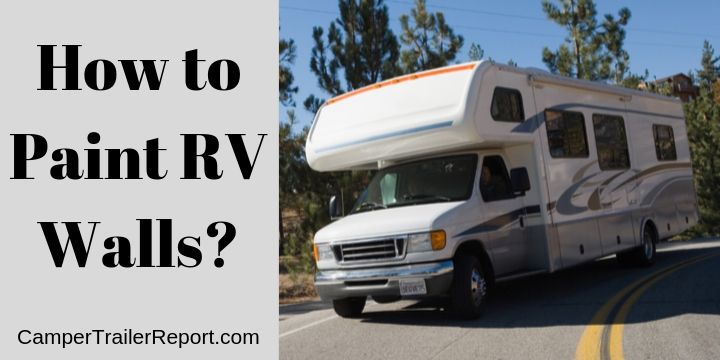 How to Paint RV Walls?
Whether the interior of your RV has gone too long without a paint retouch or it has been lately stained by substances that make it look ugly, here are the tips to consider when repainting the inside of your VR.
1. Begin by preparing the walls for the paint job
You want to give the interior of your VR a fresh look and the best way to start this is to scrub the surface with sandpaper to remove the old paint and stains.
Sand the RV's wall carefully without tampering with the vinyl coating. The 220-grit sandpaper is appropriate for this job. After sanding the walls, proceed to fill all the visible holes with a wood filler.
Once the wood filler has dried, give the walls a TSP (a heavy-duty cleaner) wash.
> You may also like:45 RV Accessory Must-Haves for Your Travel Trailer<<
2. Tape off all doors and windows before commencing the painting job
The hand-masker would be of great use in this exercise; the dispenser adds tape to rolls of paper at once to enable you to tape off large doors and windows in one swoop.
Ensure that all the surfaces you don't intend to paint are fully covered. If you are not replacing the RV's floor, remember to cover it as well.
Video Overview: How to Paint Your RV Walls and Remove the Window Treatments | RV Renovations | Becoming Nomads
3. Always use the right type of primer
RV walls are not made of sheetrock as it's the case with normal houses. For this reason, you'll need to use the right kind of primer to prepare the walls for painting.
> You may also like:Worst 5th Wheel Brands to Avoid <<
4. Select the color scheme
Finding the appropriate color for the interior of your RV can be tricky. Colors that you may think looks great in the daytime may not look exactly the same in the inside of your RV.
You can gather a lot of samples and make decisions based on them. You can as well seek the advice of an interior designer if you want the results to be as perfect as possible.
Better yet, one or two online tutorials can give you tips on how to select the appropriate color in consideration of your needs.
Video Overview: How To Paint Over RV Wallpaper || RV Living || Renovations & Repairs
5. Plan on more than one coat
Many paints are often advertised as requiring only one coat, but that can be a gamble – it's not usually the case.
Do not re-paint areas that have already dried or worse off, lay the paint too thickly in one take; doing so can interfere with bonding and drying.
Make elaborate plans about second plans in such a way that the paint does not form globules due to uneven drying.
The maker of the paint often gives directions to follow when making multiple coats.
When painting with a paint sprayer consider these tips:
Before starting to paint, mix the paint thoroughly to prevent the formation of clogs
Ensure that the walls of the RV are dry and dust-free before commencing the painting exercise
Prime your paint thoroughly by following the instructions provided by the maker of the specific primer of your choice
Practice the intended technique on a clean test wall (can be large cardboard or sheets of plywood)
Paint with long and even strokes. Develop your best technique through practice
Do not make coats of thick paint; thin and sleek paint is always the best
> You may also like: 25 Best National Parks in the USA  <<