How to Heat a Camper Without Electricity?
Whether you live in a camper or you just like taking your RV out for a ride on your vacation, you definitely know that these machines need a ton of energy to keep running. And you also know that during the winter, keeping your camper heated takes some effort.
Since most propane heaters actually need electricity to work, using them all day is not an option. If you're boondocking, you can't only really rely on your heater, because you're running the risk of draining your battery completely and getting stuck in the middle of nowhere.
In order to help you with this problem, we're going to show you how to heat a camper without electricity and stay warm, no matter how low the temperature is or where did you park your camper. Without further ado, let's start…
Buy a Catalytic Heater
The first tip we have here for you is to go out and get yourself a catalytic heater a few weeks before you heat the road. These neat little heaters rely on a combination of chemical reactions to break down molecules and produce heat.
While that may sound overly complicated – the point is – a catalytic heater doesn't need any electricity to heat up your camper.
You can easily turn it on a low setting and leave it to heat your camper throughout the day. Or you can simply turn it all the way up, leave it running for a few hours, and when your entire camper gets warm, turn it off. But this still leaves you with a problem – how to stay warm during the night?
> You may also like:45 RV Accessory Must-Haves for Your Travel Trailer<<
Get a Few Hot Water Bottles
This might be an almost-obsolete solution – but trust us – it still works well. A hot water bottle is, well, what its name suggests. It's a sealed water bottle that can be used to provide warmth while in bed. You can get two of these to make sure that both your lower and upper body stay warm during the night.
Even though there are numerous models out there – some are made of rubber and others rely on batteries to work – we recommend you go with the classic one. A silicone hot water bottle will feel comfortable, it's easy to clean, and most importantly – won't empty out your wallet.
Video Overview: How To Keep Warm In The Winter In an RV Without Electricity!
Invest in a Sleep Cap
Once again, we have an old-school solution. If your head or neck absorb a lot of cold during the night, all you need to do is invest in a sleep cap. All it is is an ordinary cap, that looks pretty similar to the one you wear outside during the winter.
The only difference is, it's made out of soft cotton. That's pretty important because you don't want your head to overheat during the night and cause you to start sweating. The material lets your skin breathe and prevents you from waking up with a wet pillow during the cold winter mornings.
Video Overview: Heating an RV Without Electricity or a Furnace
>> You may also like The Best Generator For Travel Trailers.<<
Bonus: Don't Forget About the Blankets
Last but not least, don't forget to get some thick blankets. These make a huge difference during the winter. So remember – pack multiple blankets, flannel sheets, and a few comforters as well. You can keep the comforters on the bed during the cold days and pack them up during the spring.
And there you have it; with these tips, you now know how to heat a camper without electricity during the long winter nights. Hope you enjoyed our article, and if you have any tips of your own, make sure to share them with the rest of us by leaving a comment below.
> You may also like: First Time Travel Trailer Owner Tips, Beginner's Guide. <<
RV related questions
Do RV furnaces run on electricity?
It is one of the most common RV related questions people ask. The answer is: Yes, RV furnaces do run on electricity. In fact, many homeowners are now changing to the electric RV furnaces from the conventional propane -fuelled RV. Electric RV furnaces have lots of benefits over the gas RV furnace:
Electric RV furnaces are clean burning.
They can operate on optimum efficiency.
Electric RV furnace is cheaper to operate.
The portable boxy designs look better than the duct design of the gas RV furnaces.
It can heat up specific areas and so saves energy.
So, you can choose to buy an electric RV furnace. You will save money in the long run.
Will an RV converter work without a battery?
A converter is used to change the AC current to a DC current. Once plugged into the shore power, it will take 120V that is coming in and convert it to 12V. So, it will prevent the battery from draining and will charge your battery automatically as well.
RV power converters bring power to vent fans, lights, refrigerators, etc. You need an RV converter only to charge the RV batteries after it is plugged into the shore power.
When you are using solar power, you don't need a converter. So, as RV converter charges the battery, it won't be doing its function when there will be no battery. Still, it will work, but your alarm, LP detector, 12v light, etc. won't work without the battery.
Does RV furnace run on propane?
Yes, the RV furnace runs on propane. These furnaces don't have any electrical heating elements. When not plugged into the shore power or when a generator is on, the propane igniter on the RV furnace runs using the 12 volt DC from the house batteries.
What is the best electric heater for a camper?
When you take propane burning heater for camping it may be expensive for you as you will need extra fuel. It also produces carbon monoxide and fumes that may be bad for your health and it will ruin the environment. An electric heater is cheaper, more efficient and cleaner. Here is the review of the best electric heater for a camper.
Lasko Designer Series Oscillating Ceramic Heater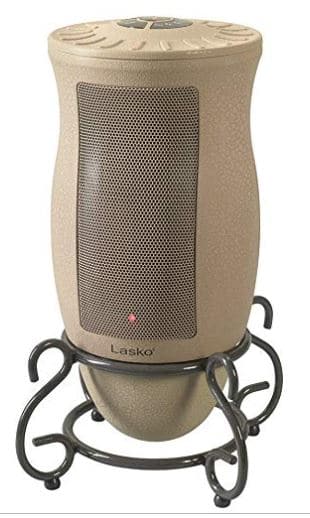 It is a beautiful electric heater that will blend with the interior of your RV. You can mistake it for a piece of art. It has a 1500 watt ceramic heating element.
There is an adjustable thermostat which lets you adjust the ceramic heating element. You can select the temperature from 60F to 85F. There is a built-in timer that can be programmed for up to 7 hours. The heater will automatically turn off after the programmed time.
So, you won't waste energy. It has built-in safety features for protection against overheating even after long hours of use.
It has a cool touch exterior that doesn't heat up even after hours of use. There is a wireless remote control that will let you adjust the various settings and the price of this heater is very reasonable.