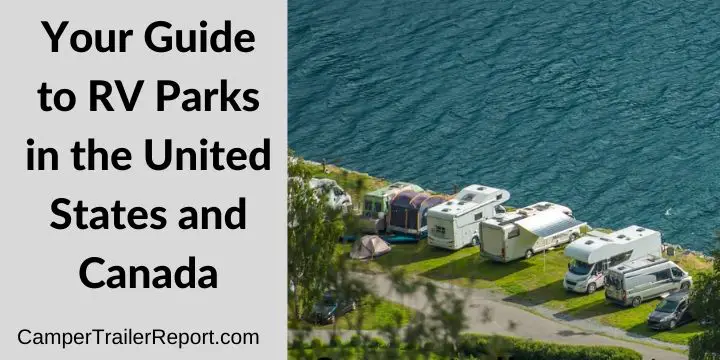 Your Guide to RV Parks in the United States and Canada
When you finally chose to make your 'home' away from 'home' as you travel, there are things that you must think about. Remember, you will not always be moving.
At times you will need to take a day, week or even month's break and park your RV. This w why we thought we would make this guide for your parking in Canada and United States.
What are the RV parks?
The RV parks are simply the safeguarded campgrounds that can be used by travelers of motorhomes, campers, and trailers. In most cases, the campsites are privately owned, and so any user would pay to use them.
The parks are more of a business in the compound.
> You may also like:45 RV Accessory Must-Haves for Your Travel Trailer<<
Are the RV parks open for all?
Every person having an RV can use the RV parks in the United States and Canada as long as you need somewhere to spend a night camping regardless of the vehicle that you are using.
It does not matter whether you are doing it in a tent on a large motorhome. Just get prepared to pay for the facilities in the campground.
Whether you are a family, working traveler or vacationer, you can use such parks. Remember that some people choose to sell their homes to have new 'homes away from home'.
Such people might have to have a rest from travel for more than one month in the campground. It gives such people a chance to create a new neighborhood in the campground.
This being the case, you ought to go for such parks when you willing to interact with new people based on the culture of the campground.
This means that you need to know the culture so that you don't end up struggling with other people.
> You may also like:Worst 5th Wheel Brands to Avoid <<
Amenities offered at the RV parks
There is not much that you will get in the campground as far as your home is concerned. In most cases, you will get a parking lot, electric hookups, and sewer hookups for your camper and water.
These are what a basic RV park will provide, which are subject to pay. Some service providers will prefer that you pay for these amenities at once regardless of the amount you will use especially when camping for less than a week.
In advanced RV parks, however, you will get other advancements. Such might include workout rooms, manicured lawns, bar or restaurant, on-site RV repairs, and many more luxuries.
If you are going for a park with more felicities, the parking charges will also be relatively high. It would help if you were prepared to pay the cost required.
The cost of renting RV Park in the US and Canada
As said before, the cost of staying at an RV park varies depending on the amenities being provided and the number of days you are planning to spend. The more days you spend, the cheaper it becomes.
This is well explained by the fact that most parks give charges on daily, weekly or monthly packages.
Basically, the daily rates range from $10 to $50 per night. This is what gets translated to give you the charges for weeks or month stay.
It is, however, discounted to make the monthly expenses less expensive than the week's charges. The range between $10 and $50 seems so vast. Well, depending on how much you want to spend, you can always search to get what is within our budget.
The prices may as well reduce depending on your frequency of using the park. You might get the discounts for your loyalty to use the park.
Getting the exact prices before you go, booking is not anything complicated. You can search the prices on the compendium. Just search for this site, and you will get multiple campgrounds with their daily, weekly or monthly costs. You can search with your area code to make it easier.
Which RV Park is best for me?
The choice of a part should be dependent on the service you are looking for. If you are looking for space your family can have fun; then you should look for one which offers family activities.
It also depends on the amount of money that you are planning to spend. If you are looking for somewhere to spend your night, then any campsite within your route should serve you. It is, therefore, upon you to choose what can help you best.
> You may also like: Least-Visited National Parks: Why They're Worth a Look<<